Last week, it was formally announced that Brandon Rios and Mike Alvarado would once again face each other, in an HBO-televised rematch of their fight from last year. Their first fight was a war and arguably the best action fight of 2012. The rematch should be no different.
On the heels of the announcement of Rios-Alvarado II, there seemed to be no better time to compile a list of top action fights in the sport today. The only caveat on this list is the fights have to be makeable. So there will be no Golden Boy fighters facing Top Rank fighters.  And with that said, here are the top three action fights that can be made right now in the sport.
Lucas Matthysse vs. Marcos Maidana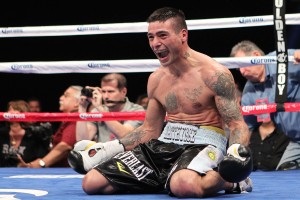 At some point in time, this fight is going to happen. The only question is whether it will be sooner rather than later.
Matthysse and Maidana are stylistically very similar fighters, and they'd match-up excellently with each other. They both come straight forward and are more than willing to mix it up with their opponents. This alone is recipe for a tremendous action fight.
Both men are also very powerful punchers. Generally when they land their respective power shots, they have an impact on their opponent. And both have supreme confidence in their punching power.
The fact that they have such confidence in their punching power will lead to furious exchanges. Since they each believe that one shot can turn the fight, they often bait their respective opponents into exchanges hoping to create openings. This tendency of both men will lead to plenty of action and excitement when they meet in the ring.
There is also the rivalry factor. Matthysse and Maidana are both from Argentina, and they've fought multiple times in the amateurs, as well as a rumored back-room unsanctioned match. So this will be a bout with a tremendous amount of pride on the line. In boxing, we have seen in the past that pride and machismo can play a big role in the amount of action in a fight.
As stated above, this fight seems inevitable. Who knows, we may even see the next great action trilogy between these two men.
Alfredo Angulo vs. Jesus Soto Karass
When the opening bell is sounded, these two men would just meet in the center of the ring and start chucking leather.
Seriously, this would be one tremendous action bout for however long it would last. The old saying in boxing is that styles make fights and that would never be more true in this one.
Angulo and Soto Karass are both brawlers by nature. They like to get in the trenches and let their hands go on the inside. Angulo and Soto Karass also are willing to take a couple shots to get in one or two of their own. I can foresee a scenario where both men just lay on the inside and trade power shot after power shot with each other.
Neither fighter is known for their defense. And as far as speed goes, well they are both equally limited in that area as well. This just means they will be standing right there in front of each other and exchanging without one man having an edge over the other.
A few years ago, Angulo would have steamrolled Soto Karass. But Angulo isn't where he was, and Soto Karass is hotter than ever. This fight is certainly any boxing fan's dream. And maybe someday soon that dream will come true.
Brandon Rios vs. Mike Alvarado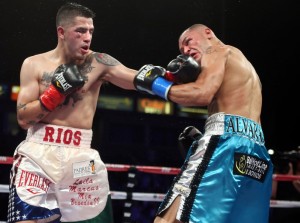 This fight has to be on the list. As stated earlier, their first fight was a classic. The second fight will not disappoint either.
Rios-Alvarado I can best be described as a very skilled brawl. Though they each landed their share of big shots, it was not fought in a wild and crazy manner. Instead, both men used technique to find ways to land their bombs.
Both Rios and Alvarado are actually very solid boxers.  They each possess very good jabs. They each have the ability to use that jab both as a scoring weapon and to help set up their respective attacks. However, the jab is often abandoned by both men. Inevitably, they take the fight to the inside and abandon the jab altogether. Each man believes they can absorb their opponent's best shots on the inside. And while doing so, create opportunities to land big shots of their own. Since they each fight in a similar manner, fireworks are bound to occur.
I fully expect the second fight to play out much like the first fight. Alvarado may try to start off boxing from the outside a little more. However, when he gets hit the first time his instinct will undoubtedly take over.  The bombs will start flying and once again these two men will be in a fight of the year candidate.
Then take the winner of this fight, and put him in with the winner of Matthysse vs. Maidana, and every fight fan in the world will be counting their blessings!