With British boxing currently riding high along a crest of a wave, it's not easy to narrow down my selections to just three boxers to keep an eye on this year. I could have easily chosen those on the cusp of greatness, but it would have been all too easy to spout off the same list of names that has been endlessly mentioned before. Don't get me wrong, I feel 2013 has the potential to be a huge year for the likes of David Price [one of our top 5 fighters to watch overall in the coming year], Kell Brook, Tony Bellew, George Groves, Carl Frampton and Scott Quigg — but if you look below the surface there is a further generation of exciting prospects looking to make their stamp on the coming year.
So without further adieu, let me count down my top 3 British boxers to watch is 2013.
3. Kid Galahad
With Carl Frampton and Scott Quigg having made a splash in the super bantamweight division in 2012, Kid Galahad's impressive year went largely under the radar, but expect that all to change in 2013.
The Sheffield youngster has gone 13-0 since turning pro back in 2009, and last year picked up the WBC International super bantamweight title, a belt previously held by a pretty good group of boxing alumni: Manny Pacquiao and Prince Naseem Hamed. With a victory over previous world title challenger Jason Booth last year, Galahad is moving along at a nice pace and looks ready to take a step up again this year.
One possible fight on the cards is against former world champion Steve Molitor. The Canadian was beaten in empathic fashion by Carl Frampton last year but is plotting his return to the ring, and has named Galahad as a possible opponent. This would prove a good measurement for the Brit, to see how he compares to Frampton, and a win against Molitor could set up a date with the Jackal, one in which Galahad might just fancy his chances.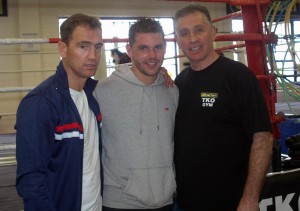 2. Billy Joe Saunders
Despite residing in what is arguably Britain's strongest division, the middleweight division, Billy Joe Saunders is already being talked about as a future world champion. With a strong amateur pedigree that saw him win the 2007 commonwealth championship and qualify for the 2008 Olympics, the 23 year old has seamlessly made the transition to the pro ranks.
2012 saw Saunders fight on four occasions and pick up the Commonwealth and British titles, and undoubtedly he will be looking to build on this success. Potential fights again fellow undefeated prospects Chris Eubank Jr. and John Ryder would be further steps in the right direction and could make for mouth-watering contests, and ones I feel the former Olympian would win.
The vacant European belt is another realistic target for the year, and a showdown with the man who vacated it, Grzegorz Proska, is a strong possibility, with the Pole having seen his world title ambitions smashed by Gennady Golovkin. A victory in that bout could open up a number of doors for the fighter who aims to be Britain's first middleweight champion since Jason Matthews more than a decade ago.
1. Khalid Yafai
Despite the undoubted quality of Galahad and Saunders, for me there was only ever really one candidate to top this list, Kal Yafai. Yafai is the most exciting prospect that the UK has produced in years and already in his short career the youngster has produced enough flashes of brilliance to be compared to Britain's last great world champion of the lower weight divisions, Prince Naseem Hamed.
Having only turned pro last year, after missing out on a place at the London Olympics, the Birmingham youngster fought 6 times in 6 months, and if he's as active this year fight fans are in for a real treat. So far only one of his opponents has managed to go the distance, and last time out he destroyed the Spanish bantamweight champion Jorge Perez.
The 23-year-old's fan friendly style combining lightning hand speed with a constant stream of devastating power punches will certainly sell tickets. After all, it's not since Ricky Hatton's peak that British fight fans have witnessed as many bone crunching body shots, with Scott Gladwin for one able to testify to this.
We shouldn't have to wait long to see what this year holds for Yafai as he fights live on Sky Sports on January 19. With an opponent still yet to be announced, fans shouldn't be expecting more than a quick workout for the pugilist. However, after this outing, don't be surprised to see Yafai fighting for British, Commonwealth and even European titles before the years end. 2013 has the potential to be the year of Kal Yafai and we'll keep you updated every step of the way.