As the old guard gets older, it becomes even more important for the young wave to develop into the fighters we hope they can become. None of these fighters figure to immediately replace the older, more established superstars in terms of bringing attention to the sport. Over time, however, these fighters could potentially bridge the gap to the next era.
We need to remember, Pacquiao recently hit a wall. Mayweather is not getting any younger. Sergio Martinez is pushing 40. The Klitschkos both appear to be in the twilight of their careers. Boxing always manages to replenish itself and here is a handful of fighters who are poised to assume some of those top slots:
David Price
When looking for a potential heavyweight heir-apparent in the Klitschko age, one is forced to conduct a relative appraisal rather than a straight-up evaluation. It's not so much about how fast or hard-hitting a guy is, but how they stack up against the brothers who have ruled this division for a decade. In that sense, Price might be worth a look.
At 6'8," he even looks like a little like a Klitschko. With his pawing left, booming right, and similarities is physique and appearance, he could pass as a younger brother. At least he has the physical prerequisites needed to compete. With Wladimir, the recognized "man," Price would be the taller man. During his reign, Wladimir has never faced a man with so appealing a combination of size and menace. Even if he doesn't book a fight with a Klitschko in 2013, look for him to be in some big fights this year.
Gennady Golovkin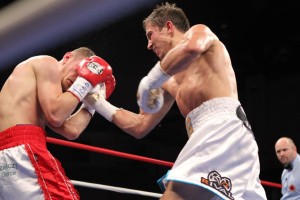 When watching rising fighters like Golovkin, one tries to envision what would need to happen in order to beat him. As far as knocking out Golovkin, it's hard to imagine. He might be the most rock-like middleweight since Marvin Hagler. Not that Golovkin would necessarily stand up to Tommy Hearns unloading his guns, but who around today can duplicate the menace of the "Hitman?"
A lot of people suspect that this is the best middleweight on the planet. In 2013, look for him to add some credentials to lend more merit to that lofty claim. At 24-0 (21 KOs), the 30-year old will face underrated Gabriel Rosado this month. Barring a big upset, the aggressive, smart, and confident Golovkin should have a big year.
Leo Santa Cruz
Some hardcore boxing fans can scarcely contain their enthusiasm for the entertaining Santa Cruz, who crashed onto the scene in 2012 with a series of eye-popping wins. You could sense Golden Boy Promotions using the second-half of 2012 as a table-setter and are now prepared to unleash Santa Cruz on the cream of the crop of the bantamweight division. It's hard to not fancy Santa Cruz' chances, especially in a bantamweight division that is a little depleted compared to a few years ago. Since June, he's won 4 IBF title fights. The talk you hear, however, is of him moving up to the talent-rich waters of 122 pounds. That's gonna be a little tougher.
The younger brother of retired former contender Jose Santa Cruz, the 24-year old Leo, 23-0-1 (13 KOs), goes to the body very well. He throws 100 punches a round, but isn't a typical mauler, with his fierce body-punching and deceiving power. It remains to be seen how he does against a top opponent. In a perfect world, Santa Cruz would consolidate his credentials in 2013, while further clarity is achieved at 122. Maybe later this year,, Santa Cruz will find himself in a big-stakes match-up at 122, perhaps against Nonito Donaire or Abner Mares. He might need a little time before tackling tough assignments like that.
Gary Russell, Jr.
The slow rise of the lightning-fast Russell has been infuriating to some fans. Inactivity has been an issue, as Russell fought only twice in 2012 in a pair of third-round knockouts against nondescript opposition. In 2013, the stars seem to be lining up right for Russell to finally appear in a meaningful bout. The southpaw featherweight is only 24, but he seems stuck in reverse. People are excited about him for a reason, being that he has unmistakably great talent. Look for 2013 to be the year where Russell kicks his career into a higher gear. How about Russell against the winner of Salido-Garcia or maybe even longtime champion Chris John?
Yuriorkis Gamboa
It has been almost painful watching him languish for so long. Before beating anonymous Michael Farenas in December, he had fought just twice in the previous 27 months. If anything, perhaps that inactivity will set the table for a heightened sense of urgency in 2013. The Cuban star is now 31 so it's time to get busy. This could be the year where Gamboa, 22-0 (16 KOs), gets his chance to shine in a big fight. If that doesn't happen, Gamboa's career will stand out as the one of the most mismanaged in recent years. Frankly, it should have happened before now.