Miguel Cotto suffered a major setback in his loss to Austin Trout in December. The immediate blow-back from that was his proposed mega-fight with rising star Saul "Canelo" Alvarez was put on the back-burner.
Looking farther ahead, if Cotto hopes to land another big fight, he will first need to re-establish his career with a solid win. With this in mind, I will look at the most logical foes for Cotto when he returns to the ring.
1. Alfredo Angulo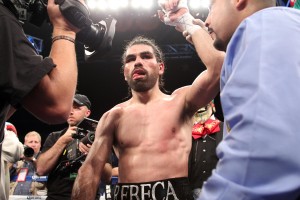 Alfredo Angulo heads the list of the top potential opponents for Miguel Cotto's return to the ring.
Cotto's team will be looking for a marketable opponent who stylistically matches well with him. Not only does Angulo fit this description, but he has also shown vulnerabilities recently which should make him a very attractive opponent in their eyes.
With Cotto vs. Angulo, the Mexico-Puerto Rico rivalry will once again be on full display. This is a great promotional tool for Golden Boy to use in the build-up to this particular bout.
Also, Angulo's brawling style will ensure the fight will be very entertaining. He will be right there in front of Cotto all night. Cotto has trouble with movers; but not with boxers who take the fight directly to him. So the style of Angulo will not only make the bout fun to watch but should also play right into Cotto's hands.
Another reason Angulo may be chosen is the fact that he has shown signs of being shopworn. He was never known for his defense, but in his last against Jorge Silva, Angulo appeared to be much slower than usual and much easier to hit. Further, Angulo's punches seemed to lack zip in that bout.
Since he is both marketable and vulnerable, Alfredo Angulo seems to be a very logical choice as Miguel Cotto's next opponent when he does return to the ring.
2. Paulie Malignaggi
A rematch with Paulie Malignaggi is also a distinct possibility for Cotto's next fight.
Malignaggi has made no secret of the fact that he is seeking a big fight. As a matter of fact, I personally believe he is in the running to be Mayweather's opponent on May 5th.
If that bout does not happen, Malignaggi will probably fight sometime in April. And a win in April may set up something big for him in the fall. The biggest name at that point in time that may be available is Miguel Cotto.
Malignaggi is a very marketable name himself, particularly in New York, where Cotto also has a big following. The event could easily be held either Madison Square Garden or the Barclay's Center in Brooklyn, and in all likelihood would sell out easily.
There are several other reasons why Malignaggi may be the opponent. First, Cotto already handled him once. From a psychological perspective, that gives Cotto an edge coming into the bout.
Second, the fact that Malignaggi is a light puncher may make him an even more attractive opponent. Cotto has been in his share of brutal fights. His people may look to match him in his comeback bout against someone that is not known for their punching power.
Lastly, Malignaggi does not show the lateral movement that he once displayed. As he has gotten older, he has had a tendency to stand on front of his opponents. Stylistically, he matches up favorably for Cotto.
When all these factors are taken into consideration and if the scenario plays out favorably, Paulie Malignaggi may find himself in the ring for a second time with Miguel Cotto later this year.
3. Jesus Soto Karass
Jesus Soto Karass is coming off a career best win against Selcuk Aydin, and the win may help propel him into a bout with Miguel Cotto.
Soto Karass may not be as marketable a name as the first two opponents listed. But, as with Angulo, the Mexico-Puerto Rico rivalry can be built into the promotion.
From a stylistic standpoint, this would seem to be a very favorable match for Cotto. Soto Karass will come forward and try to make it a slugfest. But he is very slow on his feet and defensively challenged. Cotto should be able to see his punches coming and also will find Soto Karass a very easy target to counter.
In addition, while Soto Karass is tough, he's not a big puncher, and Cotto has the better track record at higher weights. This should translate into Cotto being able to walk through any punches he happens to absorb.
Finally, Soto Karass was stopped twice in 2012. He has been in more than his share of battles over the years, and despite the recent upset victory, hasn't been a true top guy in any division for quite some time. This makes Soto Karass all the more vulnerable and hence increases the likelihood he gets the call to be Miguel Cotto's opponent for a comeback fight.
Comments
comments