Who's next for The Siberian Rocky?
Ruslan Provodnikov stopped Mike Alvarado after 10 rounds of boxing in Denver this past Saturday. Alvarado was pulled out at the end of the 10th by the referee.
It was an edge of your seat fight; I needed the toilet, but refused to leave my sofa. This felt like I was in the playground at school. The two toughest kids in your year squaring off, you couldn't blink for fear of missing the action. All that was missing was "FIGHT, FIGHT" chants.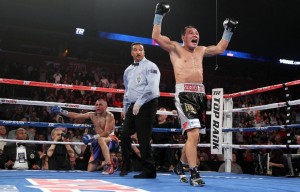 What I like about Provodnikov is that he is a true warrior, a word often overused these days, this along with the term legend. But he epitomizes a warrior in every aspect. Reminiscent of an Ancient Roman Gladiator, minus a shield and sword of course. Thriving on being in a grueling battle, relishing receiving punishment as much as he enjoys prescribing it. After boxing more like Ivan Drago than Rocky in the encounter, it begs the question who is next for Provodnikov?
Let's look at some of the potential opponents and some potentially mouth-watering match-ups available to him…
Danny Garcia (27-0, 16 KO's)
Garcia defeated Lucas Matthysse on "The One" card last month. Mentioned as one of Mayweather's final four. But appears he's had Amir Khan cut the queue in front of him for now. Good job he didn't cut up Angel as he would have gotten his arse kicked!
This fight would be the toughest for Provodnikov. Garcia is a top 10 pound for pound fighter, and one of the most underrated fighters in the world in my eyes. While the Siberian Rocky could trouble him with his power, I feel that Danny is a more intelligent fighter and would win a comfortable decision.
Brandon Rios (33-1, 23 KO's)
Rios who is due to face Pacquiao next month in Macau, and he has won and lost to Alvarado over the past 12 months. While it would be foolish to look beyond Pacquiao as his next opponent, it does conjure up exciting thoughts of the prospect of Rios vs. Provodnikov.
Rios vs. Alvarado I was a Fight of the Year bout and a match up with the Russian would certainly be a contender next year. Two monstrous punchers and the guarantee that they would go toe to toe for the full 12 rounds, if it went that far.
This would certainly be one of my top choices regardless of the outcome of the Pacquiao fight. The winner? I might shade the youth of Rios, but it could easily go the other way.
Manny Pacquiao (61-5-2, 38 KO's)
8 weight world champion winning 10 titles, but you need no introduction to Manny Pacquiao. He's fighting Rios next month, as mentioned above. You have to question how hungry he is to still box at the highest level and how many "wars" he has left in the tank.
If the answer to the above is not wanting anymore wars, especially after Rios, then he needs to steer clear of Provodnikov as he will get folded up like a freshly pressed pair of trousers.
This would be a fight I'd love to see, but I don't believe they would pit him in against a stablemate. Freddie Roach has already quashed the prospect of this encounter by describing them as "good friends". Shame. Big shame. Maybe they should sell tickets to them sparring at Wild Card?
Lucas Matthysse (34-3, 32 KO's)
The Machine, lost to Danny Garcia last month. Has a frightening KO record, and he's my number 1 choice to face Provodnikov. Why? Call me old fashioned, but there is nothing like two guys beating the hell out of each other in the middle of the ring. Nothing.
This fight would last five rounds maximum. We may as well host it in Rome, The Colosseum being the perfect venue. Get them both to ride out on a horse, covered head to toe in Gladiator attire.
A complete sell out.
The result? I genuinely wouldn't care who won, as boxing would be the winner.
The only issue, of course is the Golden Boy-Top Rank cold war. Come on guys… you'll make a ton of cash, the public will adore you. Just kiss and make up? Pretty Please?