Boxers Who Won Even Though They Lost:
Sports is a bottom-line business. Everyone remembers the winner and no one remembers who came in second-place, so the saying goes. Boxing shares a lot of that dynamic, but is a sport where the loser can actually come out smelling like roses. In a sport where results are decided by judges, there are going to be a lot of "losers" who should have been rightful winners. The individual nature of the sport also allows you to admire fighters who lost, but showed so much heart and spirit that it's as if they won.
Here are some recent examples of fighters who managed to distinguish themselves in fights they lost:
Ruslan Provodnikov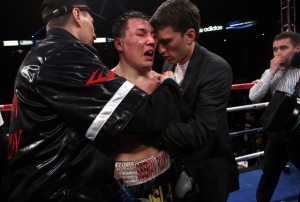 Talk about coming out of a loss in better shape. Provodnikov, 29, lost the fight to Timothy Bradley on March 16, but transformed himself from a fringe contender and ESPN-level guy to a true player at 140-147. To everyone's astonishment, he nearly kayoed Bradley in the first two rounds. What makes Provodnikov a fighter worth keeping an eye on was how he got back into the fight after Bradley resumed control.
When Bradley steadied after a rough start, you could sense everyone thinking, "OK, this is more like it." Usually when a huge underdog like Provodnikov starts getting nudged downhill after a valiant beginning, they keep going downhill.
The Siberian tiger roared back late and almost got a last-second stoppage. When Bradley went down in the 12th with under 15 seconds left, it was reminiscent of Chavez-Taylor. Bradley, however, managed to finish the round–but just barely.
Despite his rawness, Provodnikov is a tough night's work for anyone at 140-147. Bradley won the battle, but might have lost the war. It's hard to wonder if Bradley can be the same after that beating he absorbed, where only his near-Hagleresque durability allowed him to see his way to the finish-line. If not, this fight will be looked at as the turning point where Bradley surpassed his expiration date.
Jorge Silva
The Mexican youngster, born and based in Tijuana, surprised many with a rousing effort against the veteran Alfredo Angulo. At only 20 years of age, Silva braved through massive punishment to give the fearsome-punching Angulo all he could handle in an inspirational 10-round points defeat. All 3 judges had it 97-93, but make no mistake, Silva was in the fight.
Back in a different era, a 20-year old giving an established fighter like Angulo so much hell would be enough to earn him the tag of prospect. But in today's bottom-line world of sports, there is no room for second place, hence Silva's continued anonymity even among hardcore fans.
This seems to be a kid worth developing. You can't teach some of the qualities he possesses, namely a irrepressible fighting spirit, good whiskers, and a set of brass balls. He was obviously brought in as a tune-up, but despite moving up a division to face Angulo, showed his mettle and then some. How far Silva, 19-3-2 (15 KOs), goes is anybody's guess, but he deserves to be handled thoughtfully.
Steve Cunningham
Coming off a pair of cruiserweight title fight losses to Yoan Hernandez, the 36-year old's move to heavyweight was greeted with skepticism. Cunningham, despite some nice achievements at cruiser, was a fighter who appeared finished after a career where he always seemed like he'd be better than he actually was. With a body cut from granite combined with well-honed boxing skills, Cunningham was somewhat of a disappointment.
Therefore, the lukewarm reception to his entrance into the heavyweight division was understandable. Not many people expected him to beat top contender Tomasz Adamek, a former cruierweight, but one who had proved he could dance with the big boys. In addition, Cunningham had lost to Adamek in 2008 in a big cruiserweight match-up.
Adamek might be a little over-ripe and the fact that Cunningham, 25-5 (12 KOs), outboxed him in stretches during their 2008 bout made the fact that this fight was competitive not so surprising in retrospect. What was surprising was to see such a fiery performance from Cunningham, who appeared to win the 12-rounder, despite the split decision going to the "house fighter" Adamek.
On April 20, Cunningham will take on British hopeful Tyson Fury and will be a big underdog. However he does and regardless of how viable a heavyweight Cunningham really is, his chances certainly appear better than before he fought Adamek.
Mike Alvarado
Before losing to Brandon Rios in their 7-round October war, Alvarado was respected, but not necessarily considered a top-flight 140-pounder. Now his name is usually mentioned when the big names at junior welterweight are discussed. He lost the fight, but showed he can give the best a run for their money. Prior to the Rios brawl, Alvarado, 32, was unbeaten, but when facing perhaps the best name on his record, he needed a heroic effort to stop Breidis Prescott in the final round after falling behind on the cards. So the jury was still out a little bit.
Alvarado, now 33-1 (23 KOs), will shortly get a chance to avenge his only defeat when he faces Rios again on March 30. People wanted to see the first fight, as it figured to be a barnburner. Now, however, it's almost on a must-see level and Alvarado has a lot to do with that. In today's age where won-loss records mean so much, it's unusual to see a guy lose his "0" and actually gain prestige. Alvarado managed to do just that.
He's no longer undefeated, but he now has something even better–admiration and the respect that comes with proving you can tangle with the best.