The Best Action Fights & Most Interesting Matches to Make:
There are some solid, high profile fights on the docket for the fall already, what with Floyd Mayweather vs. Saul Alvarez, Danny Garcia vs. Lucas Matthysse and on down the line from there. But as fight fans, we're always eager to look ahead to the next biggest and best thing. As such, here's a list of the top 5 fights I want to see made in boxing as soon as possible. From match-ups featuring the sport's hardest hitters, to the final leg of an epic, historic rivalry, this list has something for everyone.
Take a look and be sure to add your own thoughts about which are the best fights to make in boxing right now.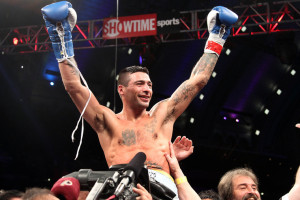 5. Lucas Mattheyse vs. Adrien Broner: I guess I'm just like most boxing fans, in that I really want to see someone shut Adrien Broner's mouth. I think that man is Lucas Mattheyse, especially in wake of Broner making the Marcos Maidana fight. "El Chino" is the strongest modern welterweight, and arguably the division's biggest banger, but he is far from the kind of knockout artist that could challenge Broner's slick gifts. Maidana's fellow Argentine Mattheyse is a totally different story.
The other thing that makes me want this fight is I'm not certain Mattheyse could win it. While "The Machine" is the deadliest puncher anywhere near 140 lbs, he does tend to struggle with stylists. Broner could very well win, and that kind of nail-biter is what boxing needs to see more often. So I want to see Broner finally put his money where his mouth is, and just maybe he can live up to his big talk while he is at it.

4. Adonis Stevenson vs. Sergey Kovalev: This fight promises even more of what the recently made Stevenson vs. Tavoris Cloud bout does. Cloud is a big banger, but he isn't Sergey Kovalev, who some believe to be the hardest pound-for-pound puncher in boxing today. Superman vs. the Krusher. Now that promises to be the biggest shoot-out of the year!
3. Marco Huck vs. Tomasz Adamek: This is a much less obvious match-up, but I think it would promise to be the single most entertaining fight that could possibly be made among cruiserweights and small heavyweights. Adamek, the rugged boxer-pucher, is on a big roll right now. Huck, the rugged pressure fighter, still has his title, but seems stuck in a holding pattern with Ola Alfolabi and Firat Aslan. He needs a little juice to break his career log jam. What could be better than putting these two solid gladiators in the ring for a Poland vs. Germany rivals match-up?
2. Juan Manuel Marquez vs. Manny Pacquiao V: Was Pacquaio's crushing knockout defeat a fluke, as the Pacfans contend? Is Pacquiao losing his steam, as some pundits suggest? This fight could either be a serious contest or a blow-out, but either way everyone would want to see it. Besides, when was the last time a boxing rivalry actually went to five fights? The bout should be made on that basis alone.
1. Carl Froch vs. Julio Cesar Chavez, Jr.: You want to talk entertaining action — how about the sport's Ironman against it's Mexican bull? This fight could become a boxing clinic, with Froch working behind his underrated jab to bust up Chavez… but somehow I don't think the Cobra would go 12 rounds with JCC, Jr. without getting in the trenches with him for at least a little while. It would be part of his game plan to show just who is stronger and tougher, and take Chavez's confidence away from him. And that round would be a Round of the Year contender.