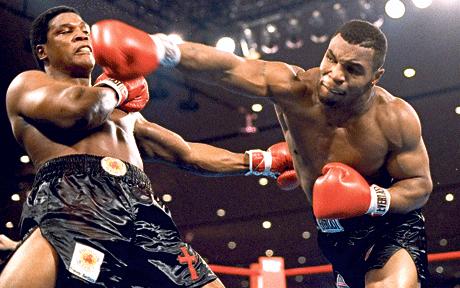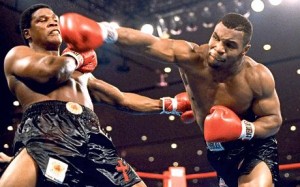 The heavyweight division has a deep legacy of upsets, due in large part to one of the division's singular characteristics. It is often said of boxing that one punch could end any fight at any time, but that statement is most accurate in describing the league of the big men. Even a moderately talented journeyman can fell a great fighter if given the chance, a truth born out time and time again. Five fights in particular stand out as great upsets in the history of the heavyweight championship.
James Buster Douglas KO10 Mike Tyson: Tyson's trip to Japan is not only the top heavyweight upset of all time, but also a strong contender for the biggest upset in boxing history. No one gave Buster Douglas a chance in February 1990, leaving him a 42-1 underdog. However, Douglas got focused and put on a career-best performance, and for that one night went from chronic underachiever to over-achiever. For his part, Tyson was in reasonably good shape but unfocused, overlooking Douglas and looking forward to his bout with Evander Holyfield. That night, Tyson paid for his inattention and his growing reliance on the one big punch with a knockout loss and his Undisputed World Championship.
Cassius Clay RTD6 Sonny Liston: Although the Louisville Lip was a proven contender, he was young and facing a man who thumped Eddie Machen and destroyed Zora Folley, Cleveland Williams and Floyd Patterson. Clay made Liston look old and slow, at least until a foreign substance wound up in Clay's eyes and placed the fight in doubt. Once his eyes cleared, Clay went back to sticking and moving, and an answer-less Liston quit on his stool, complaining of an injured shoulder. It was the first big upset by Clay, and coupled with the Liston II fight it helped define the first half of his legendary career.
Muhammad Ali KO8 George Foreman: The second great upset of Ali's career saw Ali pull out the big win against yet another seemingly unstoppable monster. The story of the Rumble in the Jungle was immortalized in When We Were Kings, so I'll not repeat it here. However, I think all fight fans should draw the invaluable, axiomatic lesson from Ali vs. Foreman that styles always make fights. No matter how good a man is, he cannot get past this one basic truism of the Sweet Science.
George Foreman KO2 Joe Frazier: Trapped in the shadow of his arch-rival Ali, "Smokin'" Joe Frazier's prowess is often undervalued. Yet when he met George Formean in Jamaica in 1973, Frazier had reigned as champion for almost five years and disposed of six top contenders, including Ali. The world was utterly shocked to see Frazier literally dribbled around the ring, and who can forget Howard Cossell shocked and unable to yell anything more than "Down goes Frazier!"
Corrie Sanders TKO2 Wladimir Klitschko: The man who would become Dr. Steelhammer had bounced back from his humiliating upset loss to Ross Puritty five years before, and was making the sixth defense of the WBO Title he had captured from Chris Byrd. Klitschko's long string of wins had convinced many observers that the Puritty loss was just an early hiccup and that the Ukrainian had since matured as a boxer. Sanders, on the other hand, was more interested in golf than boxing. While everyone who had seen him universally thought Sanders was blessed with quick hands and great power, the South African often appeared in the ring with a spare tire and was a serious underachiever. When Sanders sent the 6'6″ Klitschko to the canvas four times in two rounds, literally beating the big man senseless, it stunned the boxing community and created shockwaves which continue to reverberate to this very day.