Classic Boxers vs. Current Boxers in Heavyweight Fantasy Fights
Implicit in the oft-repeated statements that today's heavyweight division is "weak," "moribund" or "anemic" is that there was a better time, and no time was better than the Golden Age of Ali, Frazier, Foreman and others. This was a period that not only produced a handful of the greatest heavyweights of all time, but also a roster of second-tier contenders, each of whom almost certainly would have had a fair shot at capturing a heavyweight title in the modern age. Not everyone believes that, however.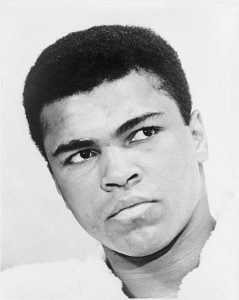 In the minds of some, size trumps all. Ergo, the Klitschkos should defeat any other heavyweight who is not of similar stature. This gravely misunderstands the role of size in boxing, as amply demonstrated by yesteryear's Primo Carnera, the Golden Age's own Ernie Terrell, or modern fighters such as Nikolai Valuev and Lance Whitaker. In addition to height, it also misreads what "size" is. Many modern heavyweights are the same height as their 1970s counterparts, but pack twenty pounds or more of extra mass. Yet does that mass make them a better fighter? If it was earned by lifting weights, as is all too often the case, then the answer is no. Bulky muscles look impressive, but they do not help a fighter hit harder. Instead, they slow a fighter down and serve as useless bulk which must be hauled around the ring all night. Anyone who has trained using old school boxing methods is familiar with just how difficult it is to build good boxing muscle through weight lifting.
Comparisons of this type appear on internet boxing websites frequently. Take East Side Boxing a just one example. Some articles, such as this comparison of Jimmy Young versus modern heavyweights, are quite good. Others, such as this recent match-ups piece, simply show us that the authors in question have probably never watched much archival footage, let alone actually been inside a boxing ring or trained as boxers for sustained periods of time. Beating a taller, heavier guy is an uphill struggle, as the boxing axiom "a good big man beats a good little man every time" indicates. Yet it is certainly not a sure-win situation for the taller, bigger man. Thinking that it does (and J. Marcus and others clearly believe that) misunderstands the sweet science, why modern boxers are bigger, and even the size of Golden Age heavyweights.
For the record, this is a brief list of how I think eight Golden Age heavyweights would have fared with eight heavyweights from the current generation. I took specific care to match up the three champions of the Golden Age — Ali, Frazier and Foreman — with the three reigning champs, the Klitschko brothers and David Haye.

Ron Lyle vs. Sam Peter: This is a match-up that illustrates the real size differences between the two eras nicely. Sam Peter and Ron Lyle are about the same height, but Peter outweighs Lyle by 35 lbs! He also exemplifies the psychological shortcomings of so many modern contenders, since he lacks in focus and staying power. For his part, Lyle had focus and guts to spare, and he could beat the guys who didn't move around on him too much. Peter fits that description nicely. A war breaks out in the early rounds, with Peter sending Lyle crashing to the canvas in both Rounds 2 and 3. Lyle keeps getting up and giving it back, putting Peter down in the 4th. Once Peter is hurt and tiring, he loses heart and switches to survival mode. Ron Lyle UD10.

Joe Frazier vs. Vitali Klitschko: As much as I adore "Smokin" Joe, it is hard to see him gaining much traction against Vitali Klitschko. Foreman demolished Frazier in large part because he was strong enough to shove Frazier back out and keep him on the end of a telephone pole jab. Klitschko, with his enormous advantage in height and reach, would not even need to do that much shoving. However, Frazier would give Dr. Ironfist his toughest test since losing to Lennox Lewis, since Frazier would relentlessly go forward. Punching down at a steep angle, Klitschko would find it hard to connect squarely on a man with Frazier's head movement, so Fazier would get inside with some regularity. Once there, those long Ukranian arms would be useless against a 5'10" wrecking machine intent on pulverizing some liver. Still, after a single hook or a double hook, Vitali would just tie Frazier up and lean on him with his full 250-lb bulk. Frazier would lose, but lose gallantly. Klitschko UD12.

George Chuvalo vs. Chris Arreola: This is a clash between two strong, tough guys who love going forward, with Chuvalo unquestionably being both mentally and physically tougher. Arreola earned plaudits for his courageous stand against Vladimir Klitschko, but that was peanuts compared to some of the feats of will pulled off by Chuvalo. Joe Frazier crushed Chuvalo's eye socket, yet the man still went out on his feet. The guy was a literal immovable object, a man who Frazier, Ali and Foreman could not put down. Contrast this to Arreola, who has real guts yet lacks the discipline to stay in shape. George Chuvalo TKO7.
Ken Norton vs. Ruslan Chagaev: Chagaev is proof that modern heavyweights are not always that much bigger as the big men of the past, as he is actually shorter than Norton, has a shorter reach and weighs only about eight pounds more. Chagaev's combination of speed, solid skills and southpaw stance might give Norton trouble, but Chagaev in turn would have fits with Norton's awkward cross-armed defense (a tactic rarely used anymore), height and reach. Also, Norton would also unquestionably be the bigger, stronger man in the ring, which means he would be able to assert himself and go forward. The only people who ever beat a prime Norton were the punchers who were able to make him back up, and the Uzbek just doesn't have that kind of artillery. Ken Norton UD10.

Jimmy Ellis vs. Tomasz Adamek: Adamek would be the bigger man in this contest, but only by about half a dozen pounds, with height and reach being about the same. In his heavyweight prime, only two men ever beat Ellis: Frazier and Ali. In the win category, this underrated guy managed to out-box Chuvalo, Oscar Bonavena, Joe Quarry and Floyd Patterson by employing his slick combination of speed and skill. I think Adamek might very well be the more technically sound boxer and the harder puncher in this mix up, but his performance against Chad Dawson indicates that he would have few answers for Ellis's speed. Jimmy Ellis SD10.
George Foreman vs. David Haye: These two fighters are about the same size, and both are explosive punchers. The difference is that Foreman is one of the greatest punchers of all-time, and had a good chin to boot. I think too much is made of Haye's whiskers, but it is obvious the Briton has a merely average jaw. Haye is a smart fighter and has the skills to stymie Foreman's relentless advance for a short while by sticking with power and moving, but Haye is no master boxer and Foreman is no slouch. Big George would cut off the ring on Haye and force him to trade. When that happens, Foreman would be staggered, but Haye would be crushed. George Foreman KO5.
Jerry Quarry vs. Eddie Chambers: As with Foreman vs. Haye and Norton vs. Chagaev, this is another match-up where a Golden Age heavyweight and his modern opponent are about the same size (when Chambers is in shape, that is). On the surface, one might think Chambers would simply befuddle Quarry, but think again. Quarry was an amateur star who could box and punch. He had desperately close fights with the aforementioned Jimmy Ellis and Floyd Patterson, and easily defeated Buster Mathis. That attests to his ability to deal with opponents wielding superior speed and/or skill. Also, a man who ate punches from Ron Lyle, Joe Frazier and Earnie Shavers would never be intimidated by the light-punching Chambers. For his part, however, Chambers has shown himself to be a durable, tough-minded opponent who knows how to play up his strengths and protect his weaknesses. Jerry Quarry SD10, clinched by a late-fight knockdown.
Muhammad Ali vs. Wladimir Klitschko: Some would say Wlad is so much bigger than Ali that the Ukrainian would walk right through the Greatest, which grossly misunderstands the real situation in the ring. True, Wladimir is three inches taller and 25 lbs. heavier than Ali, but he has only one inch in reach advantage. Wlad also has serious weaknesses. It is often forgotten he tires easily, or that he has one working game plan. Ali had the stamina to fight fifteen round wars, phenomenal hand speed and reflexes, good power, and was one of the greatest ring generals to ever enter the squared circle. Wlad's jab would miss more often than it would hit, and Ali would then step in and fire back a rapier-quick 1-2, double jab or even triple jab. Klitschko would have to work hard to keep Ali on the outside, and in losing control of the pace, Klitschko would also lose the fight. Ali would not finish this fight looking pretty, but once Klitschko tired from having to work so hard to keep him at distance, the Greatest would come into his own. Muhammad Ali TKO11.