The Best Modern Irish Boxers:
Two things the Irish have traditionally been very good at have been enjoying a resurgence in recent years: whiskey-making and fighting. Although the population of the Emerald Isle is relatively small at 4.5 million (less than that of just Manhattan and Brooklyn), the country has produced strong Olympic boxing teams, including current legend Katie Taylor, and a healthy crop of professional contenders.
With St. Patrick's Day upon us, it seems as good a time as any to look at the Irish boxers who are making the upper echelons of the sport a livelier place.
1. Andy Lee (34-2, 24 KOs, WBO Middleweight Titlist):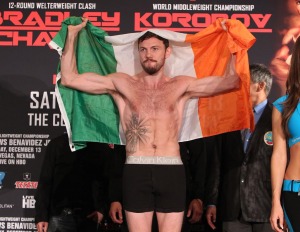 This guy is so Irish, he uses that word for his ring monicker! Although the tough southpaw was stopped by Julio Cesar Chavez, Jr. in 2012, his comeback is in full swing and has seen him kayo John Jackson, son of famed 1990s puncher Julian Jackson and the highly touted Russian Olympian Matt Korobov.
On top of that, he has a major title belt to wear around his waist. Lee might not be up there with Miguel Cotto and Gennady Golovkin, but he is a very real contender in the 160 lbs weight class. Faces Peter Quillin next, and should he win, he may be looking for a massive UK clash against Billy Joe Saunders.
2. Tyson Fury (24-0, 18 KOs):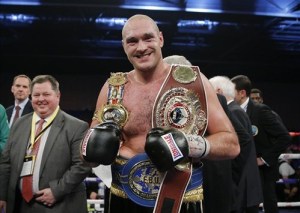 Wait, you say! Tyson Fury is British. True, but his parents are Irish Travelers, and Fury himself acknowledges this with his frequent choice of wearing trunks that bear both the British Union Jack and the Irish Tri-Color. He is Irish enough to have competed for and won the Irish Heavyweight Title, and that is good enough for me.
Fury is a Top 10 heavyweight contender. Although he has been sometimes criticized for his rather obvious tactic of waiting out Wladimir Klitschko's retirement before making a world title bid — he's now quite vocal about landing a shot as soon as possible — he has beaten Dereck Chisora twice and Steven Cunningham while doing so. A powerful 6'9″ tall behemoth, he is the big guy in waiting for the division of big guys.
3. Carl Frampton (20-0, 14 KOs):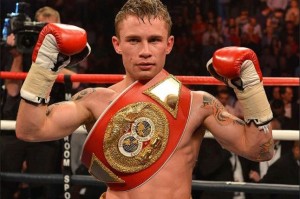 4. Matthew Macklin (31-6, 20 KOs):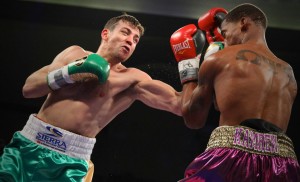 Like Fury, Macklin is a British citizen and resident with strong Irish credentials. His father is Irish, he grew up in County Tipperary, he was a champion Irish hurler in his youth, and he is a former Irish Middleweight Champion.
Once upon a time, Mack the Knife would have headed this list, but the sport hasn't been kind to him in recent years. Although he was robbed in his 2011 loss to Felix Strum, he subsequently lost hard to Sergio Martinez and than got knocked out by Gennady Golovkin. Finally, his last outing saw him kayoed by unheralded journeyman Jorge Heiland (in Dublin, by the way).
Still, Macklin was ahead on the scorecards when Heiland connected and took him down. Whether he is a spent force yet remains to be seen.
5. Jamie Kavanagh (17-1, 8 KOs):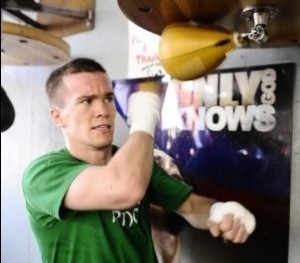 Calling himself "The Nuisance," Kavanagh is coming back from a knockout loss to rugged journeyman Daniel Ruiz, a fight that saw Kavanagh on the road and in Ruiz's backyard of Mexico. He had two fights last year, both of them good-looking wins. He fights just three days from now, taking on Miguel Zamudio as he looks to hopefully bigger things before the year's out.