Undefeated super middleweight Tom Baker says he's ready to storm to his first domestic title when he challenges Kevin Greenwood on Friday March 27th at the York Hall, Bethnal Green.
The hot prospect, trained by Mark Tibbs, is unbeaten in ten fights since turning pro in June 2012, following a top amateur career at the Repton and West Ham clubs, and trains alongside British, Commonwealth and European Middleweight Champion Billy Joe Saunders.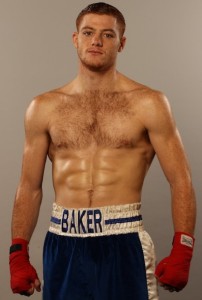 The 6ft 1in, 23-year-old, with a hammering left jab, believes that he's now ready to begin his climb up the championship ladder towards bigger honors and Greenwood is a good starting point. Ilford's Greenwood is coming off a fourth round stoppage win in his last fight over Nikolay Kolyandov and Baker says that his rival will be looking to cause an upset.
"I've served my apprenticeship for nearly the last three years, boxing my way up from four, six to eight rounds and I know in myself that I'm ready to go for my first title and win it," Said Baker.

"I'm ranked at number 20 in the last British ratings and I know that I can beat anyone from 20 to 10 comfortably and I aim to work through some of these in the next year and, of course, English and British titles are on my agenda

"I'm still only 23 and I've grown physically over the last couple of years so I wouldn't be surprised if I ended up at light-heavyweight in the next couple of years, but for now I want to do the business at super-middleweight and clean-up domestically first

"I've been doing plenty of rounds of sparring with Billy Joe, plus Miles Shinkwin and Kirk Garvey who are both on the card and I know that I can do ten rounds easy

"It's going to be cracking fight between me and Greenwood at the home of London boxing and I know that Greenwood will be up for as there's a bit of professional rivalry between us.

"Without overlooking Greenwood, though, he's a good test of my abilities at this stage of my career, he's game, strong, and will looking to beat me.

"But I know that I've got the boxing pedigree and I'll have the edge over Greenwood to come out of the York Hall the winner."