Who Should Chavez Jr Fight Next?
Julio Cesar Chavez Jr.'s recent loss against Sergio Martinez displayed many flaws in his fight game, while also displaying his strengths, as he nearly pulled off the last-minute shocking knockout.  This first loss has led many fight fans to wonder who Chavez will fight next, and whether or not he should or will seek out a rematch with Sergio Martinez.
These are the top 5 opponents I believe would be a good match-up for Chavez Jr, while also providing great entertainment and action for boxing fans.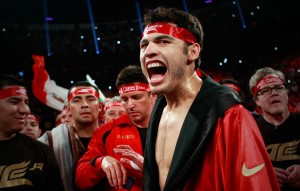 Kelly Pavlik– Pavlik seems to be back on track with his career, and has already fought three times this year, winning two out of those three fights by way of knockout. However, Pavlik is now searching for a big fight that not only is a high profile match, but helps him to get back to the top. Fighting Chavez could be an entertaining fight as both fighters love to trade punches. This fight would most likely end up with one of these two fighters laid out on the canvas, but which one?
Saul Alvarez– Chavez  vs. Canelo is a fight fan's dream, featuring two Mexican powerhouses brawling in the ring and fighting for the hearts of an entire nation. Of course, Chavez is naturally much bigger and taller than Alvarez, and some believe that it may be too much for him to handle. However, Canelo has had a remarkable year, and continues to look better each time we see him. Considering the size differential, the time to make the fight is now.
Sergio Martinez II– Yes, much back and forth talk has been going on about a possible rematch with Martinez. But really, does Chavez deserve it? For eleven out of the twelve rounds, Martinez gave Chavez a boxing lesson. His accuracy, speed and ring generalship were all impeccable. But of course, most only remember the twelfth round where Chavez knocked Martinez down and nearly had him out. The question in everybody's mind is what would've happened if Chavez let his hands go earlier? So whether or not it is a deserving rematch, many fans will want to see him get another chance.
Gennady Golovkin– Golovkin only recently made his USA debut, but he put forth a dominant showing that made many fans quite excited about his presence in the middleweight division, and a fight against Chavez would promise great action and drama. With the way these two guys hit, there would be some serious concussive consequences with this battle.
Arthur Abraham–  Abraham has bounced back from his disappointing Super Six stint with a string of three consecutive wins, including a title winning effort against Robert Stieglitz. Even so, I believe that Chavez is at a much higher level than King Arthur. It seems that Chavez's punches flow much better and have a higher connectivity rate. That being said, Abraham has great toughness and power, and has been in there with top flight opposition, making for a very intriguing challenge for Chavez to try to overcome.