Boxing is truly the sport of upsets. While unexpected outcomes happen in other sports, they tend to have a certain overwhelming weight of logic to them that makes true upsets a rarity. A lot has to go wrong for the favorite for a true underdog to win a baseball game, and in a sport like tennis the grinding long haul of the match gives a favorite plenty of time to recover from one or two bad missteps.
In boxing, a single punch can alter the flow of a round, an entire fight, or end the fight right there. Boxing is also singularly unforgiving of poor training, lack of focus, or simply having a bad night. Yet even though we see quite a few upsets in boxing vis-a-vis other sports, it doesn't make them any less shocking. Just take these big upsets from the last decade:
Top 5 Upsets of the Last 10 Years
1. Manny Pacquiao RTD8 Oscar de la Hoya (2008): In the light of Pacquiao's crossover, international superstar status, it is sometimes hard to remember the days when he was merely a boxing star, known only to boxing fans and his hardcore Filipino following. All that changed when Pacman got into the ring with The Golden Boy.
Pacquiao was supposed to be an easy retirement fight for de la Hoya, as he was thought to be too small to pose much of a threat to the man who, win or loss, had defined the welterweight zone for years. I recall even the Filipino fan base being remarkably quiet in the run-up to that fight, his defeat a foregone conclusion. But Oscar de la Hoya hadn't fought at 147 lbs in seven years, and showed up drained from making weight. Furthermore, no one quite expected the dynamo from the Philippines to get in the ring that night as a comfortable 140-pounder, eliminating a chunk of the size difference. Pacman shocked the world, routed de la Hoya, and in doing so made himself the icon he is today.
2. Lamon Brewster TKO5 Wladimir Klitschko (2004): Sure, Wladimir Klitschko had suffered defeats before, but those could be explained away (and were at some length by Team Klitschko). The big guy was young and inexperienced against Ross Purrity, and was beating the crap out of the American journeyman when he out-paced his gas tank and left himself vulnerable and exhausted. Corrie Sanders was inconsistent, but on a good night he was as quick and deadly a puncher as the division had. So a fringe contender like Lamon Brewster shouldn't pose any problems for Klitschko the Younger, right?
Wrong. Brewster succeeded in turning Klitschko's intended boxing match into a slugging fight, and in doing so got to that suspect chin. The only thing more surprising than Brewster's upset win is that Wladimir was able to resurrect his career after suffering three losses by TKO.
[Also See: Biggest Heavyweight Title Fight Upsets in History]
3. Carlos Baldomir UD12 Zab Judah (2006): Zab Judah might have been ill-focused and inconsistent, but everyone acknowledged that on a good night he was "Pernell Whitaker with a punch," and it took a world class fighter to beat him even on a bad night. Carlos Baldomir, on the other hand, was not especially well-known and had a string of rather embarrassing losses in his past. He was only a stepping stone on the way to a lucrative showdown with Floyd Mayweather.
Who knew that Baldomir would not only turn out to have grown into a rugged, world class tough guy and swarmer, but was just the first of a whole class of Argentine fighters who would take boxing by storm? Other than Joshua Clottey (who tangled with him back in 1999), nobody, that's who.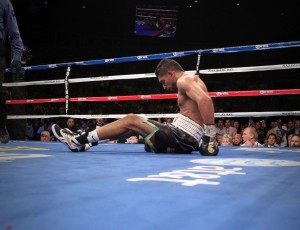 4. Breidis Prescott KO1 Amir Khan (2008): Amir Khan was the rising star, a British Olympian blessed with speed and power. Breidis Prescott was undefeated, but lightly regarded, and widely viewed as just being another step in Khan's progress to world contention. No one knew at the time that Khan had a suspect chin, so his winding up senseless on the canvas in the 1st Round was arguably the biggest shock British boxing has suffered in recent memory.
5. Antonio Tarver KO2 Roy Jones II (2004): Jones had not done so well in his first clash with Antonio Tarver, and many thought Tarver had done enough to earn the nod. It was the hardest time anyone had seen Jones in since the first Bernard Hopkins fight eleven years before, so that Tarver might win was certainly in the cards for fight fans that night. Yet RJJ was still cloaked in his aura of supernatural prowess, so even when Roy looked a little nervous and Tarver boldly prodded him with a "what excuse are you going to use tonight, Roy?," many still expected him to win, and few foresaw that RJJ would be get flattened by a left hook in the 2nd Round.