Andre Ward returned from a lengthy layoff this past weekend to dispatch of the outclassed Paul Smith, scoring a 9th round TKO victory. With the official comeback out of the way, and no remaining promotional or injury issues at hand, hopefully the S.O.G. starts to keep a busier calendar.
Here are the top 5 opponents for Ward right now. We don't care about networks and promotional issues, these are the fights we want to see, not the ones which are easiest to get made due to bogus boxing politics.
Sergey Kovalev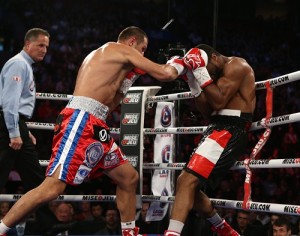 "Krusher" may not be the official champion at light heavyweight, but there's no doubt he's The Man in the division. He has consecutive wins over Bernard Hopkins and Jean Pascal, and a growing legion of his own fans.
Ward, meanwhile, has a win over a previous 175 lbs champ, Chad Dawson, but Dawson came down to Super Middleweight for the fight and appeared reduced in that division. Nevertheless, it was a highly impressive thrashing from Ward. Why not go for the division's Alpha guy right away?
A Ward vs. Kovalev fight would in some ways pit Kovalev not against the 50-year-old Hopkins, but a younger, more dynamic incarnation. Ward would have to deal with the threat of that Krushing power and aggression, Kovalev would have to try to solve Ward's all-around mastery. Intriguing clash of styles, and a highly meaningful fight sure to sell.
Gennady Golovkin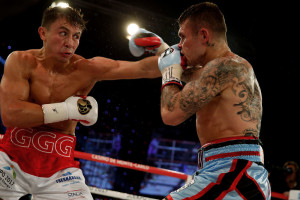 Speaking of uncrowned champions, there's no doubting GGG's status as the true class of Middleweight, even if Miguel Cotto is the champ. Golovkin is never shy from calling out anybody, and he and Ward have gotten into a bit of back and forth as of late. That's sparking even more interest in this long rumored fight.
While Golovkin would also love to get Canelo Alvarez or Miguel Cotto in the ring, at best, that's not happening to 2016 — if it happens at all. So why not opt for Ward now? This would be by far the biggest test of Golovkin's career, while Ward would also be facing a unique challenge from what he's seen, particularly as of late.
Adonis Stevenson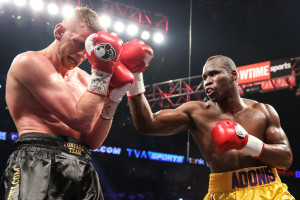 Adonis Stevenson has been more Clark Kent than Superman in his last few outings. Nevertheless, he's the linear champion at Light Heavyweight. A win here from Ward seamlessly moves him into champion status, and he'd get to look down on the rest of the pecking order from his preferred perch at the top.
But Stevenson is still explosive. While Ward battered and broke down Dawson, Stevenson blew him apart in minutes. He's been less impressive as of late, as mentioned, but that power and potential are certainly still there. Would his combination of speed and power be able to get Ward off his game?
Carl Froch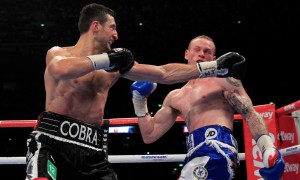 While Andre Ward was inactive for one reason or another, Froch was building his legacy. Lucian Bute. Mikkel Kessler again. George Groves twice. The big angle than was that Froch has grown, and he would have momentum and perhaps 80,000 screaming Brits on his side this time around.
However, now Froch is coming off his own year-long absence from the ring. That levels the playing field once again, putting us back into been-there-seen-that status. Ward vs. Froch II still sells, and it still re-crowns the champ at 168 lbs since Ward has been stripped of his championship there, but I'd rather see a fresh face.
James DeGale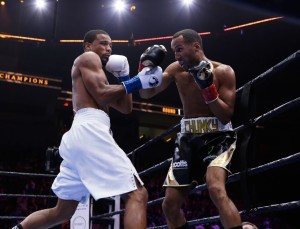 DeGale represents that fresh face, but he certainly doesn't have the name recognition stateside of any of the above fighters. However, he does hold a win over Andre Dirrell, Ward's close friend and former Olympic teammate.
Plus, there's more Olympic history too, as Ward and DeGale are both gold medal winners. DeGale would have a chance to do something Froch couldn't, while Ward would get to take care of Froch's unfinished domestic business for him, taking a shot at The Cobra in the process.