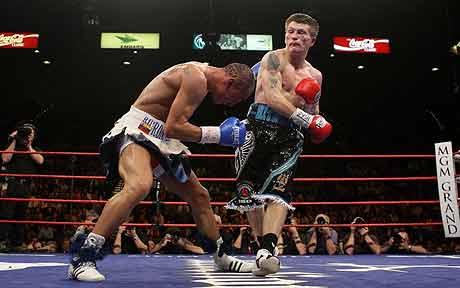 England's Ricky Hatton has taken the British boxing world by storm once again as he announced a shock comeback to the professional fight game. Rumors quietly circulated for several weeks before today's announcement, where 'Hitman' Hatton spoke of his will to "redeem" himself.
The former WBA welterweight champion's last outing three years ago ended in devastating fashion when Manny Pacquiao scored a crushing KO in the second round. Ricky Hatton will fight as a 34-year-old on November 24th. The fight takes place in his hometown at the MEN Arena; it will be his first fight there since his dazzling victory against Kostya Tszyu. Here, we'll take a look at the top potential opponents for him to face.
4 Fighters for Hatton to Fight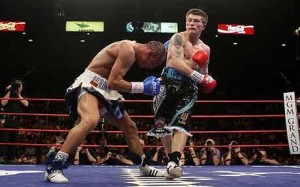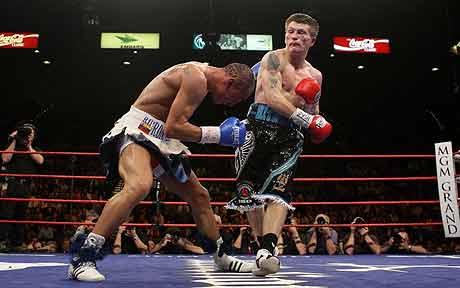 Amir Khan has been quick to talk up a bout since the announcement of Hatton's comeback. This fight would generate a mass of interest and surely sell tickets. The contrast of styles could make for a spectacle. But before this fight is possible surely the Manc' would have to prove his fitness and skill is up to that task first.
Another fighter being linked with a match-up is Paulie Malinaggi, a rematch of the 'Hitman' won by TKO in 2008. Malinaggi is still rated as a world class fighter and a win against him could do a lot to silence the critics. He currently holds a welterweight title strap, a fancy trinket which Hatton would surely like to find. Ricky will fancy himself in this kind of contest but I'm sure he will take on a domestic fighter before being matched with any kind of world ranked boxer.
Kell Brook could be a fight on the horizon, although I doubt the Hatton camp would risk that one, given Brook's youth and size advantages. However, Ricky might want sweet redemption for his brother, as the unbeaten Brook bossed him around the ring for 12 rounds. 'Special' K is trying to prove his worth as he looks to make the transition from the domestic scene onto the world stage and he might find Hatton the perfect stepping stone, and a big money, high profile opportunity.
An old bitter rival of Hatton's was Junior Witter. Witter has recently come back impressively and is set to take on the highly touted Frankie Gavin. A fight against the winner would be another big clash on the domestic scene. Witter constantly teased and jibed him in the past, labeling Hatton too scared to take him on. Even if Witter loses against Gavin, this could be a top choice as a first opponent.
Should he comeback?
These are a few of the potential options that Hatton has, but of course, in every case he will need to score a few comeback wins first. He won't be anywhere near ready to take on these guys yet, coming off from such a long layoff, with so many out of the ring and personal issues.

Personally, I can't understand why he would risk coming back after three years out the game. He is a well-respected boxer worldwide and an English legend in his own right. He feels he has a point to prove and I can only see it ending badly. Even if he was to fight at world level, it is unlikely he will surpass the level of achievement he previously amassed yet he could quite easily undo some of his hard work. With both of his career losses coming by knockout, you don't want to see him get hurt in there with an unnecessary return to the ring.
I hope this decision is the right one and not one hastily thought over after reminiscing of the excitement. Moreover, I hope that if he gets in there for a few tune-ups and doesn't have what it takes, that he calls it off before putting together a big, high profile match against a tough, prime opponent.
Comments
comments