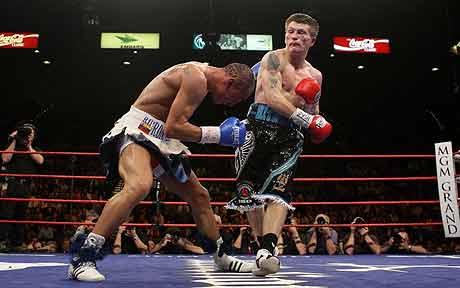 It's official: after three years in retirement, former super lightweight champion Ricky Hatton is applying for a boxing license, and a November 24th comeback date in Manchester Arena has been confirmed. The Hitman is back, but any fight fan with any sense should hope it isn't for very long.
Hatton Isn't Morales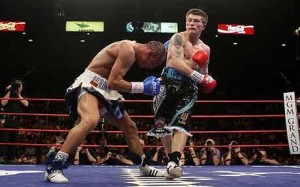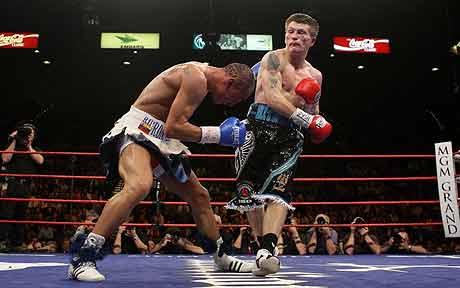 When Hatton began floating rumors of a comeback, he was no doubt encouraged by the kind words of boxing fixtures like former champ Barry McGuigan, who said "There's every chance we'll see 90% of the Ricky Hatton we saw a few years back and that will be good enough to beat someone like Paulie Malignaggi." All due respect to Mr. McGuigan, but a statement like that makes me wonder if the grand old man has been paying attention to Hatton's recent past, marred by alcohol and drug abuse.
The prospects for a Hitman comeback are in no way comparable to those enjoyed by the recent comeback of another faded great of similar age, Erik Morales. While El Terrible has actually had a decent enough run to justify his return to the ring, especially since Morales is clearly enjoying himself, his run has revealed certain hard truths. I have likened Morales to the late-era, 175-pound version of Tommy Hearns. At his age and well above his prime weight, Morales is falling back on his boxing ability (plus his concrete chin, an asset Hearns lacked) to stand as a credible, second-tier contender.
If Hatton thinks he can do what Morales did, he is deluding himself, as he has no boxing skills to fall back on. Hatton isn't even a puncher, at least not in the true one-punch knockout sense, so he cannot rely upon the axiom that a boxer's punch always goes last. The Hitman's boxing style has always been that of a swarmer, a go-forward tough guy who won fights by out-swinging and out-roughing the other guy. It is a very physical style, and the boxers who pursue it suffer badly when any one of their physical gifts, such as speed or stamina, begin to decline.
The problem is that Hatton's physical gifts cannot have done anything except decline. Unlike Morales, he hasn't been taking good care of himself in retirement. While Hatton is only 33 years old, he has spent the last few years wrestling with alcohol and drug problems. Boxing is replete with examples of fighters suffering swift physical declines due to substance abuse issues, and these were boxers who remained active and trained with a reasonable degree of diligence. With a background like that, it is not a question of "has Hatton lost something?" but "how much has Hatton lost?" And with Hatton's physical gifts depleted, he has nothing to carry him in the ring.
Wishful Thinking
Keeping that in mind, I think Mr. McGuigan is wrong about Hatton being able to beat Paulie Malignaggi. The Magic Man has improved somewhat since his 2008 encounter with the Hitman. He is sharper and probably faster than Hatton at this point, and I can't see a post-substance abuse Hatton having the gas tank to charge Malignaggi for 12 rounds.
When I look at the Top 10 for the welterweight and light welterweight divisions, I think the best case scenario for a faded swarmer is that he might be able to beat some of the lower-ranked guys on the list. Even then, his best odds are at 140 lbs, since Hatton seemed small and underpowered at 147, even during his good years.
However, it is just as likely that a slower Hatton with a shallow gas tank can't even beat those guys at this stage in his career, and it's that thought that had many observers wishing Hatton had never started on the comeback trail in the first place. To bring all of this into focus, let me ask one concluding question: if Morales vs. Hatton were signed for next summer, who would you pick?
Comments
comments