Big Name Prospects in Action in Vegas the Night Before Pacquiao-Marquez
At the Mandalay Bay Pacific Ballroom, a collection of hot prospects showcased their skills to a Vegas boxing crowd ready for a weekend of incredible boxing action. While tomorrow showcases the best fighter on the planet, tonight's card offered some possible future candidates to that throne. It's a card that serves as a peek into the future.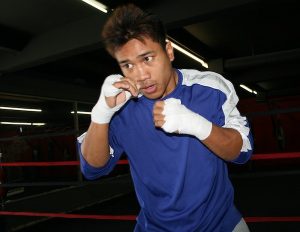 Gesta vs. Dominguez
Recent Top Rank signee and fast-rising lightweight Mercito Gesta, 136, decisioned former two-time lightweight title challenger Ricardo Dominguez, 136 unanimously over 10 rounds.. From the beginning, Gesta showed greater speed and explosiveness, peppering Dominguez with shots. Soon on, the only question was: would the more talented Gesta take his foot off the gas to allow the more proletariat efforts of Dominguez to take the play away?
With Dominguez leery after being shown what Gesta had, Mercito settled into a comfortable pace. By round 3, however, Dominguez, sensing things were getting away from him, opened up a bit and had some success. This only served to leave himself open, however, as Gesta floored him toward the end of the 3rd.
Dominguez found success against the southpaw with his straight right, but his punches never threatened to shine brighter than the more compelling offense of Gesta. By the end of the 4th, both men were trading in pleasing action. Gesta, always threatening to overmatch Dominguez with his talent, allowed Dominguez to have moments in between explosions. By the end of round 5, Gesta has won perhaps every session, but Dominguez is squarely in the fight.
After a close 6th, Gesta slowed his pace in the 7th, looking a bit distracted, as Dominguez might have taken the round. He expended more effort in the 8th, but has appeared decidedly flat for the past several rounds. A few nice onslaughts, however, had Dominguez in a bit of distress, thus giving him the round.
The 9th and 10th were feversishly fought, with the script remaining more or less the same–Gesta's greater versatility and athleticism taking the play. Dominguez was gallant and professional, but unable to really get over the hump. At the end of ten, the unanimous verdict went to Gesta by scores of 99-91, 98-91, and 97-92. Gesta goes to 24-0-1 (12), with Dominguez slipping to 36-7-2 (21).
Magdaleno vs. Lucero
Diego Magdaleno, 130, scored an easy 10-round decision over Emmanuel Lucero, 129, in the main event here at Mandalay Bay. Scores were a lopsided 100-89, 100-88, and 100-87. Magdaleno in now 21-0 (7) with Lucero falling to 26-8-1.
Magdaleno has turned into a nice 130-pound prospect. He began his career at 15-0 with only 3 stoppages, but had stopped 4 of his last 5 leading into this bout to bring his record to 20-0 (7). Lucero, meanwhile, was once an unbeaten prospect like Magdaleno. That's before he ran into the fists of Manny Pacquiao in 2003, Since then, he's been 5-7 and unable to get anything too positive going in his career.
The first two rounds saw Magdaleno draw the battle lines with some quick in-and-out action featuring his speed and southpaw style. Lucero kept things from getting out of hand early with some cute veteran moves. by the 3rd, Magdaleno was turning it up a notch, strafing Lucero, who could find no answers offensively. Magdaleno, 25, looked 2 divisions bigger than the 33-year old Lucero. In the 4th, Diego began going to the body with more authority. While Lucero's offense had slowed to a crawl, he has been resolute in the face of one-way traffic.
A big straight left in the 5th made Lucero buckle for the first time, giving way to a prolonged Magdaleno attack. Lucero persevered, but by the end of the round, it was clear that the southpaw left of Magdaleno, delivered both down the pike to the face and underneath to the body, were having a more-telling affect on his opponent. A good 6th for Magdaleno, as he continued his high output against his still-tricky adversary. It's difficult to look against a foe who is more concerned with safety than winning, but Diego is doing the right thing: working hard.
A big left toward the end of the 7th badly wobbled Lucero, who relied on the ropes to stay up, forcing referee Robert Byrd to call a knockdown. With Magdaleno's punches resonating with increased impact, Lucero faces a difficult final 3 rounds. In the 8th, Lucero tried to pump himself up, but still had little answers for Magdaleno's fusillade of shots other than defiance.
You gotta hand it to Lucero. For a fighter stopped 5 times, he stood strong against a young prospect, even if unable to generate anything positive. He used ointment and slickness accumulated over a long career to hang in there. Lucero had a difficult 10th, especially after a half-hearted last ditch attempt to create some offense, which only exposed him to Magdaleno's venom that much more.In the end, Lucero made it to the final bell, which was probably his goal coming in, or at least after he saw what he was up against.
Korobov vs. Mundy
On the card's opener, middleweight prospect Matt Korobov scored a 4th-round knockout over Latif Mundy, now 10-4 (4). The former 2-time world amateur champion, now 17-0 (10), softened Mundy with some bodywork, before shifting his attention to the head. Short hooks and straight lefts from the southpaw stance had Mundy's eye puffy by the 2nd round. Some big lefts put Mundy down in the third, before a salvo finished him in the 4th. Korobov was sharp, but a step up in competition and a slightly more accelerated career trajectory could perhaps be called for. Even so, this kid will need to be dealt with at some point, as he is clearly a top talent.
Earlier Action
Allan Tanada, 129, making his first stateside appearance, scraped by the much more experienced Juan Ruiz, 126, by majority decision in 6 uneven, yet earnest rounds. Tanada, 20, is now 11-1-2 (5), while Ruiz, who pushed him all the way is now 23-8 (7). Scores were 57-57 and 58-56 (twice).
Former Canadian amateur star and unbeaten prospect Mikael Zewski, 151, now 12-0 (8) stopped strong but overmatched Gundrick King, 151, who falls to 16-7 (11). Zewski is a sharp fighter who warrants having an eye kept on him as he progresses up the ranks.
Budding prospect and knockout artist Gabino "Showtime" Saenz, who came in with 4 first-round knockouts in 5 fights, struggled to put away Chicago's tough Sergio Cristobal, 121, settling for a 6-round unanimous decision. Saenz, 122, now 6-0 (5) looked raw, but showed talent against the 3-3 Cristobal. Saenz landed shots, but was unable to gain enough consistent foothold to put away his stubborn opponent. Scores were all 60-54.
Nice-looking powerpuncher Saul Rodriguez moved to 2-0 (2) with a first-round blastout of Rocco Espinoza, 1-2. After Rodriguez drilled Espinoza to the mat for the second time, referee Joe Cortez rightfully called a halt.
Younger brother of Diego, Jesse Magdaleno, 121, tore into Gil Garcia, 123, landing one flush shot after another, scoring a first-round TKO at 2:40 of the first round. Magdaleno rained flush shots on an outmanned Garcia, forcing Byrd to call a halt to this mismatch before Garcia got his head torn off. At 7-0 (5), Magdaleno is a former National Golden Gloves champion and a budding prospect.
Grandson of Filipino legend Flash Elorde, Juan Martin Elorde, 121, got a tough draw in late replacement Jerry Guevara, 122, 6-0 (5). After getting muscled in the 1st, Elorde slashed in some nice shots in the 2nd.  By the 3rd, it was clear this would be the most competitive fight of the night, with heated two-way action. In a good fight where both fighters showed signs of being decent prospects, the 4-round nod went to Guevara, who rises to 7-0, while the raw Elorde dips to 13-2.
—–
Thanks for checking out our full ringside recap of of the Friday night Top Rank Live card featuring all of the great prospects mentioned above. The biggest action of the weekend of course takes place on Saturday evening from Vegas, so be sure to come back and visit ProBoxing-Fans.com again for our live Pacquiao Marquez results.