Less than two weeks from one of the most important fights in the history of the super middleweight division, the trainers for world champions Andre Ward and Carl Froch are brimming with confidence as training camp begins to wind down. The eagerly awaited inaugural Super Six World Boxing Classic Final is slated for Saturday, Dec. 17, at Boardwalk Hall in Atlantic City, N.J., live on Showtime. Take a look at what each man has to say about his fighter and the upcoming showdown.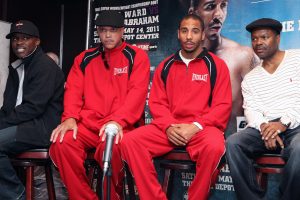 Says Virgil Hunter, who trains Ward (24-0, 13 KOs), of Oakland, Calif.: "We're real pleased with how it's all going in camp. We never actually left. We had a setback (after Ward was cut on Sept. 22), but we never stopped. We just modified things when we couldn't spar. We've been sparring for about three weeks.
"I haven't seen any difference at all with Andre; there's been no noticeable drop off for anything.
He's the same now as he was before the cut. He understands the nature of game.
"We're just determined to win in a dominant fashion. That's what we focus on. It's not personal. We just want to win, and that's what we plan to do.''
Offers Rob McCracken, who handles Froch (28-1, 20 KOs), of Nottingham, England: "Carl's camp has been fantastic. He's just an exceptional worker and will carry out whatever you want from him every day. He never questions anything. He doesn't have weight issues; he has the genetics to do that, and very few in the sport can say that.
"We'd worked 10 weeks before the cut, but then took a three-week break. So we will have had nine more solid weeks of camp going in. That's quite a bit of training, but the three weeks off refreshed him. A similar thing happened when he fought Arthur Abraham, and Carl came back sharper than ever.
"Ward pulled out because of a cut. That's part of boxing, and Carl knows that. But this is a personal fight.''
Both Hunter and McCracken have had lengthy relationships with their boxers – who represent each trainer's top client. The insightful Hunter, who's also Ward's godfather, has coached the boxer since he was nine years old. He was with Ward during the run to the 2004 Olympic Games gold medal and has been there every step of the way since.
The respected McCracken, a former British champion and world title challenger at 160 pounds, is the current head of the UK Olympic team. Froch, who often works with the amateurs, has been with McCracken for more than 10 years.
Some industry experts consider Ward a slight favorite to defeat the confident Froch and win the high-stakes 12-round bout for the WBA and WBC titles, vacant The Ring magazine championship and the Super Six World Boxing Classic Cup. But, as always, Ward will enter the ring with something to prove and taking nothing for granted.
"Andre always fights with a chip on his shoulder, but it's a healthy chip and it's what fuels and motivates him,'' Hunter said. "One minute you're the best in the world, the next minute you're not. Just the criticism alone is something he has no control over, but it's enough to motivate him continuously.
"He has his dreams, he has his goals, and until he hangs 'em up he'll be motivated. It's just the type of kid he is. He'll never be in a situation where he'll not be motivated because when the tournament is over they will have somebody else for him to fight. Or there will be someone else where they say maybe this guy will be a good test, or that guy will be a good test.
"The way Andre is winning right now, no one seems to think he's being tested. So if there is a test out there, we welcome it and we're ready for it."
Chip or no chip, McCracken believes Froch is the real deal and the one to beat.
"Carl trained with me nine months before his first pro fight and before that I watched him in the 2001 World Championships,'' McCracken said. "While Carl was becoming the first English boxer to win a medal at the World Championships, I could see the raw talent and that he had all the ingredients.
"Carl and Ward have pretty much proved themselves as the two best; well, Carl definitely has and Ward, who won an Olympic gold medal, is the other best super middleweight in the world alongside Carl.
"But Carl has done more in the division than Ward has."
So, who's going to win?
"Andre's biggest key is that he has the element of surprise,'' Hunter said. "Froch really doesn't have a clue what he's getting into. He just doesn't know. He's on the outside looking in. It'll be interesting to see when he finds out. Then, we'll adjust accordingly to whatever his intent is.
"Andre is determined. He has a family, and he wants to be great, which is enough stimulation to put everything he has into winning this fight.
"I don't think that you could ask for a better conclusion.  It's going to be a great fight and I'm looking forward to it. Froch is a confident fighter who has passionate fans. He's the type of fighter you want to fight. He says he'll keep pushing the petal to the metal and I think he's a man of his word. I'd be very disappointed if he tucks it in, after what he's been saying.
"We've worked hard to win this tournament and we intend to win the tournament. We're now at the point where we have one more obstacle to overcome. It doesn't matter if it's a knockout or a decision. We want the KO if it comes, or a stoppage. Personally, I'd like to see him quit or his corner stop it.''
Says McCracken: "The reality at this level of fight is intriguing because no one knows for sure how it will play out. We'll both have game plans and we'll both try to come out and implement them. But there will be points in the fight where they'll have to fight on instincts.
"Ward is unorthodox, very fast and very talented. He will only do one of two things. He'll try to go in and out or try and bull himself inside.
"Carl has the longer reach and is physically stronger. He knows he has to be smartly aggressive. He's proven himself time and again, against everybody's he's been in with. Carl will be ready for anything. He'll adjust when necessary and do whatever it takes to win.
"But we're expecting a fantastic fight between two tremendous boxers.''