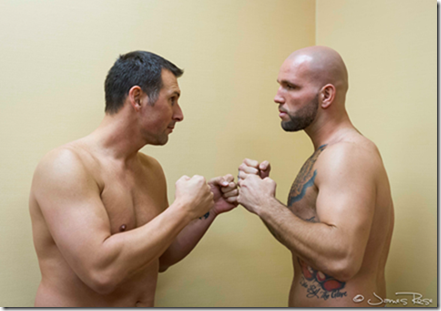 When it was announced that Heavyweight Manuel Quezada would not be able to fight WBA number-10 ranked Heavyweight Travis Kauffman this Saturday night at the Santander Arena, calls were made to almost every credible Heavyweight that was available.
The only guy to step up to the plate was Jason Barnett of Clearwater, Florida. Despite having a .500 record of 14-14, Kauffman and his team know that Barnett is dangerous for a couple of very legitimate reasons.
Barnett is more than capable as he has knockout wins over John Poore (21-3) and Eric Leander (8-0). Barnett is also a confident as he has won two in a row with wins over Willie Chisolm and Terrance Marbra (6-2).
Weigh-in Results
Travis Kauffman 237 – Jason Barnett 230.6
Frankie De Alba 130.6 – Osnel Charles 133
Rafael Montalvo 146.7 – Evencii Dixon 148.1
Travis Thompson 133.9 – Emil Rodriguez 134.5
Khalib Whittmore 177 – Mark Baltimore  173.4
William Monroe 266.8 – Randy Easton TBA
"We called so many people and Barnett took the fight like he knew something", said Kauffman's father Marshall Kauffman.
"Travis is so close to being where he wants to be and is so close to a major fight. Barnett is coming in here to become a somebody and Travis needs to be as focused as he ever as to win this fight."
Greg Cohen of Greg Cohen Promotions knows his fighter, Travis Kauffman, must stay focused tomorrow night, when the WBA #10 heavyweight faces his late sub opponent.
"Travis is in line for some big fights, so it's very important he not look past this opponent, who has scored some upset wins in the past and always comes to fight," said Cohen. "These are often the most dangerous fights a fighter can take because it's so easy to have one eye on the future and not on the fight."
Kauffman has some serious momentum going, winning eight consecutive fights. This will be his third in just over three months. He was originally scheduled to take on capable veteran Manuel Quezada, but paperwork difficulties nixed the fight on short notice.
"The recipe is certainly there for an upset, but Travis is a solid professional who has been brought along perfectly. I know he will go in and get the job done and then the future is extremely bright for him. He's a very talented American heavyweight with everything it takes to be a star. I will be happy when the fight is over and we can begin to focus on a career-defining fight for him."