Saturday night in San Antonio, Texas, the top two fighters in the junior middleweight division squared off, as Saul "Canelo" Alvarez and Austin "No Doubt" Trout met in a highly anticipated fight, with the WBC and WBA belts on the line. Canelo took home a Unanimous Decision in what was a close, tough fight, despite what the lopsided scorecards said.
With the Canelo vs. Trout results, it's time of course to update our top 10 rankings in the division to see where each man stands, and whether there has been any movement.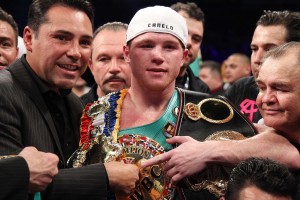 Also, be sure to check out our Canelo Alvarez vs. Austin Trout photo gallery
Plus, we've also updated the top 10s in the heavyweight division and the lightweight division. At heavyweight, Tyson Fury made an impressive stateside debut by taking out Steve Cunningham, but not without a scare along the way.  Did the win improve his standing at all, or did the knockdown hurt his position in the division?
At lightweight, Omar Figueroa continued his ascent as he made quick work of Abner Cotto, taking him out in the first round. Was the win enough to put him into the top 10?
So be sure to take a look at all of our updated divisional top 10 rankings. Canelo now the clear top dog at 154 lbs, but does Trout drop off, or did he stay right beside his rival at the pinnacle of the division?