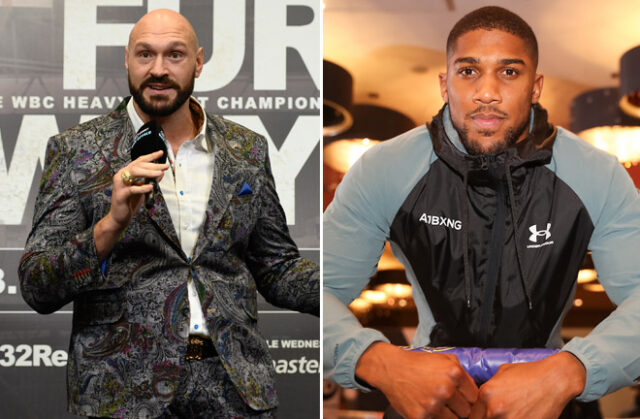 Tyson Fury insists that Anthony Joshua's only chance of gaining revenge over Oleksandr Usyk is training alongside him in Morecambe and believes if he implements an aggressive game plan he will get stopped.
Joshua is set to face Usyk in a rematch in August for the WBA 'super', WBO and IBF titles that were ripped away from him by the Ukrainian last September, with Fury holding the only other belt in the division – the WBC crown.
'AJ', who committed his broadcast future to DAZN on Monday, recently announced the appointment of world-renowned trainer, Robert Garcia, who has replaced long-time trainer, Robert McCracken.
Despite training 14 fighters to world titles, including Marcos Maidana and his brother Mikey, Fury, who announced his retirement from boxing after stopping Dillian Whyte in six rounds at Wembley Stadium in April, sees an uphill task for the California native to change his rival's fortunes.
"Unless Anthony Joshua get his a** up to Morecambe and lets me train him for this fight, Robert Garcia and 10 men like him will not make him beat Usyk," the 33-year-old told the Unibet Lowdown.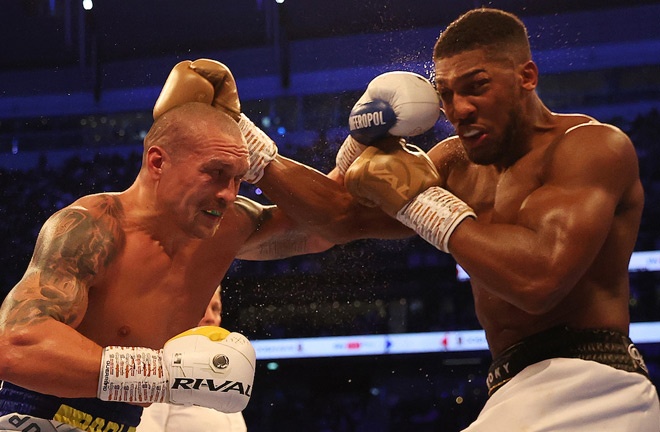 "Because, one they don't know him. Two they don't know what he's got in his engine and three he's not a little Mexican who can go toe-to-toe with someone for 15 rounds.
"If he gets on Usyk from round one and tries to push and be aggressive, he'll be gassed out after four rounds, start hanging on after five, six and get stopped in seven.
"But, if he comes to Morecambe Bay and I teach him how to be a real fighting man for 12 rounds and how to deal with these little middleweight people, then he will get a win.
"But, other than that, I see him getting beat again. Two in a row baby and then it's over.
"But, if he wants to resurrect his career, please come up to the man whose never lost a fight in his life, been undefeated for 13 years and retired as only the second heavyweight in history to be on top of his game."
The 32-year-old Watford man was comprehensively outpointed at the Tottenham Hotspur Stadium and will return to Saudi Arabia – the country which staged his rematch success over Andy Ruiz Jr in December 2019 – as he looks to avenge his only other career defeat and become a three-time world heavyweight champion.
Despite an expectation that Garcia will implement a far more aggressive approach than in the first outing, 'The Gypsy King' feels his rival lacks in key areas to carry out a more destructive game plan and believes he could be beaten in more conclusive fashion this time around.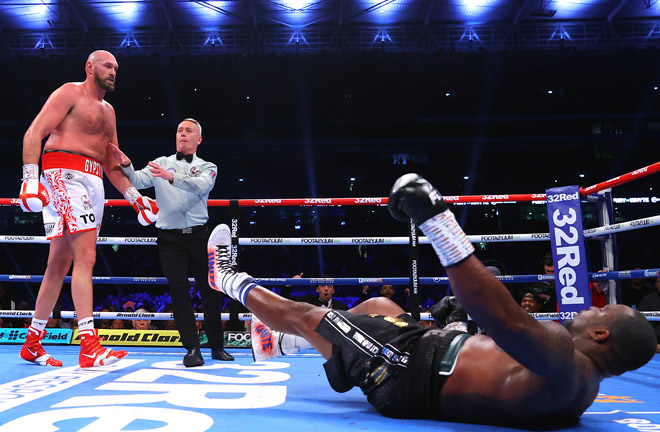 "It all goes on what Robert Garcia's game plan is," the Manchester man added.
"How quick he wants him to get chinned.
"To have a style of keep coming forward and putting pressure on somebody when you're a big man like he is and I am, you need to have two V12 engines and you need to be able to take punches as well and have balls like King Kong and none of them three of the above what I've just said does he have.
"He doesn't have the best engine in the world, he doesn't toughness and he doesn't have balls like King Kong so other than that he's got to have the best game plan ever.
"To just be on the front foot and attack is impossible for him because he doesn't have the grit, determination, the will, he doesn't have any of the above to do it.
"So the way I see him doing it, if he trains with this man is he might hit him with a big punch which he didn't last time and try to knock him out that way, but honestly if he goes on that front foot and tries to be aggressive and all that with Usyk, I think he gets stopped inside eight rounds and I mean that."