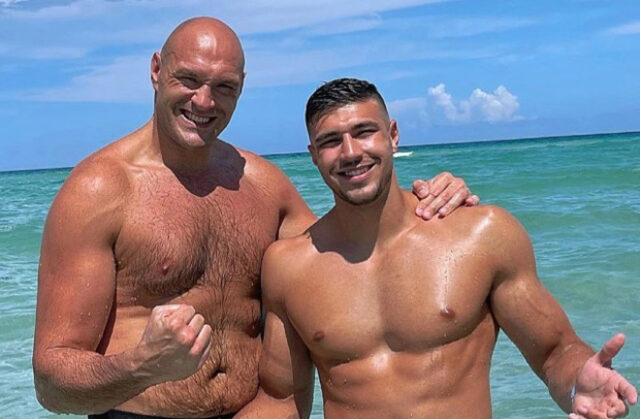 Tyson Fury is confident that whichever version of his brother, Tommy turns up will be enough to beat Jake Paul on December 18.
WBC heavyweight champion, Fury will be in the corner of younger brother, Tommy, 22, when he takes on Paul in a blockbuster grudge fight at the Amalie Arena in Tampa.
The two-time heavyweight champion has said in the build-up that if his brother were to lose to the YouTuber-turned boxer, he would have to change his surname, whilst father John Fury has warned that he will be retired from the sport in the event of a defeat.
Despite this, the 33-year-old who stopped Deontay Wilder in their classic trilogy last month says there is no pressure on Tommy, who is undefeated in his first seven fights as a professional.
"I'm expecting Tommy to give Jake Paul a good beating," Fury told Frank Warren's Queensberry Promotions.
"And enjoy himself and put on a good show and that's what it's about, enjoying yourself, putting on a good show and taking it all in, that's what we're there to do.
View this post on Instagram
"How could it be the toughest fight of his career? He's sparred better men as an 11-year-old.
"Probably most of them [Tommy's previous opponents] beat him.
"There's no pressure on him. Go in there, hit this fella [with] a couple of punches, bust him, that's it.
"I don't see pressure in having a fight, it's not a pressurised thing.
"Tommy's boxed all his life, it's nothing new to him. Go in there and have a fight."
View this post on Instagram
Paul, who has amassed over 20m subscribers on YouTube is unbeaten in his four professional bouts, but faces a recognised professional boxer for the first time having beaten fellow internet sensation, AnEsonGib, ex-NBA player, Nate Robinson, former UFC fighter, Ben Askren and former UFC welterweight champion, Tyron Woodley in August.
Tommy fought on the undercard of Paul's victory over Woodley in Cleveland, beating the 24-year-old's former sparring partner, Anthony Taylor on points and the 'Gypsy King' claims 'TNT' purposely held back to secure the fight with 'The Problem Child.'
"Tommy could have his worst night ever and still beat Jake Paul," Fury added.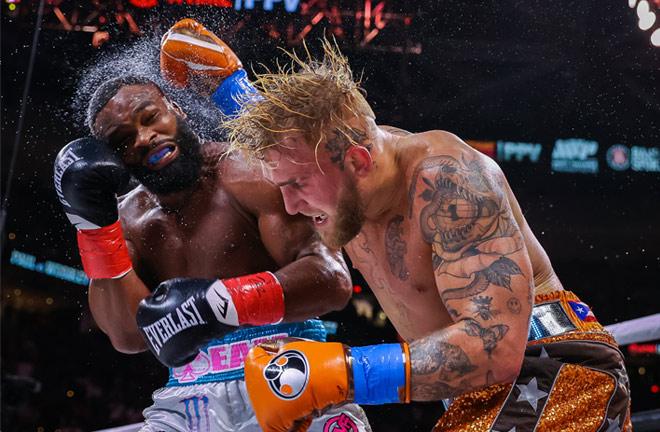 "He could probably turn up with broken ribs, a broken left hand, two left feet, his clothes on back to front, with the flu and still beat Jake Paul, that's how confident that I am he can beat Jake Paul.
"Tommy looked terrible on purpose so he could get this fight and that's what clever people do."
The rivals traded words during a heated press conference on Wednesday with Tommy joined by Tyson and father, John in Morecambe, whilst Paul joined virtually, with Frank Warren also present via video link.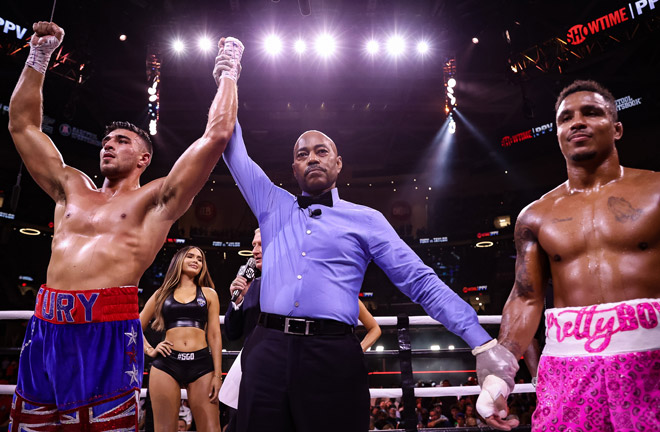 "As soon as I heard about this fight, easy money," Tommy said during the press conference streamed on BT Sport Boxing.
"Because this is a bum who cannot fight and I'm going to show that on December 18.
"When he gets in that ring against me he's going to find his level and he's going to be out of there in the first round."
Paul praised the 'Gypsy King' for his role in the promotion of the fight, but warned he would knock his brother out.
View this post on Instagram
"I think he should be getting paid Tommy's purse, because he's getting promoting the fight more than Tommy is," Paul said.
"It's finally nice to have somebody on the other side of the promotion who actually has a following who can help me promote the fight, instead of promoting all these fights by myself.
"So, finally Tyson Fury steps up and does some promotion, because I'm sick and tired of carrying the promotions by myself.
"So, thank you Tyson I tip my hat to you and thank you for entering me into the world of boxing, I'm going to steal all of your fans, I'm going to knock out your brother and be on my merry way.
"Another pay day, another speed bump in the road to become a world champion and the biggest prizefighter in the world."