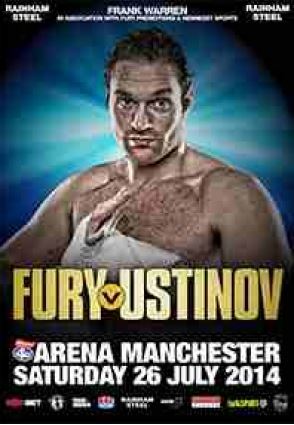 Right here, you can check out the complete and official weights from today's weigh-in held at the Manchester Conference Centre, Manchester, England, before tomorrow night's show at the Phones 4 U Arena. The card is now headlined by Tyson Fury vs. Alexander Ustinov, with Ustinov filling in for an injured Dereck Chisora.
In addition to the Fury vs. Ustinov weigh-in video, we also have several video interviews for you to enjoy, including one with Fury, and one with Billy Joe Saunders.
10 ROUND INTERNATIONAL HEAVYWEIGHT CONTEST
TYSON FURY (18st 5lbs) — 257 lbs
vs.
ALEXANDER USTINOV (20st 5oz) — 280.3 lbs
THE VACANT EUROPEAN MIDDLEWEIGHT CHAMPIONSHIP
BILLY JOE SAUNDERS (11st 5lbs 8oz)
vs.
EMANUELE BLANDAMURA (11st 5lbs 5oz)
THE BRITISH LIGHT-MIDDLEWEIGHT CHAMPIONSHIP
LIAM SMITH (11st)
vs.
JASON WELBORN (10st 13lbs 3oz)
THE VACANT BRITISH LIGHTWEIGHT CHAMPIONSHIP
TERRY FLANAGAN (9st 9lbs)
vs.
MARTIN GETHIN (9st 8lbs 9oz)
THE VACANT CENTRAL AREA LIGHT-WELTERWEIGHT CHAMPIONSHIP
JACK CATTERALL (9st 13lbs 8oz)
vs.
NATHAN BROUGH (10st)
ELIMINATOR FOR THE BRITISH LIGHT-MIDDLEWEIGHT CHAMPIONSHIP
RONNIE HEFFRON (10st 12lbs)
vs.
LIAM WILLIAMS (10st 13lbs 5oz)