Zak Chelli won the Boxer Super Middleweight tournament and a promotional contract with a second round stoppage win over Mike McGoldrick in the final at BT Sport Studios in London on Tuesday.
It was a four man tournament instead of the usual eight man affair after Charlie Schofield and Diego Costa both withdrew last week due to a positive COVID-19 test and injury respectively.
Ben Ridings was forced to pull out with just a day to go to, also returning a positive test. In stepped Harry Woods and McGoldrick, and they were joined at the shortest of notice by Vladimir Georgiev.
There were further late withdrawals that hampered the undercard, with former Ultimate Boxxer winner, Derrick Osaze returning a positive COVID-19 test, and former Love Island contestant, Jack Fincham, breaking his nose and requiring surgery after being in a car accident.
Fulham's Chelli (9-1-1, 4 KOs) was the only member of the original line up to retain his place, and he began his campaign with a routine win on the scorecards against Vladimir Georgiev (4-1).
The 22-year-old worked off a solid jab and chopping right hands in the main, and had too much for the Weston-super-Mare-based Bulgarian, who was in survival mode after feeling the pace as early as the second round. Three scores of 30-27 reflected Chelli's dominance.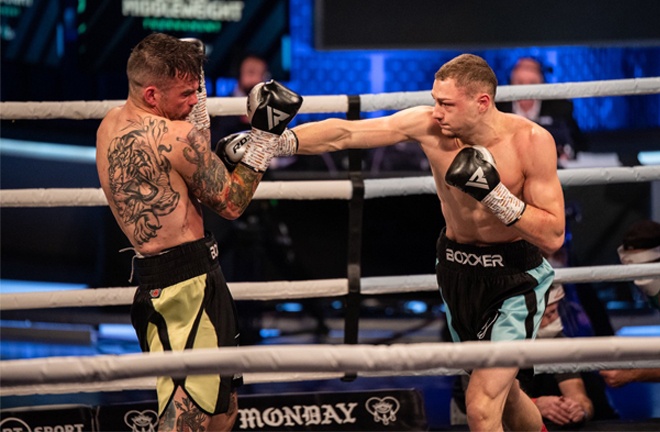 Mike McGoldrick took the second semi-final with a thrilling points win against Liverpool's former England international, Harry Woods.
McGoldrick (7-1, 2 KOs) made a fast start, countering Woods well with hard right hands, and the two exchanged solid shots throughout the opener.
Woods, (4-1) a veteran of over 80 amateur contests, was drawn into a tear up, rather than being able to use his boxing skills, and this played into the 35-year-old's hands.
The 25-year-old gave it his all, and he did have his successes, but allowed McGoldrick to counter some of his best work. Terry O'Connor and Kieran McCann scored 29-28, while Bob Williams saw the contest 30-27, all in favour of Barrow in Furness' McGoldrick.
The final saw the fresh Chelli take on the energy-drained McGoldrick, and Chelli made a cautious start before firing off hard combinations in the second half of the first round.
A crunching uppercut to the body and a short cuffing right hand to the head felled McGoldrick, whose nose was bloodied, and he looked a tired and beaten man, as he gamely saw out the session.
#ChelliSauce showed everyone why he was the favourite🔥@ZakChelli writes his name in the history books and joins the elite list of #BOXXER Champs 📝🥊#BOXXER #TuesdayNightFightNight pic.twitter.com/H0SSI3l26w

— BOXXER (@ultimateboxxer) November 11, 2020
Chelli's jab was impressive, and the second round was more one-way traffic, with a couple of thudding body shots forcing the Cumbrian to the canvas for a second time.
Immediately on the resumption, a massive right again to the body dropped McGoldrick to a knee in pain, and thankfully referee Bob Williams waved off the count halfway through to crown Chelli champion, picking up the coveted Golden Robe and the lion's share of the £50,000 prize.
"He [McGoldrick] told me I was the hardest puncher he'd faced," said Chelli post-fight.
"Now, I want titles, I want the European, the British, I just want titles!"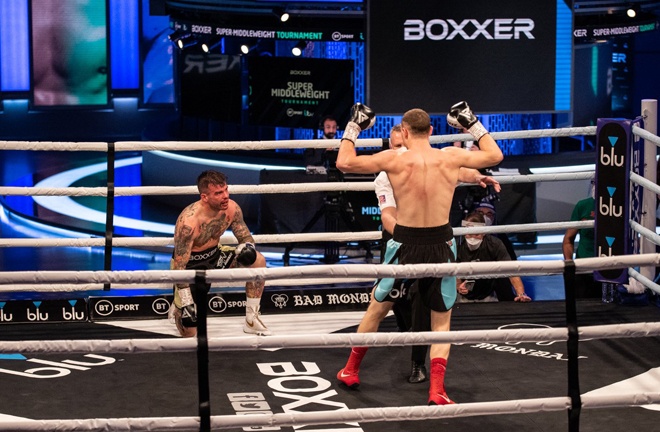 Another former Golden Robe winner appeared on the bill in Nigerian-born Londoner, Mikael Lawal (13-0, 7 KOs) and the 25-year-old Cruiserweight largely coasted to a six round points win over Ossie Jervier (6-14, 5 KOs) to move to 13-0. A 60-54 verdict was returned by referee Kieran McCann.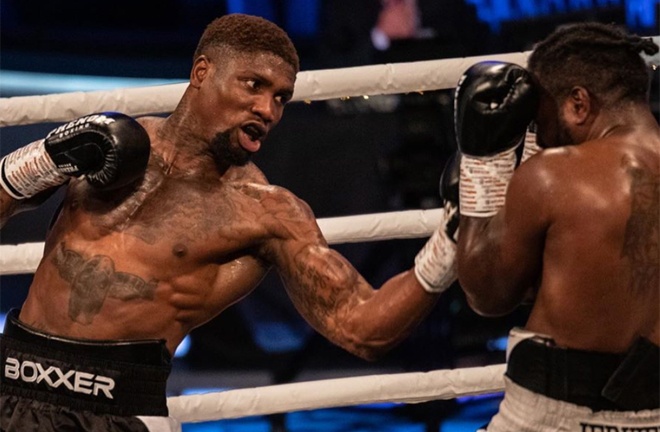 Florian Marku is usually backed by a massive and vociferous following, but the London-based Albanian had to go it alone this time.
WOW! Marku Stops Mweemba in the first! #TuesdayNightFightNight pic.twitter.com/RM12eSL5oq

— BOXXER (@ultimateboxxer) November 10, 2020
The Welterweight prospect did not disappoint in dispatching Muma Mweemba inside of a round.
Mweemba (4-2, 2 KOs) was down three times in all, with a left hand to the temple from Marku (7-0, 5 KOs) causing the damage for the first knockdown, followed by a short left to the body.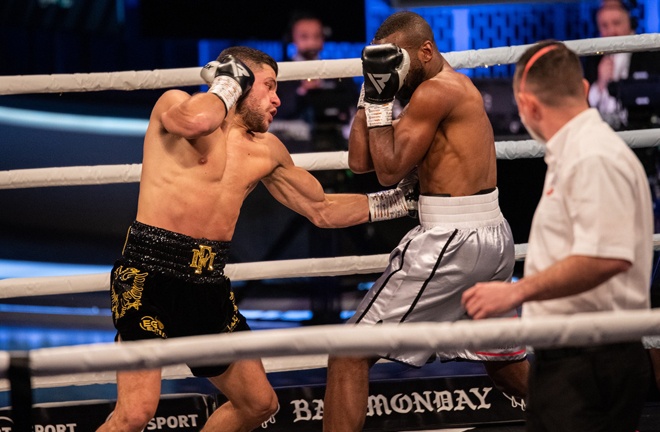 The 32-year-old never truly recovered, and cuffing shots on the resumption put him down again, with his legs betraying him during the count.
He bravely survived, but the end was nigh, and a huge left hand from Marku drove his man towards the turnbuckle, where the referee rightly called the contest off, with Mweemba requiring oxygen before swiftly recovering.
Marku, 28, set his sights for Conor Benn in the aftermath of his victory with the Brit meeting Sebastian Formella on November 21st.