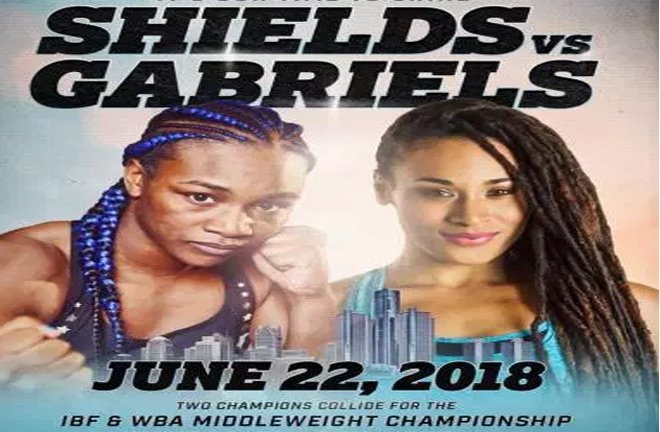 Eyubov to Face Givhan; Idigov vs. Ballard; O'Quinn vs. Kareem
Franchon Crews Dezurn Returns; Russian Heavyweight Apti Davtaev in Action
Leon Lawson III & Joseph Bonas also Scheduled
The un-televised undercard of the "Shields vs. Gabriels" event on Friday, June 22, at the Masonic Temple in Detroit, is stacked with great fights between local and international prospects.
Salita Promotions has put together several strong match-ups in addition to the nationally televised SHOWTIME BOXING: SPECIAL EDITION (10 p.m. ET/PT) portion of the show, which features two-time Olympic Gold Medalist and current Unified Women's Super-Middleweight Champion Claressa Shields (5-0, 2 KOs) taking on unified 154-pound champion Hanna Gabriels for the vacant IBF and WBA Women's Middleweight World Championships.
Topping the off-TV action will be worldwide fan favorite Bakhtiyar "Bakha Bullet" Eyubov (13-0, 11 KOs) of Aktjubinsk, Kazakhstan, taking on Nicholas "King Beamen" Givhan (21-1-1, 11 KOs) of nearby Kalamazoo, Michigan, in a 10-rounder for the USBA Great Lakes Region Welterweight Championship
The action will further heat up with a 10-round light heavyweight showdown between Grozny, Russia's Aslambek Idigov (12-0, 5 KOs) and Detroit's own James "The Equalizer" Ballard (10-1, 3 KOs).
Detroit bantamweight favorite Ja'Rico "Great Lakes King" O'Quinn (8-0-1, 5 KOs) will bring his monstrous legion of fans in to watch him go eight rounds for the first time while taking on West Bloomfield, Michigan, veteran Yaqub Kareem (14-9-1, 8 KOs).
The sensational Franchon Crews Dezurn (3-1, 1 KO) of Baltimore will put on a six-round showcase against Ohio's Crystal Byers; and in an eight-round heavyweight match-up,
Kurchaloi, Russia's Apti Davtaev (14-0-1, 13 KOs) will attempt to continue his tear through the big man's division against Catlettsburg, Kentucky, veteran Cory Phelps (16-10-1, 8 KOs).
Appearing in match-ups that are still being made, "Lethal" Leon Lawson (6-0, 4 KOs) of Flint will fight in a super welterweight six-rounder and Detroit's undefeated Joseph Bonas (3-0, 3 KOs) will go four welterweight rounds. Both opponents are currently TBD.
Also on Showtime, Unified Women's Middleweight Champion Christina Hammer (22-0, 10 KOs) of Germany defends her WBC & WBO Titles in her U.S. debut against former world champion Tori Nelson (17-1-3, 2 KOs) and in the 10-round opener, Russia's Umar Salamov (20-1, 15 KOs) will face Georgia's Brian Howard (13-1, 10 KOs) for the IBF North American Light Heavyweight Championship.