"What are you fighting for?" is the mantra posed by the Overthrow Boxing Club, a half year-old boxing space on Bleecker Street in lower Manhattan.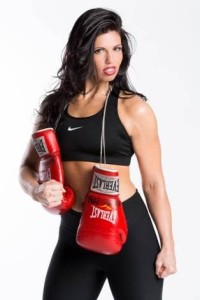 For one of the building's most-frequent modern-day inhabitants – the gym's head trainer and undefeated pro boxer Alicia "The Empress" Napoleon (4-0, 4 KOs) – on Saturday, Oct. 24 the specific answer to the seemingly rhetorical, "What are you fighting for?" question will actually be a world title.
This weekend the 29 year-old Lindenhurst native heads toward familiar territory on Long Island as she co-headlines Joe DeGuardia's Star Boxing Rockin' Fights 21 – with the IWBF Junior Middleweight crown up for grabs at The Paramount in Huntington.
"Fighting for my first world title on Long Island at The Paramount is epic for me. I'm a born and raised Long Island girl at heart. To have this opportunity means the world," said Napoleon, who has built a reputation for delivering big blows and drawing big crowds during her burgeoning pro career. "It's even more meaningful to have the support from my Long Island and New York City fans. I couldn't have made it this far without them, and I hope to be celebrating my first pro championship with them on Oct. 24."
Napoleon, now ranked as the No. 2 junior middleweight boxer in the U.S. and No. 4 in the world, takes on Kita Watkins (7-13, 1 KO) of Tyler, Texas, for the IWBF World Title belt in a matchup scheduled for eight rounds. Tickets are available by calling TicketMaster or by visiting Overthrow Club at 9 Bleecker.
The "Wonder Woman" – often clad in bold-colored boxing attire reminiscent of Superhero garb – scored her most-recent victory via a third-round knockout of Latashia Burton on Sept. 19 at Resorts World Casino in Queens. A first-round TKO victory on July 8 came in stunning fashion, as Napoleon overwhelmed opponent Natalie King and caused a stoppage after only 19 seconds of fury.
Napoleon began training at age 18 in Manorville, Long Island, and attended her first competition at 20 years of age. She amassed notable accolades as an amateur, including a 22-5 record, 11 amateur titles, two New York Golden Gloves championships, one National Golden Gloves title, two national bronze medals, three metro belts, one Empire State Games title, one Platinum Gloves victory and one NYABC belt.
A virtuoso in and out of the ring, Napoleon has used her hands to not only destroy but to create. An active painter, Napoleon draws inspiration from artists such as Jean-Michel Basquiat, Picasso, Alex Katz and Elizabeth Peyton. Her painting style displays her love of life on large-scale canvases adorned with the bold, vibrant colors that match her boxing trunks. Her work is currently featured at Gallery 212 in the Wynwood Arts District of Miami, Fla.
Reflecting on her career to date, Napoleon offered, "When you believe in yourself it becomes contagious and people what to be a part of it. I only hope to shine like a star, giving the glory to God and showing other little girls around the world they are no different than me. I believe that women of all ages and walks of life can achieve their dreams if they only believe in themselves. It starts in your heart and you can never let anyone tell you different. Be strong. Be true. Be you."