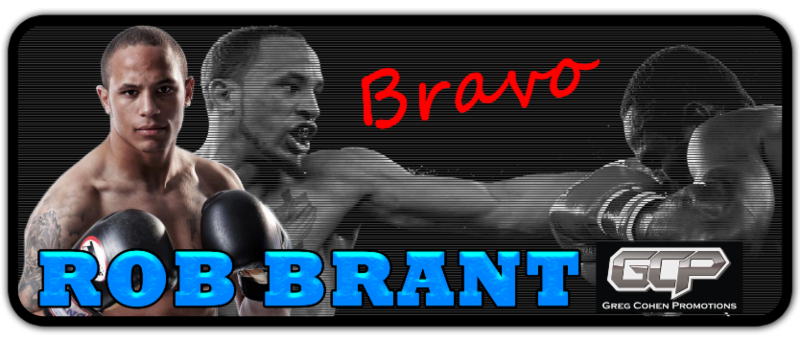 Undefeated Minnesota-based middleweight Rob "Bravo" Brant (17-0, 11 KOs) says he's nervous, but excited for his showdown against Louis "The Unknown" Rose (13-2-1, 5 KOs) of Los Angeles this Friday, Oct. 23. The pair will meet in a 10-round main-event bout as part of a ShoBox: The New Generation quadrupleheader that matches eight young prospects against each other at the Celebrity Theatre in Phoenix, Arizona.
In the televised co-features, unbeaten Filipino junior lightweight prospect Harmonito "El Huracan de Gensan" Dela Torre (16-0, 11 KOs) will make his U.S. debut against Angel "El Gato" Luna (12-1-1, 7 KOs), of the Dominican Republic; in a heavyweight scrap, undefeated Jarrell "Big Baby" Miller (14-0-1, 12 KOs), of Brooklyn, N.Y., will face Akhror "Aha" Muralimov (14-1, 11 KOs), of Houston, Texas via Uzbekistan; and Lavarn "Baby Bowe" Harvell (15-1, 8 KOs) of Atlantic City will face southpaw Samuel "The Main Event" Clarkson (16-3, 10 KOs), of Cedar Hills, Texas, in a light heavyweight match-up. All but Clarkson will be making their ShoBox debuts. All three co-featured bouts are scheduled for eight rounds.
"I'm really excited and to be honest, there are a lot of nerves that come with it," admitted Brant. "I'm stepping up from a supporting fight on a smaller network to headlining a ShoBox on SHOWTIME. "I'm really jumping up in class in two ways. I decided to take a slower track in pro boxing because I had a very strong amateur style and it's taken me up to this point to shake that off and really start developing my professional style. I feel like I'm a solid pro now and this is my first time really stepping up against a truly tough opponent. So yeah, there are some nerves, but I'll be fine when fight night comes."
The 25-year-old Brant agrees that Louis is the toughest opponent of his young career. "I've watched a fair amount of film on Rose," Brant said. "He's one of those guys who is an outside boxer, but once he gets hit he'll bite down and throw combinations. He has a lot of will to win with a good record and some quality opponents. He's coming to win 100 percent. I respect that, but he has a lot of defensive flaws, which will open up lots of opportunities for me to counter punch."
Brant has been preparing with trainer Derrick James at R&R Boxing and Cooper Fitness Institute in Dallas, where he moves for eight weeks before every fight. James also works with top contenders Errol Spence Jr. and Jermell Charlo and Brant has been working with them extensively.
"I have sparred multiple rounds with Spence, but for this one I'm working a lot with Charlo," Brant said. "Jermell Charlo is a right-handed, outside boxer with more skill than my opponent. He's such a fast, athletic guy. He forces you when you're on offense to simultaneously work on your defense. He's so fast; he's thrown a few jabs at me and it looked like his hand didn't even move. He doesn't allow me to throw a right hand and drop my left. An upper-level fighter like him will see that and counter it instantly. Sparring with a guy at his level of skill will translate really well in this fight. I've learned a lot."
How does Brant see the fight against Rose unfolding?
"I see it a few different ways, all of which end with me raising my hand," Brant said. "He can be caught with a big shot early but I never really bank on that. I could see catching him, but I'm really training for 10 rounds of having to use my mind and think my way through. I do feel it'll be a big victory. I will win big on the scorecards at least. I won't figure him out right away. He's a tough fairly athletic fighter."
Brant says a high-profile victory over Rose will be good for his career, but he's not concerned with anything other than his opponent.
"I don't like to look too far ahead," he said. "The reason is when I was in the amateurs, I was facing a guy named Steve Nelson and I completely overlooked him and I ended up losing by a decent amount. I never look past what's in front of me now. If I win, I believe I'll be in the top 15 of the WBC. It's all up to my promoter, Greg Cohen, and where he decides we should go next."