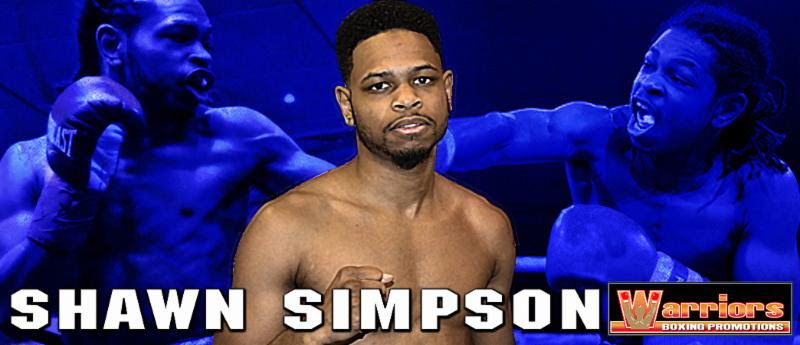 Warriors Boxing proudly announces the signing of Chicago-based bantamweight prospect Shawn Simpson to a promotional agreement. 23-year-old Simpson (4-0, 2 KOs) will make his promotional debut under the Warriors banner at their next Windy City Fight Night, scheduled for Friday, April 28, 2017, at the UIC Pavilion in Chicago.
Simpson will face Mexico's Jose Elizondo (2-2) in a six-round match-up. Before turning professional in 2015, Simpson was a heavily decorated amateur boxer. Looking to try different after-school sports, he walked into a gym at age nine.
"By age 13, I started getting good and by 15, I was winning national tournaments," recounted Simpson. "I was a 2012 Olympic alternate. I won the National Golden Gloves, National PAL three times and I was 2009 National Junior Olympic Champion. I fought the top of the top guys like (former WBA World Champion) Rau'shee Warren and gave them all they could handle. I finished with a record of about 177-20."
Now an undefeated professional, Simpson trains with former world champion Montell Griffin at Body Shot Boxing Club.
"He (Griffin) knows everything," continued Simpson. "He's been through everything I want to get to. So, to learn from him helps me out tremendously and we get along very well. He's going to help me become a world champion in multiple weight classes.
Simpson says the decision to sign with Warriors was an easy one for he and manager/father Tony Simpson.
"I think they were the best option for me. They have a lot of shows and have some great fighters. They even have a world champion in my weight class. This is a big opportunity for me. They do a lot in Chicago too. Leon and Dominic and their company are great people. I'm very comfortable with them and I get good vibes."
While he professes to not knowing much about upcoming opponent Elizondo, Simpson lists his ability to adjust to any style, in-ring, as one of his best fighting assets, along with his hand speed and counter-punching.
"I can't wait. I fought for them January 21 and I put on a great show. This one will be even better because I will have six rounds to work with. That will give me more time to show what I have in my arsenal."
Warriors Boxing President Leon Margules says he's excited for the future of young Simpson.
"Shawn can really fight. We watched about a minute of his fight at our show in January and you can just see he's special," said Margules. "And he's very personable as well as gifted. He's everything you want in a young fighter, to help them reach the top of their potential in the sport. I believe Warriors has signed a future world champion in Shawn, and I foresee big things happening for him."
Simpson says it won't take long for him to join his former compatriots at the top of the bantamweight division.
"A year from now, with my skill level, I should be ready for a big fight. I don't think I'll need the development time other fighters need. I fought all the top guys in the amateurs. I had a fight in the World Series of Boxing with a fighter as tough as anybody fighting for a world title right now. 2008 Bantamweight Olympic Bronze Medalist, Veaceslav Gojan from Moldova. He was 30 years old and we fought twice, and each won one. If he was a pro he'd be in the top of the division. If I can beat him, I can beat any of them."
Other Chicago-based fighters appearing that night will be undefeated super lightweight Ramiro "El Lobito" Carrillo (11-0, 7 KOs) in the eight-round main event, as well as separate six-rounders featuring undefeated super featherweight Josh Hernandez (5-0, 4 KOs); power-punching lightweight Jessica "CasKILLA" McCaskill (3-1, 2 KOs) and lightweight Jose Felix Quezada (11-1, 6 KOs).