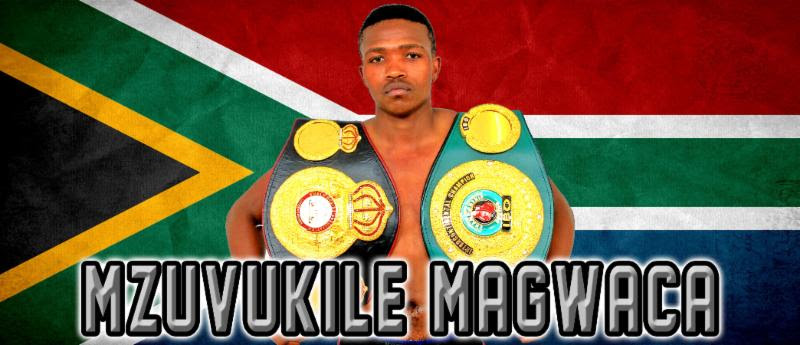 Greg Cohen Promotions proudly announces the signing of South African bantamweight Mzuvukile "Old Bones" Magwaca.
Magwaca (17-0-2, 10 KOs) from Duncan Village, East London, South Africa, is the current WBA International Bantamweight Champion and the former WBF Africa Junior Flyweight Champion and IBO Inter-Continental Flyweight Champion.
A seven-year professional, Magwaca trains at the "All Winners Boxing Club" in Mdanstane, East London, South Africa, with the guidance of Zolani "Last Born" Tete, a world rated bantamweight and former IBF World Super Flyweight Champion, as well as GCP stablemate and current IBO World Featherweight Champion Lusanda "Mexican" Komanisi.
"Since I was eight years old, when I first wore a pair of old gloves from my elder brother who was a professional boxer himself, I dreamed of becoming a world champion one day," said Magwaca.
"Now that dream is going to be a reality through Greg Cohen Promotions. The Young African Lion is about to pounce!"
"We are proud to sign undefeated WBA International Bantamweight Champion Mzuvukile Magwaca, our second fighter from the All Winners Boxing Club in East London, South Africa," said Clifford Mass, GCP Vice President of Business Development.
"He trains alongside two of the best fighters in South Africa, Lusanda Komanisi and Zolani Tete, and he is ready to take his career to the next level. We have big plans for Bones."
Magwaca's manager, Mlandeli Tengimfene, says his fighter just needed to find the right contacts to guide him to a world championship.
'Old Bones' will take America and the world by storm. He is a gem and a marvel to watch. He is also tall for his division and a maestro in the ring behind his educated jab. This boy is the future at bantamweight and with Greg Cohen Promotions behind him, the sky is the limit."