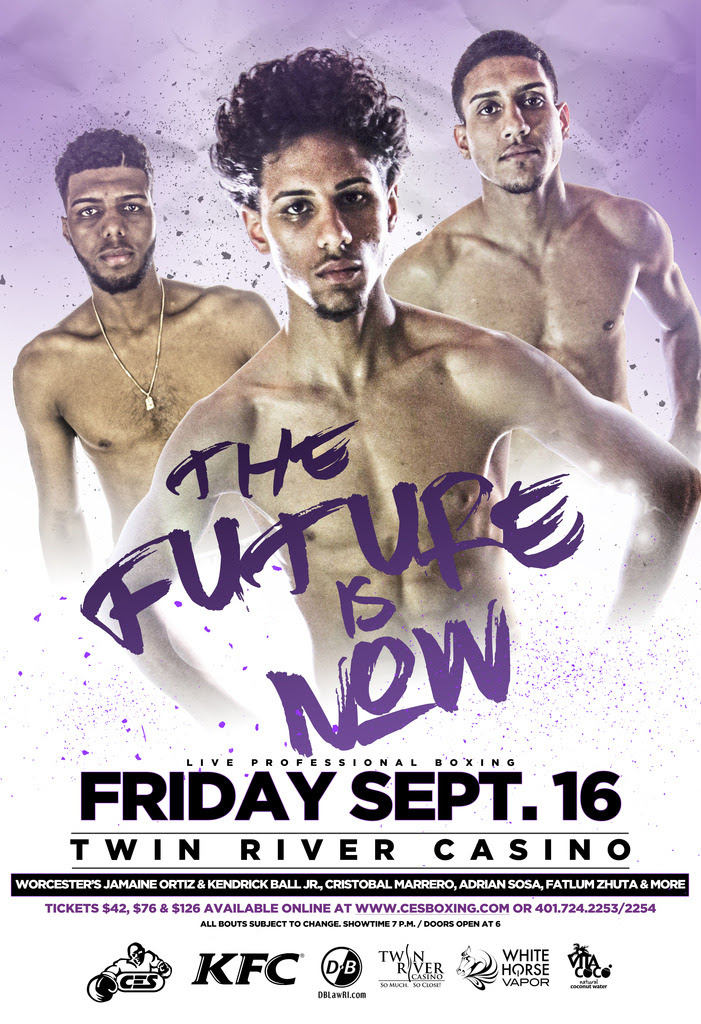 Jimmy Burchfield Sr. of CES sent out a message announcing the details of his upcoming The Future is Now boxing card set for Twin River Casino on September 16th. Here's his full message:
We're only a few weeks removed from the 2016 Summer Olympics in Rio, a celebration of the world's greatest athletes competing on the biggest stage while embodying the spirit of sportsmanship and fair play.
The Rio Olympics were a glorious time for the Unites States; our great nation captured 121 medals, including 46 golds. Among the winners were female middleweight boxer and gold medalist Claressa Shields, who became the United States' first back-to-back medal winner in boxing, male or female; and Shakur Stevenson, who captured silver in the bantamweight division following a spirited championship match with Cuban Robeisy Ramirez Carrazana.
To celebrate our nation's success in Rio, we're continuing the party two weeks from now on Friday, Sept. 16th at Twin River Casino with our annual fall boxing event.
"The Future Is Now" is designed to highlight our region's greatest up-and-coming stars, including undefeated Worcester, Mass., boxers Jamaine Ortiz (2-0, 2 KOs), Kendrick Ball Jr. (2-0-1, 2 KOs) and Irvin Gonzalez (2-0, 2 KOs), plus promising junior welterweight Cristobal Marrero (1-0, 1 KO) of New London, Conn., and impressive welterweight prospect Adrian Sosa (1-0, 1 KO) of Lawrence, Mass. We also have an exciting matchup between two debut welterweights, Miguel Ortiz of Springfield, Mass., and Marqus Bates of nearby Taunton, and a tremendous feature bout between Albanian sensation Fatlum Zhuta (3-0-1, 3 KOs) and Houston native Cameron Burroughs (2-1, 2 KOs), both of whom have scored each of their victories by knockout.
The names and faces you see on the 16th will be household names before you know it. Years from now, when Ortiz, Ball Jr., Marrero and others are headlining major events in fight capitals across the world, we'll remember these nights when they all starred on the same fight card, all working their way to the top of their respective weight divisions.
When I see a card like this, I can't help but to think back 10, 15 years when we promoted events at the Rhodes-on-the-Pawtuxet in Cranston, R.I., featuring some of our region's greatest champions long before they developed into household names of their own.
In those days, it wasn't uncommon to see Joey Spina, Peter Manfredo Jr., Chad Dawson, Jason Pires and Jamie Clampitt on the same undercard, showcased underneath headliners such as Gary Balletto and Scott Pemberton. Fast forward to the mid 2000s and reminisce about those nights when up-and-comers Matt Godfrey, Josh Beeman and a young Olympian named Jason Estrada flashed their talents on the same stage.
No one knew back then just how good those young, unproven fighters would become, and I'm confident years from now we will look back at nights like Sept. 16th and remember when champions such as Ortiz and Ball Jr. were raw, unpolished talents looking to make their mark in this sport.
Cherish nights like this, because they only come along once in a generation. In addition to celebrating our young stars and the bright future of boxing, we're celebrating our nation. Once again, the United States dominated the sports landscape with its performance at the Rio Olympics and I can safely say that no matter what our political views are in this important election year, the one thing we all have in common is we're proud to be Americans and we're proud of our Olympic stars.
Come join us on the 16th to celebrate not only this wonderful time in the sport of boxing, but the success of all Americans as our nation continues to stand alone as the land of the free and the home of the brave.
Labor Day Weekend is upon us and it's only fitting we prepare for a spirited celebration of American ingenuity and success at a time in which we honor all American workers for their social and economic achievements through the years. Few sports capture the blue-collar spirit of the American worker like boxing, a sport where many fighters come from nothing and humbly climb the ladder to the top through hard work and sacrifice.
Remember, boxing is a labor of love, and our fighters need your support now more than ever. Sept. 16th is bigger than boxing; it's about America, our wonderful nation and our workers, who, with their contributions through the years, have built this country into what it is today.
Join the fun on the 16th as honor the red, white and blue and catch a glimpse of our future stars on the sport's biggest stage.