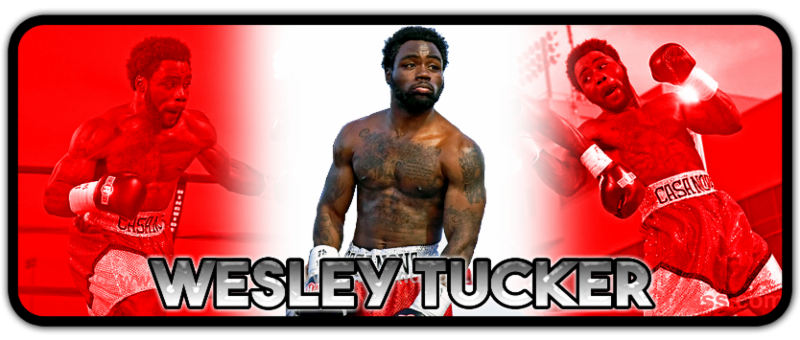 Dmitriy Salita of Salita Promotions proudly announces the signing of undefeated welterweight contender Wesley "King Wes" Tucker.
A skilled counter puncher with above average power, Tucker (12-0, 7 KOs) of Toledo, Ohio, had over 250 amateur bouts and won several championships including the Toledo Golden Gloves, Silver Gloves, and Junior Olympics multiple times.
The 29-year-old southpaw started boxing at age 8 years old and already has 18 years boxing experience.
"My ring generalship is my greatest asset in the ring," said Tucker, "tall, small, bigger, I've already seen it all and I know what to do to beat them."
Tucker will make his debut fighting under the Salita Promotions banner on Saturday, November 12, at their "Detroit Brawl" event at the Masonic Temple in Downtown Detroit, when he faces North Carolina's Richard Hall in a six-round battle.
A father of five, Tucker says family plays a major role in his life and the reason he is a tireless worker in the gym.
"They are my push and motivation for everything I do. They come to the gym with me a lot at least three times a week. And my mom, she loves what I do. She's my number one fan."
Tucker's manager, David McWater who arranged the deal with Salita, says he's happy to have another of his fighters under their promotional banner.
"I'm really excited about Wesley signing with Salita Promotions," he said. "We started working with Dmitry when we signed Antonio Nieves with him and he's been a gem. I believe he's THE up and coming promoter in the USA and are excited to get our guys in on the ground level with him. Wesley is a wonderful kid who has overcame a lot of adversity to get to this spot. I am confident he will make the most of this opportunity."
Salita says he's going to go to work immediately on his new fighter's career.
"Wesley has as much skill and experience as any fighter in boxing," he said. "his 250 amateur fights mean he's seen it all and done it all. There isn't the same learning curve with a fighter with that much experience. We will immediately be looking to move him into the top 10 and an eventual world title shot in the next year or two. I thank him and his team for joining my growing stable of fighters."
On November 12, Tucker joins a full cast of local and international prospects on Salita's "Detroit Brawl," including a trio of undefeated Detroit bantamweights: James Gordon Smith (10-0, 6 KOs), Jarico "Great Lakes King" O'Quinn (3-0, 2 KOs) and Zach Shamoun (4-0-1, 3 KOs); as well as Russian cruiserweight Alexey Zubov (12-1, 7 KOs); Georgian super lightweight Giorgi Gelashvili (5-0, 3 KOs); and undefeated UK-based bantamweight Muheeb "Flashy," Fazeldin (8-0-1, 3 KOs) in separate bouts.