Unbeaten German sensation Dominik Britsch (23-0, 8 KOs) has set his sights on his first major belt when he takes on Ryan Davis (23-8-3, 9 KOs) for the vacant IBF Intercontinental Middleweight Title in Munich on July 16. The gifted 23-year-old, who has twice fought on Super Six World Boxing Classic undercards in the US, has been primed for glory ever since winning the IBF Youth Middleweight Title two years ago against Daniel Urbanski.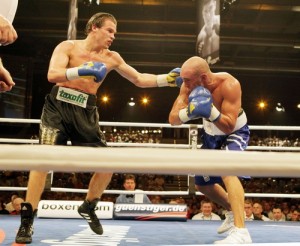 While many believe the versatile, charismatic and articulate youngster could be the next German boxing superstar, Britsch is keeping his feet firmly to the ground. "I am thrilled to finally fight for my first big international title," Britsch said. "That is exactly what I have been working and waiting for. I will take one step at a time and not look past Davis, who is a tough guy. But he will not stop me on my way to the top."
In the main event of the night, WBO Cruiserweight Champion Marco Huck will make a seventh defense of his title against Hugo Hernan Garay, while European Light Heavyweight Champion Eduard Gutknecht will take on Lorenzo Di Giacomo. It will be a busy night for coach Wegner, who believes Britsch has a golden future ahead.
"Dominik has the potential, the talent and the determination to be the next big thing in Germany," Wegner lauded. "He works hard in practice and listens to my advice. We have carefully moved him to the top. Now is the time for big fights. He is a diamond and I am sure he will put on a great performance against Davis."