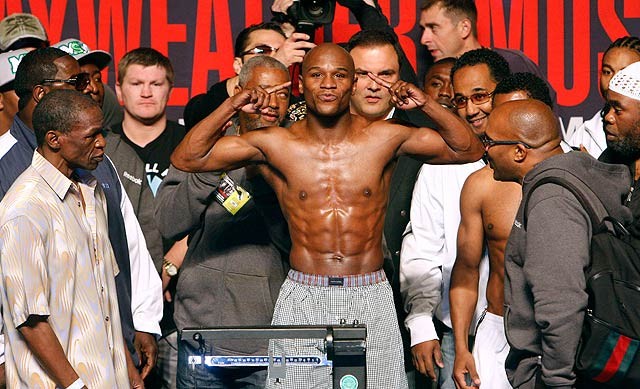 There are innumerable ways in which you could compare Floyd Mayweather and Manny Pacquiao. You could look at their accomplishments by age and weight class, for example, or you could focus on performances against shared opponents.
In a world in which self-styled boxing aficionados love to scream "ducker" at any fighter they don't like, or completely discredit a fighter's resume based on groundless claims, it's important to look at more than names, dates and records, however.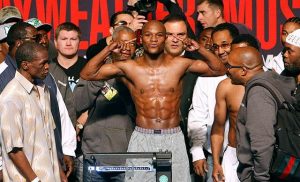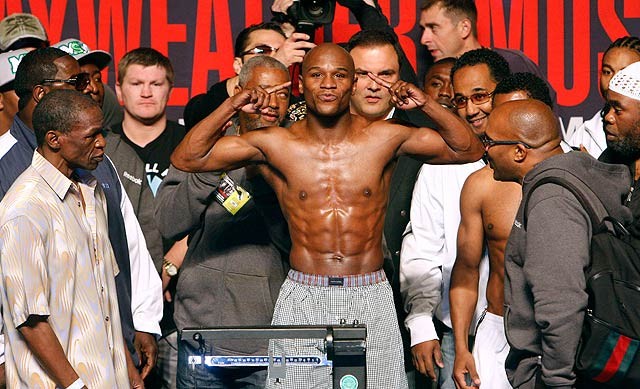 With that in mind, what you'll find below is a ranking from 1-10, from best to worst, of the last five fights that Floyd Mayweather and Manny Pacquiao have had. The ranking is made based on a thorough examination of each fight, most importantly the quality of the win, the significance of the bout and quality of the opposition at the time of the bout, the level of performance in the fight itself, and so forth.
It's a subjective ranking, but nonetheless may shed some light on how each man's most recent track record compares.
The best win for either fighter amongst their last five each belongs unquestionably to Manny Pacquiao. Though Pacquiao-Cotto was contested at a silly catchweight, Cotto was the top guy at welterweight at the time of this fight, and Pacquiao dominated, got a stoppage win, and produced plenty of excitement and buzz with the performance.
2. Mayweather TKO10 Hatton
When Mayweather fought Ricky Hatton, Hatton was still riding high as the undisputed champion at 140 lbs, with an undefeated record and a contingent of fans picking him to punish Mayweather and rough him up over 12 rounds. Mayweather cruised and controlled, picking his spots until closing the show in the 10th. A big fight and a big win over a top opponent.
3. Pacquiao KO2 Hatton
Pacquiao's win over Hatton was more spectacular and memorable, no arguments there. However, Mayweather already beat him to the punch, and Hatton had not come close to building himself back up to the heights that he had been when Mayweather knocked him out.
Mosley served up some old-fashioned justice by knocking out Manos de Plaster Antonio Margarito, and in lieu of the Pacquiao vs. Mayweather bout that everyone was hoping for, Mayweather taking on Mosley was an excellent substitute. After an early scare in the 2nd Round, Mayweather dominated throughout. As has become a theme with Mayweather, if he did more and earned a stoppage, as he could have, the win would have been more impressive.
5. Mayweather SD12 De La Hoya
The Split Decision might lead you to believe that Mayweather didn't perform very well against De La Hoya, but that would only be true if you didn't watch the fight. In truth, Mayweather moved up in weight and comfortably won 7-8 rounds against a legit 154 lbs titleholder, whom many people still had pegged as one of the best in the division at the time of the fight.
Most people expected Mayweather to beat Marquez when they fought, although not everyone expected the complete ease with which Mayweather dominated, particularly after a nearly two year layoff. Mayweather would have done more justice to himself by turning up the heat and winning by stoppage, as he certainly could have.
7. Mayweather UD12 Baldomir
Baldomir has gotten trashed over the years, but he was a respectable welterweight fighter, and more importantly, he was The Man in the division. He beat Judah (before everyone beat Judah) while he was the reigning welterweight champion, taking the luster off Mayweather's scheduled fight against him in the process. Mayweather dominated as expected, although he didn't force the issue or exploit the openings that were there to do more damage.
Manos de Plaster had no business being licensed to fight, let alone landing a date with the pound for pound champion on a lucrative PPV. In terms of quality and significance of the bout, neither man had a 154 lbs track record and there was a 150 lbs catchweight, although a 154 lbs title was at stake. Margarito's last real fight was also a blowout knockout loss against Mosley. He did bring some size into the ring, but that was, quite literally, it.
Once again Pacquiao gets rated worse for a mutual opponent because of the timing of the bout and where the fighters stood at the time they fought. Mosley was at his highest point in a decade when Mayweather fought him, but after being dominated there and stinking it out against Sergio Mora, was coming in very low, and looking very old, for the Pacquiao encounter.
10. Pacquiao UD12 Clottey
I don't think there was a person on the planet, outside of Ghana at least, who envisioned Joshua Clottey beating Manny Pacquiao. Clottey is a tough customer, but never had the power or skill-set to make him a challenging opponent. Worse, he no-showed for the fight, leading to a fight which was not only one-sided but also largely a snoozer.
To sum up, while Pacquiao has the best win on the list, he also holds the bottom three spots for the least important or impressive performances. Of course, Pacquiao's last five fights have taken place in just over two years, while Mayweather's last five fights have been spaced out in over four and a half years, and that's important to note as well.
The upcoming schedule for each man shows better promise for glory on Mayweather's side of the fence, as the Ortiz fight holds more significance and challenge than Pacquiao's third fight with Marquez. However, in truth it's all just killing time until the two men actually face one another in a ring, and should that finally happen, all of the talk and conjecture won't matter.