Puerto Rico's undefeated lightweight sensation, Jorge "Machito" Maysonet, Jr. (10-0, 9 KO's) returns to the ring February 23, 2013 at the Cosme Beitia Salamo Coliseum in Cataño, Puerto Rico.
Maysonet's opponent is fellow Boricua Pedro Salcedo (3-5, 2 KOs), a fighter who has never been knocked out, and has fought undefeated fighters José Pedraza ( 11-0, 7 KO's ) and Emmanuel Rodríguez ( 11-0, 7 KO's ), among others.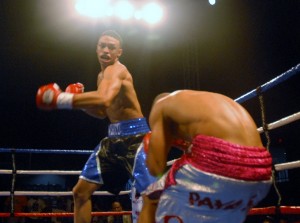 "Salcedo is a good opponent, and I plan to be the first to knock him out," said Maysonet. "Finally I'm fighting in front of my people of Cataño, that's a step every boxer dreams about. The training has been very intense and I will prove on fight night that I am one of the top lightweight fighters in the world."
Maysonet's last fight was on October 26, 2012 in Puerto Rico, where he defeated one of the most evaded warriors in Puerto Rico, Ramesis Gil (8-4-5, 5 KO's), who had a spectacular 2012 with victories over former undefeated fighters Carney Bowman (16-1, 7 KO's) and Luis Joel González (9-1-1, 5 KO's). Both fights were decision victories.
As an amateur standout, Maysonet Jr., amassed a record of 140 wins with only 10 defeats, winning various local tournaments like the José Barrientos and the José "Cheo" Aponte competitions. In professional boxing, all Maysonet's knockouts have come in the very first round.
Maysonet Jr. is a member of "Team Puerto Rico", a collaboration between Gary Shaw Productions, Universal Promotions, Di Bella Entertainment and Warriors Boxing. Their goal is to gather Puerto Rico's best boxing talent.