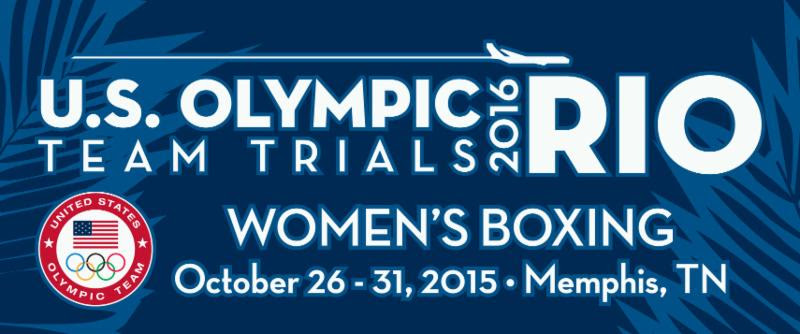 The event that female Olympic boxing hopefuls have been targeting since the close of Olympic competition in London is now less than a month away and the 24 athletes who will vie for Olympic berths are finalized. The 2016 Olympic Trials for Women's Boxing will take place October 26-31 at the Memphis Cook Convention Center in Memphis, Tenn., in conjunction with the final Olympic Trials Qualifier for Men.
Olympic Trials for Women's Boxing qualifying began nearly nine months ago at the 2015 USA Boxing National Championships as the finalists in each of the three Olympic weight divisions earned spots in the event. 2012 Olympic gold medalist Claressa Shields (Flint, Mich.) and 2012 Olympic bronze medalist Marlen Esparza (Houston, Texas) both clinched berths in their second straight Olympic Trials with national championship wins and 2012 Olympic Trials silver medalist Mikaela Mayer (Los Angeles, Calif.) claimed the number one spot in her lightweight division.
Six spots in each women's Olympic weight division remained up for grabs following the national championships. The remaining trials berths were determined at the Pathway to Glory Olympic Trials Qualifiers I and II in June in Colorado Springs, Colo., and September in Baltimore, Md.
Each of the qualifying tournaments featured decorated athletes with 2014 Youth Olympic Games lightweight gold medalist Jajaira Gonzalez (Glendora, Calif.) claiming her first elite division title and the outstanding boxer award at the Olympic Trials Qualifier I. 2012 Olympic Trials middleweight silver medalist Tika Hemingway (Brackenridge, Pa.) moved on to her second straight Olympic Trials with a victory in Colorado Springs, Colo., as well.
The final qualifying event in Baltimore had no shortage of experienced athletes either. 2012 World Champion and Washington DC Police Academy student Tiara Brown (Fort Myers, Fla./Oxon Hill, Md.) clinched her second Olympic Trials berth with a gold medal in the lightweight division in Baltimore. Hometown boxer and two-time World Championships medalist Franchon Crews (Baltimore, Md.) took a middleweight championship in her home ring to advance on to her second consecutive Olympic Trials as well.
Eight boxers will compete in each of the three women's Olympic weight divisions in the double elimination tournament in Memphis. The October event will mark the second Olympic Trials for Women's Boxing following the inaugural event in February of 2012. The 2012 event took place six months before the Olympic debut of the sport at the London Olympics.
The full list of the 24 qualified athletes can be found below and all of the athletes' bios are available here.
2016 U.S. Olympic Team Trials for Women's Boxing Athletes
Flyweight/112 lbs
1. Marlen Esparza, Houston, Texas (USA Boxing National Championships)*
2. Virginia Fuchs, Kemah, Texas (USA Boxing National Championships)
3. Christina Cruz, New York, N.Y. (Olympic Trials Qualifier I)
4. Amanda Pavone, Burlington, Mass. (Olympic Trials Qualifier I)
5. Alex Love, Colorado Springs, Colo. (Olympic Trials Qualifier I)
6. Jamie Mitchell, Las Vegas, Nev. (Olympic Trials Qualifier II)
7. Giovanna Camacho, Colorado Springs, Colo. (Olympic Trials Qualifier II)
8. Melanie Costa, Norton, Mass. (Olympic Trials Qualifier II)
Lightweight/132 lbs
1. Mikaela Mayer, Los Angeles, Calif. (USA Boxing National Championships)
2. Lisa Porter, Van Nuys, Calif. (USA Boxing National Championships)
3. Jajaira Gonzalez, Glendora, Calif. (Olympic Trials Qualifier I)
4. Rianna Rios, Colorado Springs, Colo. (Olympic Trials Qualifier I)
5. Stalacia Leggett, San Diego, Calif. (Olympic Trials Qualifier I)
6. Tiara Brown, Fort Myers, Fla. (Olympic Trials Qualifier II)
7. Samantha Kinchen, Lexington, Ky. (Olympic Trials Qualifier II)
8. Amelia Moore, Millersville, Md. (Olympic Trials Qualifier II)
Middleweight/165 lbs
1. Claressa Shields, Flint, Mich. (USA Boxing National Championships)**
2. Raquel Miller, San Diego, Calif. (USA Boxing National Championships)
3. Tika Hemingway, Brackenridge, Pa. (Olympic Trials Qualifier I)
4. Danyelle Wolf, San Diego, Calif. (Olympic Trials Qualifier I)
5. Naomi Graham, Colorado Springs, Colo. (Olympic Trials Qualifier I)
6. Franchon Crews, Baltimore, Md. (Olympic Trials Qualifier II)
7. Iesha Kenney, Alexandria, Va. (Olympic Trials Qualifier II)
8. Cierra Taylor, Rochester, N.Y. (Olympic Trials Qualifier II)
Event next to name denotes the tournament in which the athlete qualified for the Olympic Trials
* 2012 Olympic bronze medalist
**2016 Olympic gold medalist