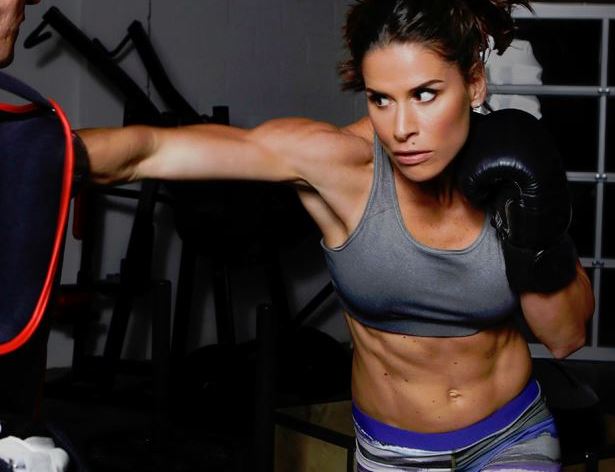 Interview & Photos: Danyelle Wolf, USA Boxing Champ, Olympic Hopeful
Meet Danyelle Wolf. If the name, or the face, looks familiar then it's likely due to her recent appearance in ESPN The Magazine's Body Issue. But she didn't get that opportunity, or that body, by happenchance.
Danyelle Wolf is a two-time reigning USA Boxing National Champion in the women's Welterweight division (152 lbs), and she's won numerous other accolades, titles and championships over the past few years.
A late starter to the Sweet Science, Wolf is making up for lost time by fighting as frequently as possible. She can't make up the years her opponents have on her, but she can work harder than they do. And you can bet that she does.
Wolf is an ultra-motivated competitor with a nonstop schedule of not only boxing, but also fitness competitions, intensive conditioning and preparation, personal training, and running the de facto brand and business that is Danyelle Wolf, aspiring Olympic athlete. Photo shoots, red carpets, finding sponsorships, website maintenance, editing videos, conducting interviews, and an endless list of tasks and to-dos.
Danyelle Wolf Photos
*All photos courtesy of Danyelle  Wolf
When I caught up with her, she was fresh off her championship victory at the Women's National Golden Gloves in Fort Lauderdale, en route to the Ringside World Championships (yes, she won), with a stop at the WBFF World Championship fitness competition in Las Vegas coming up, and training camps and competitions spread from California to Canada to Mexico. It goes on. And on.
The Women's World Championships are in South Korea this November, and the USA National Championships will be held in their home of Spokane, Washington next January. That's Danyelle's jumping off point for the big goal, qualifying for the 2016 Rio Olympics.
The problem — and if you're familiar with women's Olympic boxing and our coverage of the sport then you already know — is that at the Olympics, the women's boxing competition includes just three weight divisions, Flyweight (112 lbs), Lightweight (135 lbs) and Middleweight (165 lbs).
That means that Wolf is moving up and competing with naturally larger women who could have a huge edge in weight when they enter the ring. To Wolf, that's not a deterrent though, it's a worthwhile challenge, another reason to go out there and work her hardest. And just maybe, it's even an advantage for her.
You see, there's no chance her competitors will be as conditioned, dedicated or fiercely motivated as she is. She has the frame and the build to move up a division, and believes she'll still have strength on her side thanks to her tireless work.
Without calling any of her rivals out by name, Wolf believes that the women in that division who don't eat properly, don't train enough, and therefore simply walk around with extra weight instead of fighting where they should, are ripe for the picking. They're lazy, and they don't want it as much as she does. They don't deserve it, either, not when somebody is coming gunning for them with a fiery passion and single-minded focus that seems destined to bring her to any goal she has her sights set on.
Wolf will be competing at Middleweight beginning with the USA Nationals in January. The Olympic trials will be held in November 2015, and from there she only has one more destination in mind: Rio.
Video: Danyelle Wolf in ESPN Body Issue
Below, you'll find some quotes and thoughts from Wolf from our recent interview.
On her discipline, making weight, and some of the competition…
I'm extremely disciplined with my eating, with my work ethic, cardio and everything like that. So making 152, I work hard for that. That's half the battle, making the weight. So I feel when you can just walk into a weight class, and if you're a girl that's fighting at 165 that could be at 152, and there are a lot of girls there, it takes away the other half of boxing.

It's discipline and work ethic that makes a fighter. If these people walk around at 165, 175, they're fat and out of shape, they can't run. I hate that. It's such an advantage to be at 152 because I am so disciplined and I do work so hard. So now I'm giving up 13 lbs, but it's fun.

It's very frustrating. I'm counting and being so disciplined. And I see people who eat like crap, and say, oh I don't run, and have all of these excuses… and they could never be at 152. Ever. And if there was an Olympic 152 lb class then I'd be right there, absolutely.

So now I have to put on weight, or if I don't then I'm at a 20 lb disadvantage. So it's a challenge. But I'm looking at it like some of these people are overweight. They're 180 and they're fighting at 165, which is absurd to me, and they're not running up mountains, they're not eating how I eat, eating yogurt and eating healthy, they're eating at iHop and all of these places. I see it, right before my eyes. I don't eat like that, I don't have excuses for why I'm not running.

If you're a fighter, you have to do everything. So one day, that will catch up to them and my hard work will pay off, and that's how I look at it.
On her advantage even though she has to move up in weight…
I'm very strong, and a lot stronger than a lot of 165 lb girls. I'm a lot faster, so I'll use my speed advantage, and my footwork to my advantage, against the heavier girls who are 180 coming down to 165. I feel I have the cardio advantage, and my strength is impeccable.
On making up for lost time…
What I'm trying to make up is my lack of experience. I've been boxing for 5 years. Some of these girls have been doing it for 8 years, 12 years, they were on the junior Olympic teams, they have a lot of experience. That's why I'm fighting in as many tournaments as I can.

I'm trying to get as many fights in as I can and let my hard work and my work ethic shine. Nothing drives me nuts more than seeing somebody that has more experience than me but who's work ethic is awful, eating is awful. It drives me nuts. So it's just making up for that lack of experience, and then I can be a work harder who wins.
On being a role model and an inspiration…
It's being a good boxer and a good role model, and being more than just a good boxer. That's why I'm trying to do as much as I can. I'm an ambassador of Naturally High, a nonprofit organization teaching kids don't do drugs, and just being involved in the community. I speak a lot, doing motivational speaking.

I really want to do as much as I can, and make a brand off of it, and inspire other girls to get into boxing. Inspire girls to be girl boxers, not to think they have to be tough… it's about good sportsmanship, and every single girl should be the face of boxing, and carry themselves like that.
On the Body Issue and her chance to raise attention for the sport…
It was an awesome opportunity. I got to go to the ESPY's and walk the red carpet and meet all of these awesome people. And it was cool, when I was there so many people were like you're a boxer – no, amateurs, going for the Olympics. And all of these NBA players, NFL players, they don't even know there's women's amateur boxing and women's boxing in the Olympics.

I want to have that platform so that I can bring attention to female boxing, and I want that stage so that I can make a difference for the sport. I really want that opportunity to change things.
On her tireless hands-on involvement with everything…
There's no excuses, I don't want to hear excuses. It's pathetic. I do everything myself. There's no reason to have any excuses… to be fat, slow, to not have money to get to a tournament. There's always a way, then there's a will, there's a way.