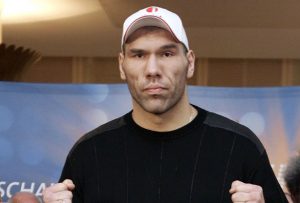 Fans of "The Russian Giant," Nikolai Valuev, who have been wondering when the big guy will return to the ring can stop wondering. The answer is at least five years, and possibly never, as Valuev has been elected to and sworn in as a deputy in the Russian Duma (the lower house of the national legislature). The Russian heavyweight has been inactive since 2009.
Valuev ran for office under the United Russia party, the leading political party in Russia whose standard bearer is de facto Russian leader Vladimir Putin. Valuev was quoted by RIA-Novosti as saying "While I'm in parliament I should forget about appearing in the ring. It's impossible to combine such a responsible job and serious preparations for the bouts." It seems serving in the Duma is Valuev's golden parachute from his boxing career. Valuev is 38 years old.
Valuev won notoriety mostly because of his enormous size: he stands 7'2″ tall, weighs in routinely above 315 lbs, and wields a rangy 85″ reach. Valuev wasn't much of a fighter or an athlete, but his size and strength led him to two reigns as WBA Heavyweight Champion. The Russian giant did well enough against fringe contenders such as an aged Larry Donald and limited brutes like Clifford Etienne or Jameel McCline, but his best wins were a narrow Majority Decision to win the WBA strap for the first time against John Ruiz and a more decisive victories over Siarhei Liakhovich and Ruiz in the rematch. Against this, his first title reign was ended by Ruslan Chagaev, Valuev needed a scorecard robbery to "win" against Evander Holyfield in 2008, and he was defeated by David Haye in his last fight.