Both Pacquiao and Mayweather Fall Short in 2011
Here at ProBoxing-Fans.com, we've spent much of the past few weeks releasing all of our 2011 boxing awards, handing out 14 separate honors which collectively recapped the year that was in boxing. Notably absent from all of these awards was Manny Pacquiao.
Pacquiao did not receive any awards for the year, and nor was he considered heavily for any of them. In fact, the "award" which Pacquiao was most in consideration for was the 2011 Robbery of the Year.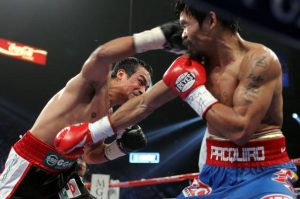 Many observers felt that Juan Manuel Marquez did enough in their rubbermatch to earn the win, and the close and controversial verdict, for the third time in the series, left an unsavory taste in the mouths of many boxing fans. (ProBoxing-Fans.com scored the fight a draw with our round by round).
Pacquiao fought twice in 2011. The first came in May against Shane Mosley. Mosley was coming off a terrible performance against Sergio Mora, and a one-sided loss to Floyd Mayweather.
Coming into the fight, he seemed old and most wondered what he had done to deserve a showcase date against Manny Pacquiao. It showed in the fight, and it was a win that ultimately meant nothing to Pacquiao, nor did it add anything to his resume or list of accomplishments besides a badly faded name.
The second 2011 performance for Pacquiao was his third fight against Marquez in November. While a decisive win here at least would have closed that chapter of his career, once again his rival flummoxed him and created more questions for Pacquiao rather than answers.
Of course, Floyd Mayweather didn't receive any awards for his efforts in 2011 either, and wasn't in serious contention for any either. He fought just once, his KO4 win over Victor Ortiz, and that fight ended in controversial, buzz-worthy fashion.
At least Ortiz though was ranked as the best available welterweight challenger, and was a young, powerful opponent in his prime, coming off a huge win. Still, Mayweather only stepped into the ring one time, and the controversy took away the glimmer from the win itself.
If I had to grade the years of both men, Pacquiao would get a C-, and Mayweather would get a B. Not exactly top-flight stuff from either man.
Pacquiao fought twice – one fight which meant nothing, and one which meant something but which inconclusive, although at least exciting, his only real saving grace. Mayweather scored a meaningful, legit win, hwever, inactivity and controversy kept his grade down.
Imagine Kobe Bryant, LeBron James and Carmelo Anthony all having so-so seasons when they're all supposed to be at their best. Imagine Tom Brady, Aaron Rodgers and Drew Brees all having ho-hum years instead of rewriting the record books. That's what happened in boxing in 2011 with its two biggest names and best fighters.
Both men clearly only have so much more to offer the sport, and as Mayweather readies himself for a jail sentence, and Pacquiao readies himself for his full-time political career, boxing fans are left eternally clamoring for more.
Each failed to capitalize on their immense status in 2011. Will 2012 be any different?