Rafael Marquez Cuts up Vazquez and Makes it an Early Night
In the highly anticipated fourth encounter between Israel Vazquez and Rafael Marquez, Rafael Marquez brought the series to a tie, winning the bout by TKO in the third round. The questions that many had about whether or not Vazquez was too far gone to be at the highest level perhaps proved to be true. Certainly, one can never question his heart. But at this stage and with his preexisting scar tissue over his eyes, Marquez had an easy, quick evening.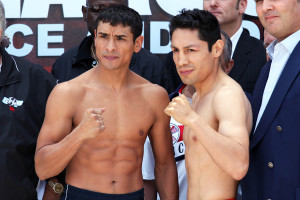 Marquez looked crisp, strong and fast as the fight began. Meanwhile, Vazquez looked like he was not completely loose and warmed up. Marquez was able to open a huge gash over the left eye of Vazquez in the first round, and from there things got worse in a hurry for Israel Vazquez.
The second round was another clear round for Marquez as the cut continued to get worse through both unintentional head butts and slicing shots. In the third, a cut opened over Israel's right eye as well, and both were streaming blood. Close up shots after the bout revealed two brutal cuts over the eyes of Vazquez, and Marquez cited the scar tissue and cuts as a strategy going into the fight.
With the cuts pouring blood and perhaps his vision impaired, Vazquez was sent to the canvas, halfway taking a knee, in the third round. After that Rafael Marquez poured on the pressure and didn't stop until Vazquez was backing up into the ropes and the referee was forced to jump in and stop the bout. It was the correct move for the referee to make, and it brought the fourth Vazquez vs. Marquez fight to a quick and brutal end.
Talk immediately turned to a fifth fight between the two, but if there's anybody with a level head in the world of boxing, it will not happen. Period. The huge gash over his right eye was one of the worst seen in the ring perhaps ever, and it was clear that he never had the force and energy that was defined his career as one of the best fighters in the world.
The Vazquez vs. Marquez results were definitive, and with a 2-2 draw in the series, it's long overdue for both of these guys to move on. Credit to Marquez for a great winning effort and for Vazquez having all of the heart and dedication in the world, but hopefully this series has come to an end.