Perez vs. Mares Ends in Draw, Perez Keeps Title
As expected, Yonnhy Perez and Abner Mares put on an exciting show before the main event on Saturday evening of Israel Vazquez and Rafael Marquez. However, the results were a bit disappointing as neither man was able to take home the victory. An extremely close and tough battle ended up as a draw, however it's an anti-climactic decision and it seems like somebody perhaps should have deserved to leave the ring as a winner. The official judges' scorecards read: 115-113 Mares, 114-114 and 114-114, which means the decision is a Majority Draw.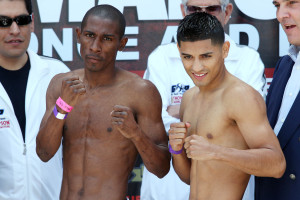 It was clear from the beginning of the fight that Abner Mares had a solid speed advantage. However, Perez and his aggression, work rate and great timing didn't take long to begin kicking into gear. By the middle of the fight, it was Perez that seemed to be in clear control. He had his challenger retreating around the ring, and he was landing solid body shots that tired his man out and hard shots to the head that occasionally hurt him.
Then things took a turn for Mares, as  he apparently caught a second wind. Additionally, all of the body work he put in began to pay off dividends, as Perez slowed down and his work rate was substantially decreased. Mares was rejuvenated and started to land the harder and more effective shots, and it was now he that was dictating the action and following Perez around the ring.
After a 12th round in which Mares completely seemed to have control, it seemed like the close fight could have gone either direction, but perhaps the young Mexican fighter had done enough to earn the decision. ProBoxing-Fans.com scored the fight 115-113 for Mares, but the official scorecards came in with a Majority Draw. Given that these two are good friends and that the fight was so competitive, it's likely that we will see a rematch.
Hopefully you caught the Perez vs. Mares results live on Showtime, because the fight could possibly steal the show pending the Vazquez vs. Marquez results later in the evening.