Trainer Mark Tibbs is bringing the next generation through in his base at the Origin Gym, Rainham and soon to turn professional, Tommy Fletcher is a big part of those plans.
Fletcher joins Tibbs' current stable comprising of Heavyweight prospect, Johnny Fisher (2-0, 2 KOs), Light Heavyweight, John Hedges (2-0) as well as former Southern Area title challenger, Charlie Duffield (7-2, 6 KOs).
The 19-year-old Southpaw stands at 6ft 7" and first came to Tibbs' attention when he came down to the gym to spar with Duffield whilst he was preparing Billy Joe Saunders for his clash with Canelo Alvarez in May.
"I came down here sparring Charlie Duffield," Fletcher recalled to proboxing-fans.com.
"I got a feel for the gym and really like it and I spoke with Mark, I really get on well [with him], [there's a] good connection, good coach and that's why I've come here and I ain't really looked back."
A former Attleborough Amateur Boxing Club prospect, Fletcher started boxing when he was 14-years-old, picking up two national titles and one international title.
Despite not having vast amateur pedigree, he has had high-calibre sparring with the likes of former world title challenger, John Ryder, Super Middleweight contender, Zak Chelli as well as his current stablemates and believes he can bring an effective style to the professional ranks.
"I was doing Light Heavyweight in the amateurs, but I've now moved up to Cruiserweight.
"So, I'm building now, getting in there sparring bigger boys and then just working with it, rolling with it.
View this post on Instagram
"I'm definitely strong for the weight, so I reckon [I'll bring a] tall, rangy, strong [style], so I can get a few stoppages, that would be good.
"Expect fireworks and good boxing."
Fletcher is now looking to secure a promotional deal before he can proceed with making his mark on the paid ranks.
And Tibbs admits he has been impressed with his fundamentals in the short time they've worked together.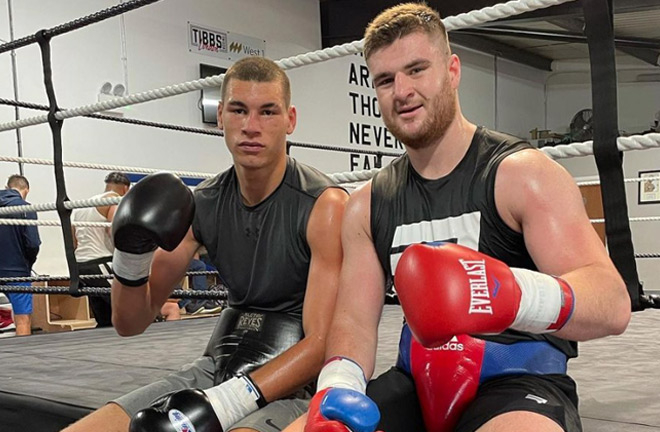 "I'm really surprised with him," Tibbs told Pro Boxing Fans.
"He's got good power, very heavy handed, only 19-years-old. He's probably 6′ 5", Southpaw and he's got a good sense of timing and distance and I like that.
"He's shown me really, really good stuff in top grade sparring I've had him in with, which I don't normally do with people of that age [and he's been] strong, he's mature.
View this post on Instagram
"So, he's had top level sparring and obviously we don't want to overcook him, because he's only 19, but he's just in the process of getting his boxing licence, his professional licence.
"He wants to meet a promoter that's going to bring him on, because he's only 19-years-old.
"He's very exciting, he's a breath of fresh air."
Watch the full interview with Tommy Fletcher below: