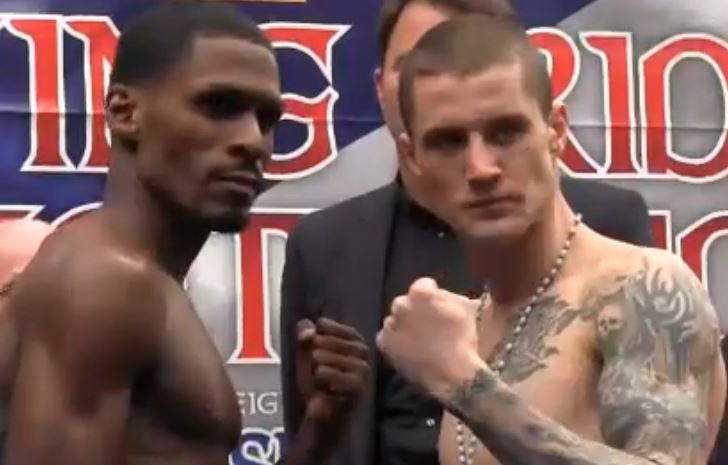 The official Ricky Burns vs. Jose Gonzalez weigh-ins were held this afternoon in preparation for their lightweight title fight in Glasgow, Scotland on Saturday evening, headlining the Fighting Pride of Scotland event. Right here, you can watch a video of the Burns vs. Gonzalez weigh-in and find the weigh-in results for the fighters. Take a look.
Burns vs. Gonzalez Weigh-in Results
Ricky Burns: 134.5 lbs
Jose Gonzalez: 134.5 lbs
The Coatbridge two-weight World champion was roared to the scales at the St. Enoch Centre and the 30 year old said he has a new lease of life ahead of the clash.
"I am really excited about Eddie's plans," said Burns.
"Everybody knows I am just a quiet guy, I keep myself to myself and my attitude is the same towards boxing. You have pressure on you knowing that you are going into these big fights defending your title but with the crowd I put that to the back of my mind and don't let anything bother me.
"I have stability in my career. The way Eddie was talking, he wants to build my profile back up in Scotland and keep my active and fighting regularly. It is great fighting in Scotland. I remember when Scott Harrison was World champion and I used to get on all his undercards, it was great and this is great for the up and coming fighters to get the opportunity to get on the big shows and show everybody what they can do."
John Simpson meets Choi Tseveenpurev for the WBC International title in a mouth-watering chief support bout, with Simpson scaling 9st 3lbs and 'The Mongolian Warrior' Choi 9st 1lbs 8oz. The third title bout on the card pits cruiserweights Stephen Simmons and Michael Sweeney for the vacant Celtic title, with Simmons scaling 14st 1lb ½oz and Sweeney 14st 3lbs ½oz.
RUNNING ORDER AND WEIGHTS
6pm: 6 x 3 mins Middleweight Contest
DAVID BROPHY (11st 9lbs ½oz) v GARY BOULDEN (11st 6lbs 2oz)
(Caldercruix)                                     (Shepperton)
6.30pm: 6 x 3 Featherweight Contest
JONATHAN SLOWEY (9st 3lbs 6oz) v EDDIE NESBITT (9st 4lbs)
(Glasgow)                                               (Belfast)
Live on Sky Sports HD1 from 7pm
7.05pm: 8 x 3 mins Super-Middleweight Contest
ROCKY FIELDING (12st 5lbs 10oz) v MICHAL NIERODA (12st 3lbs)
(Liverpool)                                            (Poland)
10 x 3 mins Vacant Celtic Cruiserweight Championship
STEVE SIMMONS (14st 1lbs ½oz) v MICHAEL SWEENEY (14st 3lbs ½oz)
(Edinburgh)                                         (Dublin)
12 x 3 mins Vacant WBC International Super Featherweight Championship
JOHN SIMPSON (9st 3lbs) v CHOI (9st 1lb 8oz)
(Greenock)                              (Mongolia)
12 x 3 mins World WBO Lightweight Championship
RICKY BURNS (9st 8lbs 8oz) v JOSE GONZALEZ (9st 8lbs 8oz)
(Coatbridge)                                            (Puerto Rico)
6x 3 mins Super-Featherweight Contest
MICHAEL ROBERTS (9st 7lbs) v MARIUSZ BAK (9st 5lbs 10oz)
(Glasgow)                                      (Brentford)
The crowd of course was enthusiastically in support of Ricky Burns, the hometown and homecountry hero. He received a very warm reception and seemed to be enjoying the stage as always. There wasn't anything too eventful between Burns and Gonzalez, both men seemed to be all business, and ready for the fight on Saturday, and each man was able to make weight without issue.
The WBO lightweight title of Burns is at stake in the fight, and Burns will of course be looking ahead to bigger fights in the future assuming he's able to get past Gonzalez here.