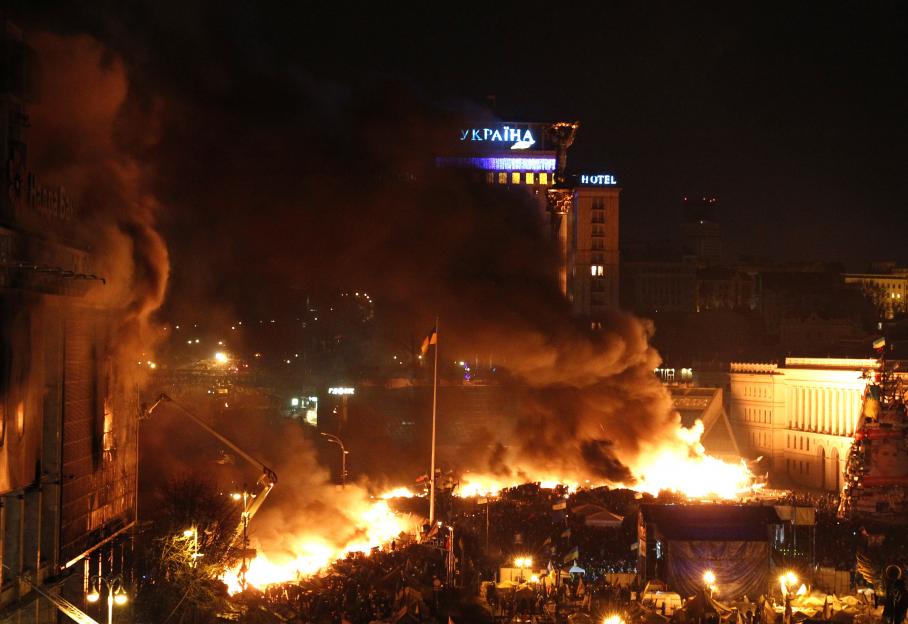 Photos of Deadly Kiev, Ukraine Protests & Quotes from Vitali Klitschko
Former heavyweight champion Vitali Klitschko remains right in the center of the violent and deadly clashes between protesters and government forces in Kiev, Ukraine.
The one-time mayoral candidate and future Ukrainian presidential candidate has long been outspoken against the current government, its corruption, and its renewed interest in Russian support. Russia recently provided some $15 billion to the Ukraine government, amongst other perks, to sway its leadership in their direction, and away from the West.
Klitschko wants a democratic nation for his people, with ties to the European Union, one in which corruption is finally removed. It hasn't been easy trying to reach that goal, however, and the most recent clashes led to at least 25 deaths, and widespread destruction and fire across downtown Kiev, in Independence Square.
Ukraine Protests Photo Gallery
(These pictures were sourced from social media outlets, including Imgur.com. Unfortunately, we do not have the original credit for the photographers)
According to a story on USA Today, Klitschko had this to say:
On the current state of events:

"All the world is watching Ukraine."

"I can't imagine working with Yanukovych's government now."

On when action needs to be taken:

"We are talking minutes, not hours."

On why this is important to the West:

"Because instability in Ukraine could lead to instability in the entire region."
A story on ESPN.com also shared these quotes from Klitschko:
On defending themselves and standing their ground:

"We will not go anywhere from here.

"This is an island of freedom, and we will defend it."
Protests have been fierce for months in Ukraine, however, things had returned to relative calm as of late. That is, until the Ukrainian parliament refused to vote on a proposed democratic measure.
The protests returned with some 20,000 individuals taking part, the government troops met them immediately, and both sides began exchanging aggression. Before long there were tragic and deadly consequences.
Now, Ukraine appears to be at the brink of all-out Civil War, and European and U.S. leaders are pondering strategies for sanctions and intervention.
It's a perilous situation to say the least, and one which is quite unfortunate — regardless of what political belief system you have, or how you feel the Ukrainian unrest should be settled. Our thoughts are certainly with Klitschko and all of the Ukrainian people.
Comments
comments