-Andre Ward vs. Andre Dirrell & Carl Froch vs. Arthur Abraham Now Set for November Doubleheader; Allan Green vs. TBA also a Stage 3 Super Six Bout-
The Group Stage 3 matchups in the Super Six World Boxing Classic, the unprecedented boxing tournament from SHOWTIME Sports® featuring the world's best super middleweights, have been rescheduled for Nov. 27, it was announced today by Ken Hershman, Executive Vice President and General Manager for sports programming on the network.
The matchup between breakout American stars and friends, Andre Ward and Andre Dirrell, will headline the SHOWTIME® telecast on Saturday, Nov. 27, live at 9p.m. ET/PT. Ward vs. Dirrell, one of the most talked about matchups of the year, will be contested for Ward's WBA championship and the newly vacated WBC belt, adding yet another dramatic layer to an already captivating fight.
Ward has already locked up his Semifinal berth, but will be protecting his title and undefeated professional record.  Dirrell, conversely, needs a win to guarantee his place in the Semis. Dirrell conceivably could get in with two points but he would need help from fellow tournament competitors.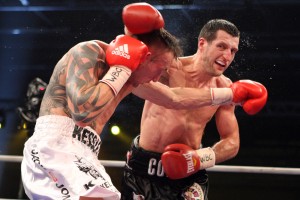 On the same night, Saturday, Nov. 27 from Hartwall Areena in Helsinki, Finland, Arthur Abraham will meet former WBC titlist Carl Froch for their pivotal Group Stage 3 fight.  Promoters Kalle Sauerland and Mick Hennessy are working with the Hartwell Areena to finalize details for the event.  This bout, matching arguably the two toughest and most aggressive punchers in the Super Six, has been rescheduled from Oct. 2 due to a back injury to Froch.
Allan Green, whose Group Stage 3 bout with Mikkel Kessler was waylaid when Kessler withdrew from competition with an eye injury, has left the perennial contender without an opponent. A decision on Green's Group Stage 3 bout is expected in the coming days.
The third and final Group Stage will complete the round-robin portion of the tournament and determine the four fighters who will advance to the single-elimination Semifinals. Through the first two Stages, the WBA world champion Ward is the only fighter to have secured a berth in the Semis. No fighter has been eliminated from contention creating a virtual win-or-go-home scenario for each of the men.
Hershman said, "We have asked these fighters to challenge themselves against the best fighters in the world; not in one mega-fight, but in a consecutive series of career defining fights. Injuries and delays are inevitable. However, each one of them has accepted the challenge and brought a level of intensity to the ring that, in my estimation, is unmatched in all of sports."
"We are still on pace to complete the tournament in 2011, at which time we will have delivered to boxing fans around the world a number of the most compelling and meaningful matches in the sport.
"So, the drama continues with all the fighters still alive heading to Group Stage 3. I couldn't have scripted this any better."