– Dawson vs. Pascal Ends in Huge Upset –
Much to the surprise of many observers (including this one), Jean Pascal whipped Chad Dawson in their WBC Light Heavyweight showdown. This sort of upset should raise the question if Chad Dawson was perhaps overrated. After all, if Dawson was as good as most thought him to be, even Pascal having the best night of his career should have faltered before Dawson on the worst night of his career.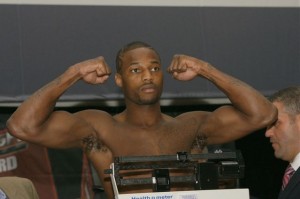 Pascal's biggest surprise was that he was, in fact, faster than Dawson. He also had a smart game plan that left Dawson with no answers. Pascal won the battle of the footwork, which enabled him to zip in and out on Dawson's much longer reach without undue risk. He shut down Dawson's rangy jab with counter-hooks.
Finally, Pascal was the busier fighter. All of that effort drained Jean Pascal, and Dawson was catching him more and more in the later rounds. Maybe Dawson would have knocked Pascal out had it not been for the cut that ended the fight. The ultimate point is, however, that if Chad Dawson were the bad ass he is often made out to be, he would never have found himself in the position of needing a knockout to win a fight against the likes of Jean Pascal.
Let's face it: the light heavyweight division has not been talent deep for 30 years or more, and it is easy to look fantastic against sub-par opponents. Dawson is most celebrated for his wins over Glen Johnson and Antonio Tarver. Johnson was a guy who was whipped by everybody and was little more than a middleweight journeyman ten years ago.
He shocked the world by knocking out Roy Jones, but Jones was clearly a shell of his former self by then. Johnson's other claim to fame is his 1-1 record with Antonio Tarver, who is also best known for… his fights with the shadow of Roy Jones and tussling with Glen Johnson.
In other words, Dawson's best wins are over two guys whose best wins in turn were over each other and Jones. Dawson also beat Tomasz Adamek, who is doing well at heavyweight, but has yet to fight a solid contender and therefore can't be said to have done much since losing Adamek. The bottom line is that it was easy to make Dawson into something he was not.
Then let's look at Jean Pascal. At super middleweight, Pascal was a fringe contender who couldn't get much in the way of career traction. However, super middleweight is a talent-deep division and Pascal did fight someone who clearly has the right stuff in Carl Froch. Froch's boxing style might be limited, but his power, toughness and will to win have established him as a top fighter in a division that is bursting with talent. Being a fringe contender in a strong division is a bigger statement than being the king of a weak one.
I am not writing that Dawson was a paper champion, but to a certain extent Pascal exposed him. Pascal's victory was no fluke. Stopping to rationally appraise what wins over old guys like Johnson and Tarver mean must yield the answer "good, but not great." Yet with the mystique of beating guys who beat Roy Jones (no matter how faded) in the air, Dawson became a world-beater.
This is why it was such a shock to see Pascal consistently beating Dawson, supposedly a speed demon, to the punch. In overestimating Dawson's resume, everyone overestimated Dawson. Everyone, that is, except Jean Pascal.