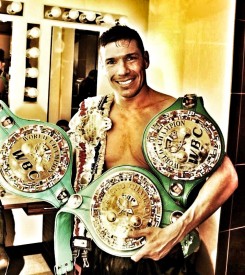 In a surprise move, WBC honcho Jose Sulaiman announced that Sergio Gabriel Martinez has been made a mandatory challenger for WBC Middleweight Champion Julio Cesar Chavez, Jr. for 2012. In another shocker, the WBC also stated that as of December 29, the organization had not received formal notice of Chavez, Jr.'s title defense against Marco Antonio Rubio, currently slated for February 4.
In the wake of this news, one can only speculate if the Chavez clan hasn't done something to upset Sulaiman. Perhaps Chavez, Sr. forgot to send his longtime buddy Sulaiman a Christmas present? It was roughly one year ago that the WBC stripped Sergio Martinez of the title on the flimsiest of pretexts, and then tried to cover up the misdeed by naming him "Diamond Champion." The title was then given to Sebastian Zbik (who was the "interim" champion at the time), who in turn was fed to Chavez, Jr. The whole charade was obviously orchestrated to clear the way for Julio Cesar Chavez, Jr., whose famous father is a longtime crony of WBC President-for-Life Jose Sulaiman.
Ostensibly, the sold practical advantage of being a Diamond titleholder is the right to challenge for the main WBC title at any time. This pair of WBC announcements are a clear indication that the WBC means business about enforcing that right. Not only have they ordered Chavez, Jr. to fight Martinez next year, but they have also put him on notice that the organization might not sanction his clash with Rubio as a title defense. In the press release, Sulaiman was stated:
"Julio César Chavez Jr. is like my godson, I care for him, also for Sergio who has always received my support and the care of the WBC; nevertheless this organization has rules and the Board of the WBC has taken a decision, Julio will have to face Sergio and show everybody why he's the world champion."
Despite this move by the WBC, a showdown between Martinez and Chavez, Jr. still might not come to pass. "JC Jr." may decide his undefeated record is worth more to him than the WBC strap, and choose to be stripped of or vacate his title rather than fight "Maravilla." If the Chavez clan can arrange for Chavez, Jr. to jump into another title, that looks likely. WBO titleholder Dmitry Pirog, IBF beltholder Danny Geale, and either of the WBA's ugly hydra of Felix Strum and Gennady Golovkin are all easier marks than the pound-for-pound contender Martinez.
Even so, one thing looks as certain as anything can be in boxing: Sergio Martinez will once again be the main WBC middleweight champ by the end of 2012.