In a stunningly one-sided affair, Danny "Baby Face Assassin" Roman scored an upset ninth-round TKO over previously unbeaten Adam Lopez in a WBA Super Bantamweight Title Eliminator Friday in the main event of ShoBox: The New Generation on SHOWTIME from Bally's Atlantic City Hotel and Casino.
Lopez's trainer, renowned Ronnie Shields, decided his boxer shouldn't take any more punishment and asked the referee to stop the contest after nine completed rounds.
Roman (21-2-1, 8 KOs), who was ranked No. 4 in the WBA, won his 14th in a row in a career-best performance. He out-boxed and out-slugged the No. 3-rated Lopez (16-1-1, 8 KOs), of San Antonio, Texas, from the outset. Roman seized command in the fourth round with two knockdowns, first with a left hook and then, with a left uppercut.
Lopez, who was appearing on ShoBox for a fifth time, tried to fight back, but Roman's skill and harder pinpoint-punching led to the scheduled 12-round fight being stopped between rounds nine and 10.
Win the victory, Roman is now in position to challenge WBA 122-pound World Champion Nehomar Cermeno.
"The main event was a shocker," said ShoBox expert analyst Steve Farhood. "We didn't know much about Danny Roman. And he sure earned that title fight against Nehomar Cermeno. It's a bittersweet for us, for Lopez. We know him well. He's fought five times on ShoBox but now doesn't look like he is going to get that title fight since this is the second opportunity he had and he took a real beating. It's going to take a while for him to come back."
In the final three rounds, Roman out-landed Lopez 107-27, and 84-20 in power punches. In the final session, Roman landed more punches (43) than Lopez threw. It was a merciless beating followed by a merciful stoppage. Roman landed 54 percent of his power shots, including 67 percent in the final round.
"Adam Lopez is a great and tough fighter," said Roman. "He came prepared, but I came out with the victory.
"I started hurting him with uppercuts. I dropped him twice the fourth. I felt I was going to stop him there, but the bell saved him.
"My plan was to break him down little by little, and I felt that was starting to take effect as he was losing his steam in the third round, but he kept on going.
"I knew he would have one last stand, but I knew I would stop him. Even if they didn't stop it in the corner, I knew I would get him out of there.
"Now, I am going to go back to the gym. I have to start working on the basics again and begin to prepare for my title shot. I'm very excited."
Lopez, who left the ring promptly after the stoppage, was not happy with his performance.
"He was the better man tonight," he said as he sat with his head down in the locker room. "I kept trying to catch him with uppercuts and I got caught every time. I was trying to get on the inside, but it was hard.
"I thought I was clawing my way back into the fight, but my eye started hurting. It was the first uppercut that knocked me down in the fourth that got me right in the eye. It was hard to keep on going with my eye like that.
"When I got back to the corner after the ninth round, Ronnie told me he had seen enough and he stopped the fight."
In the co-main event of the evening, undefeated super middleweight Ronald "Flatline" Ellis took a unanimous eight-round decision in a messy-grappler-type affair over Christopher "Ice Cold" Brooker by the scores of 79-73 twice and 77-75.
"Ellis-Brooker was an ugly fight,'' Farhood said. "Brooker didn't really have any answers. Ellis won clearly but he didn't shine, mostly because of his opponent's style."
Ellis (14-0-1, 10 KOs), of Lynn, Mass., established the tone of the fight with an explosive first round in which he went 27-of-90 overall—both high totals for the fight—to Brooker's 8-of-45. Ellis won the body shots battle (64 to 31) and landed sharper combinations during the rare moments the fighters were at distance.
In the final three rounds, Ellis continued applying pressure with accuracy.
"I am back and I want some more," said Ellis. "That was a good fight. I fought smarter today than in my last ShoBox appearance. I'm not going to lie, he was tough and came at me very hard, but I maneuvered. I am very happy with my performance.
"He was big and strong and was holding a lot, but my boxing skills took over in the fight. He was trying to get on my nerves, but I knew that my skills would get me the win."
Brooker (11-3, 5 KOs), who was very unhappy with the judges' scorecards said, "I don't know what these judges are looking at. I had the better ring generalship, aggressiveness and I brought all the pressure.
"I feel that because he was undefeated, the judges must have put him on a pedestal. Even though I have a couple losses, look who I have fought and defeated. I am an elite-level fighter as well, and I should get that same respect. That's why SHOWTIME has me on.
"At the end of the day, I just fight. It is up to fans who watch, they are the real judges for me."
In the telecast opener, undefeated super lightweight Kenneth "Bossman" Sims Jr. handed Emmanuel "Renegade" Robles the second loss of his career in a closer than the scorecards reflected eight-round unanimous decision. It was scored 79-72 twice and 78-73.
"Kenneth Sims Jr. is the typical ShoBox prospect,'' Farhood said. "He showed a lot of good skills. He fought a different fight than the one we expected. He was more aggressive than we thought he'd be. With his amateur background and now the exposure on TV, I think he is a potential star."
Sims (11-0, 3 KOs), of Chicago, Ill., who went past the sixth round for the first time in his career, began the fight with an overwhelming high-volume attack highlighted by vicious body shots.
Robles (15-2-1, 5 KOs), of San Diego, Calif., however, picked up the pace and took advantage of Sims slowing his pace in rounds four through six. Robles upped his work rate and out-landed Sims 78-66 overall. Referee Bengy Estives took a point way from Sims in round six for dropping his mouthpiece.
Sims gritted his teeth and caught his second wind in the seventh and eighth by out-landing Robles 49-34 overall and 46-24 power to grab a wider-than-expected decision.
"I didn't have my best performance, but I still got the win," Sims said. "I was trying too hard for a knockout, and that's not me. He was a durable opponent, but my performance had nothing to do with that.
"I want to talk to my team about my next fight. My speed and feet were the difference in the fight, but I did not use them as much as I should."
Robles, who was disappointed with the verdict, acknowledged Sims' speed.
"He was moving a lot and I couldn't neutralize that,'' Robles said. "He was slicker than I thought he was going to be. I was putting on a lot of pressure and wanted to work the body, but he was slick and able to withstand what I was doing.
"I just have to get back to training and get better. You'll see more of me. I will be back."
Brant Stops Hloros with Body Shot and Defends WBA-NABA Championship in Hinckley
On Friday, January 20, in front of a standing-room-only crowd of 3000+ at the Grand Casino's Events & Convention Center in Hinckley, Minnesota, WBA #3-, IBF #13- and WBO #5-rated middleweight contender Rob "Bravo" Brant stayed busy and defended his WBA-NABA Middleweight Championship by stopping Detroit's Alexis Hloros.
With a possible title-shot opportunity on the near horizon, the Saint Paul, Minnesota-based Brant (22-0, 15 KOs) wasted no time in dispatching Hloros at 2:33 of the first round. A huge body shot dropped Hloros for a count of nine, but he arose still wincing in pain, and was in no condition to continue.
"I was happy with the way the night ended up," said Brant. "When you get a guy last minute like Alexis Hloros, you have to treat them like they have been training to be the best version of themselves. Overlook them and you can get beat. I feel like I am ready for a bigger name now and am ready to showcase myself at the top level."
The event, presented by Greg Cohen Promotions in association with David Schuster's Winner Take All Productions, also featured GCP's always exciting super welterweight KO artist Skender Halili.
Halili (13-1, 13 KOs) kept his KO percentage at 100% by stopping Wichita's Romon Barber (7-13, 6 KOs) in the fifth round.
The anvil-fisted Halili landed some bombs early that Barber was able to absorb. However, Halili's power eventually wore him down. In the fifth, he caught Barber with an uppercut that staggered him backwards into the ropes where he then pounded him relentlessly until the referee stopped the fight. It was a spectacular show of brutal punching power.
"I was very impressed with both our fighters tonight," said Greg Cohen. "Rob Brant is clearly at the top of his game and ready for a big opportunity. Despite the opponent change on short notice, he handled it the way a future champion should. And Skender Halili continued his run as one of the most exciting punchers in boxing with another fan-friendly win. It was a great event in front of a huge crowd of fans. I am proud to have been able to promote it."
Webster Earns 10-Round Unanimous Decision Over Thomas Awimbono in Trenton
Derrick "Take it to the Bank" Webster (22-1, 11 KOs) was in championship form on Saturday night at the Sun National Bank Center in Trenton, N.J., winning the IBO/USBO Super Middleweight Title by defeating a hard-nosed Thomas Awimbono (22-6-1, 21 KOs) via unanimous decision.
"Keep hitting him. Keep touching him," Webster said he was being told in between rounds by head trainer Denny Brown. "First, I want to thank God for this opportunity. This is an amazing feeling. We knew nothing about the guy coming into this fight. There was nothing on him at all. The only thing we really knew was that he had a lot of knockouts, so I knew I had to be leery of that. While I was out there, we had to adjust to whatever he was trying to do."
Awimbono proved to be a very durable and determined opponent, which forced Webster to keep thinking throughout the 10 rounds of this title fight.
"He was trying to put me in traps," Webster continued. "Training with Denny and sparring with Prince Badi (Ajamu), you learn not to fall for traps like that. Prince is the king of setting traps, so I was ready to make any adjustments. I just kept the jab on him, threw combinations and got some good body work on him, so he didn't really know which angle I was coming from. We were trying to frustrate him. Did I want the knockout? Of course, but you can't knock out everybody. The bottom line is we're leaving with this belt, and we got the win."
Webster felt Awimbono out a little bit in first round before starting to really warm up in the second frame. He continually made Awimbono miss with crafty movement and sound defensiveness, looking to pick up habits of his opposition that he could eventually exploit. In the third round, Webster began going hard to the body, finding much success there in some work that would pay dividends throughout the course of the bout.
After keeping a stiff jab in his face, Awimbono began to develop swelling around his left eye towards the beginning of the fourth frame, with Webster truly finding his rhythm and seeing things clearly as they entered the middle rounds.
The fifth frame was a big one for Webster, who was showing excellent head and body movement while keeping his hands in the face of a frustrated Awimbono to keep him at bay. Webster was doing a great job of establishing his range, which kept Awimbono from being able to mount much of an attack. In the following round, Webster continued to switch levels and highlighted the frame with a 12-punch combination to the body. His varying angles confused Awimbono, but the Ghanan fighter continued to press forward and forced Webster to remain alert at all times.
Over the second half of the fight, Webster continued to do his combination work and slip out, continually changing his directions and angles so Awimbono could not find much momentum. The determined Awimbono was able to get through a few punches over the last few rounds, but Webster showed off his chin and was not affected by them.
In the ninth frame, Webster had a huge burst midway through the round, switching his levels on a heavy head and body attack that backed Awimbono up and had him in some trouble. Wary of the significant power that Awimbono possessed, Webster intelligently did not overcommit himself to anything that could put him in a dangerous position, continuing to make him miss and showing off some excellent footwork.
In the final frame, Webster boxed out those last three minutes by sticking to the gameplan he received in his corner. Remaining in control of the action, he got off some good counter punches and was noticeably elated when the final bell rang because only the reading of the judges' cards stood between him and being strapped up with gold.
When those ringside tallies came, Webster was indeed named the victor when scores of 100-90 and 98-92 (twice) were read aloud, with the hard fought victory earning him the IBO/USBO Super Middleweight Championship.
The huge win kicks off 2017 in extraordinary fashion for Webster, who plans to remain extremely busy this year. Negotiations have already begun for his next fight, with an official announcement planned for the very near future.
Top Prospect Irvin Gonzalez remains perfect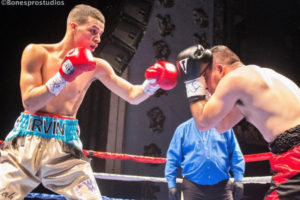 Boxing returned to Worcester last Thursday for the first time in more than five years to the delight of a capacity crowd of 2,100 passionate fans at the Palladium.
The inaugural event of the "New England's Future" series, presented by Rivera Promotions Entertainment, featured 10 action-packed fights, highlighted by rising Worcester featherweight prospect Irvin Gonzalez (5-0, 5 KOs).
"The support we received from the sold out crowd was exciting for our first show," said promoter Jose Antonio Rivera, the former 3-time, 2-division world champion. "We working on our second show in March, of course, right here in Worcester."
The 20-year-old Gonzalez was absolutely relentless in the main event, fright rom the opening bell, throwing a barrage of unanswered punches from every conceivable angle, repeatedly hurting his Mexican foe, Israel "Tigre" Ramos (9-15, 3 KOs), including a late first-round knockdown. Gonzalez didn't let up in the second, firing crisp punches, until Rojas hit the canvas early in the second frame and referee Steve Clark had seen enough, stopping the one-sided fight.
Gonzalez is continuing the rich Worcester boxing tradition. "I'm always relentless," Gonzalez said with a smile. "It was great fighting in the main event at home. I heard the crowd and really appreciated their support. I hurt him early and I almost took him out in the first round with a body punch. I finished him off with a right in the second. None of my fights have gone the distance, but I prepared to go the full six tonight, if needed."
Gonzalez takes off Sunday o report to undefeated Guillermo Rigondeaux' training camp in Miami, where he'll work with the reigning WBA super bantamweight world champion and 2-time Olympic gold medalist.
Undefeated Ray "Bazooka" Gracewski (5-0, 3 KOs), fighting out of Springfield (MA), was on a search-and-destroy mission in the co-feature against Worcester super middleweight Ralph Johnson (2-10, 1 KO), who was dropped three times before referee Kevin Hope halted the fight.
Hartford's pro-debuting Richard "Popeye The Sailor Man" Rivera was good to the finish, albeit only two rounds, in a fight contested at a 185-pound catchweight against Philadelphian Davonte Hopkins (0-3). Rivera, who was a 2016 Rocky Marciano Tournament winner, punished Hopkins, finally dropping him in the second round, after which his corner threw in the towel.
In an evenly matched junior featherweight bout, hometown favorite Ranse Andino's pro debut resulted in a hard earned victory, by way of a four-round unanimous decision, over Lowell's (MA) previously unbeaten Jonathan Perez (2-1-1, 2 KOs)
Unbeaten Haitian heavyweight Jean Pierre "Kid Creole" Augstin (7-0-1, 3 KOs) pounded game Mexican foe Jose Humberto "Olympico" Corral (19-22, 12 KOs) from the opening bell en route to a shutout six-round unanimous decision.
East Hartford prospect Anthony Laureano (2-0, 1 KO), a 2016 New England Golden Gloves champion, finished off winless welterweight Rafael Francis (0-9) with a debilitating body shot early in the second round.
In his pro debut, popular Worcester heavyweight Felix Martinez, a local barber, spotted his opponent, 392-pound Bobby Favors (0-4), nearly 60 pounds but Favors was unable to continue after the first round.
Southbridge, MA Wilfredo "El Sucaro" Pagan turned in a memorable pro debut, winning a four-round majority decision over Alexander Picot (1-2-1 (0 KOs), contested at a 145-pound catchweight.
The second-oldest pro fighter in Massachusetts history, 49-year-old "Irish" Chuck Shearns (3-1, 2 KOs), of nearby Auburn, MA., ended his boxing career in style with an opening-round technical knockout victory over Philadelphia junior middleweight Shavonte Dixon (0-2).
U.S. Marine Brandon Montella, fighting out of Saugus, MA., improved his record to 6-0 (5 KOs), as his light heavyweight Mexican veteran Roberto "El Viejo" Valenzuela (69-74-2, 56 KOs) suffered an injury early in the second round.
Complete results below:
OFFICIAL RESULTS
Main Event -Featherweights
Irvin Gonzalez (5-0, 5 KOs), Worcester, MA
WTKO2 (1:28)
Israel Rojas (9-15, 3 KOs), Aqua Prieta, Sonora, Mexico
Co-Feature – Super Middleweights
Ray Graceski (5-0, 3 KOs), Springfield, MA
WTKO1 (1:32)
Ralph Johnson (2-10, 1 KO), Worcester, MA
HEAVYWEIGHTS
Jean Pierre Augstin (8-0-1, 3 KOs), Lawrence, MA
WDEC6 (60-54, 60-54, 60-54)
Jose Humberto "Olympico" Corral (19-23, 12 KOs), Aqua Prieta, Sonora, Mexico
Felix Martinez (1-0, 1 KO), Worcester, MA
WTKO1 (3:00)
Bobby Favors (0-4), Cincinnati, OH
(185-pound) Catchweight
Richard Rivera (1-0, 1 KO), Hartford, CT
WTKO2 (2:48)
Davonte Hopkins (0-3), Philadelphia, PA
LIGHT HEAVYWEIGHTS
Brandon Montella (6-0, 5 KOs), Saugus, MA
WTKO2 (0:50)
Roberto Valenzuela (69-74-2, 56 KOs), Aqua Prieta, Sonora, Mexico
JUNIOR MIDDLEWEIGHTS
Chuck Shearns (3-1, 2 KOs), Auburn, MA
WTKO1 (2:19)
Shavonte Dixon (0-2), Philadelphia, PA
(145-pound) CATCHWEIGHT
Wilfredo Pagan (1-0, 0 KOs), Southbridge, MA
WDEC4 (39-37, 39-37, 38-38)
Alexander Picot (1-2-1, 0 KOs), Cidra, Puerto Rico
WELTERWEIGHTS
Anthony Laureano (2-0, 1 KO), East Hartford, CT
WKO2 (0:24)
Rafael Francis (0-9), Dorchester, MA
JUNIOR FEATHERWEIGHTS
Ranse Andino 1-0, 0 KOs), Worcester, MA
WDEC4 (40-36, 39-37, 39-37)
Jonathan Perez (2-1-1, 2 KOs), Lowell, MA
Selina Barrios Wins Pro Debut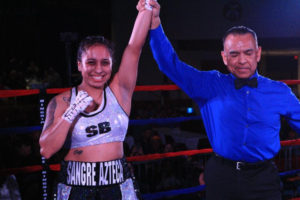 This past Saturday in her pro debut at the San Antonio Shrine Auditorium, on the "Famoso's Night of Champions" card in San Antonio, TX, hometown native, Selina "Aztec Queen" Barrios (1-0, 1 KO), scored a spectacular first round knockout against, Tammy Franks (2-27-1).
Barrios took charge from the opening bell as she went right at Franks, looking for the knockout. When the two fighters met in the middle of the ring, punches were exchanged and Selina landed a left hook to the chin of Franks, sending her to the canvas. After the ref gave Franks an eight count, Barrios stormed on and ended the fight with a devastating left hook-straight right combination.
Franks, who went the distance with Mia St. John twice, was knocked out for the first time in eight years. Satisfied with her triumph, Barrios is ready to get back in the ring and keep the momentum going.
"I wanted to come out here tonight and give the fans a great show." said Selina Barrios. "After I landed that left hook, I knew she was hurt. My only thought was to go for the kill and end the fight. This was my first fight as a professional and I'm happy with the result."
"I want to thank all my family and friends who came out to support me tonight," Barrios continued. "I also want to thank Carlos Famoso Productions for giving me the opportunity to fight in my hometown of San Antonio. My goal is to get back in the ring as soon as possible and make my run toward a world title."
Barrios' trainer, former world champion, Carlos "Famoso" Hernandez, who also served as promoter for the event, was thrilled with Selina's performance. He sees a bright future for Barrios.
"I really believe Selina can become something special in this sport," Hernandez said. "She has tremendous power in both hands and her boxing IQ is very high. With hard work, I believe she'll become a world champion. She stole the show tonight with that mighty knockout."
Darmani Rock Now 7-0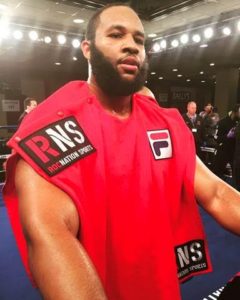 Roc Nation Sports heavyweight Darmani Rock moves to 7-0 after scoring a crushing knockout of Solomon Maye (3-8-2, 3 KOs) at Bally's in Atlantic City on Saturday, Jan. 20.
Rock established his textbook left jab early and often, creating space and getting his range. He landed numerous hard shots as the rounds went on. In the fifth round at the 00:34 second mark, Rock landed a huge right hand-left hook combination that knocked Maye out cold before he hit the mat.
Rock ended his amateur career as the number one rated super heavyweight in the United States, signing with Roc Nation Sports in February 2016. The Philly-native flew out of the starting gate with four knockouts in his first five bouts. This is his fifth KO to date.