The boxing world has to begin somewhere, and the unheralded minimum weight class, or strawweight division, is where it all starts. The tiny 105 pound fighters have frames that jockeys would be quite envious of. Not much is known about all of the fighters in this class by even the most sincere of U.S. fight fans, however here's a rundown of the biggest names.
Minimum weight (105 lbs.) division rankings last updated April 2014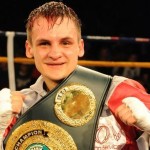 Heavyweight Division Champion:
Hekkie Budler
Record: 25 (8) – 1
Next Fight: TBA
Budler is riding a lengthy winning streak, including perhaps most notably a win over Nkosinathi Joyi. In a division with plenty of turnover, he's well positioned at the top. Stoppages in his last two victories show some late forming power for a guy with a total of 8 knockouts in 25 wins.
Top 10 Strawweight Contenders
Katsunari Takayama – Unseated Mario Rodriguez to claim a title strap, and has already defended it once with another defense scheduled for May.
Francisco Rodriguez – Stopped reigning titleholder Sabillo to score a breakout win and leapfrog up the rankings.
Wanheng Menayothin – Classic Thai fighter with a huge record – currently 33-0 – and a string of who knows who or what as opponents.
Oswaldo Novoa – After an entirely unaccomplished career, knocked out Xiong Zhao Zhong to pick up a title in the division in his last outing.
Carlos Buitrago – The hard-hitter was denied a title bid with a split draw against Sabillo. Perhaps he gets a crack at Rodriguez, Sabillo's conqueror, next.
Merlito Sabillo – Former titleholder has several noteworthy wins on the resume, but stopped in most recent fight after escaping with a draw against Buitrago.
Eduardo Martinez – Martinez scored the best win of his career with a split decision over Jesus Silvestre in his most recent fight. A rematch is entirely possible.
Xiong Zhao Zhong – Narrowly defeated Cuello to garner title strap honors, but loss to Novoa in his last outing.
Denver Cuello – Since being DQ'd against Juan Hernandez in a fight in which both men were sent to the canvas, Cuello put together about a dozen win streak before having it snapped in his last outing against Xiong Zhao Zhong.
Ryuji Hara – The unbeaten 23-year-old has kept his mark unblemished through his first 17 outings, but hasn't faced much in the way of stiff opposition.
More Boxing Weight Class Rankings