ArMAYgeddon 2012: Life In A World Without Perfection After Cotto vs. Maywether
It's Sunday morning, May 6, 2012.  You shuffle a bit looking for a comfortable spot on the basement couch, knowing that one doesn't exist.  What's the point anyway?  Not only did you not sleep a wink last night, but you don't feel much like getting out of bed this morning anyway.  In fact, you're not even certain that the sun rose today, or that the knocking you're hearing at the basement door isn't as least two of the Four Horsemen of the Apocalypse.  The world as you knew it mere hours ago is no more.
That's right: Floyd Mayweather Jr. lost last night to Miguel Cotto.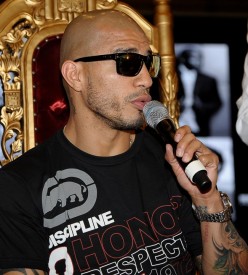 Perhaps this may be somewhat of a stretch. But, for many of my peers–and to some extent myself–end times seems just as likely to present itself come Sunday as would be a world where Floyd Mayweather Jr. lives and breathes with a blemish on his professional record.  Of course, our collective assumption makes little sense given that Miguel Cotto is, well, Miguel Cotto, and not me stepping between the ropes with all the chance of Apollo Creed in "Rocky IV."  Still, it feels as if we'll be treated to an entertaining night with a conclusion that may as well be etched in stone.
But … what if it's not?
What if the improbable happens and as the flashbulbs explode throughout the MGM Grand Arena while the referee loudly proclaims "TEN!" and waives his arms to indicate the end of an epic battle, it's not Miguel Cotto seated in the middle of the ring wondering what just happened.  A Floyd Mayweather Jr. loss on Saturday night may not turn the seas to blood and summon the dead to rise, but it would absolutely alter the landscape of the sport immeasurably.
Any Interest in Mayweather-Pacquiao, now?
Suddenly, that 50-50 split that camp Pacquiao was pushing for all along doesn't seem so onerous, does it?  Theoretically, all the cache that comes with an undefeated Floyd versus a height-of-his-popularity Manny goes out the window with a Mayweather loss to Cotto this weekend.  And, yes, the effects on pay-per-view buy rates, ticket sales and general interest would likely be measured in the millions.  But, as any true fight fan will tell you: If the fight happens, we're going to watch it.  To see two greats of this generation go toe-to-toe would be a tremendous treat for fans everywhere, undefeated record or not.
But, as is the case with used cars and new girlfriends, depreciation starts the second you commit. With every day the Manny-Floyd battle becomes less and less likely and, in the same vein, less and less sexy.  A loss Saturday would shift all of the leverage into camp Pacquiao and allow him to virtually dictate what he'd like out of the fight though, perhaps, that's not a terrible thing.
—-> Check out our Mayweather Cotto round by round results to see how the fight actually plays out on Saturday night!
Is Miguel Cotto suddenly the best fighter in the world?
As someone who appreciates what Miguel Cotto brings to the sport, my gut still tells me that Cotto would not be considered the best in the sport come Sunday morning even if he were to defeat Mayweather.  Still, the argument could be made, and with good reason.  If Cotto is to beat a man who is arguably the best fighter in the world, and do so in convincing fashion, he's easily gone from being among the very good to being a part of the elite.  Now, for how long he remains there would be a completely different discussion, as would be Cotto's next steps.  A rematch with Manny, possibly?
The Welterweight who benefits the most from a Floyd loss is …
Victor Ortiz.  Yes, he just got tuned up by Mayweather back in September, but many see Ortiz (ProBoxing-Fans.com's #3-ranked Welterweight) as one of the top young fighters in a division filled with top young fighters.  Of course, the assumption here being that Ortiz takes care of business this summer and knocks off Andre Berto—again.  Another name to consider as a potential beneficiary of a Mayweather loss is British slugger, and ProBoxing-Fans.com's #5-ranked Welterweight, Kell Brook.  The undefeated puncher from Sheffield is slated to fight in his native U.K. this summer, but plans could change depending on how Saturday night turns out.
Does the public opinion—and legacy—of Floyd Mayweather Jr. change with a loss?
For the haters, there is no beating that Mayweather could take to change their opinion of the man.  If he's knocked out in the first round and able to lick his wounds in prison, there will undoubtedly be folks who wish it would've played out worse.  For those who believe that a special slab of stone is already reserved for the sculpture of Floyd's face on the Mt. Rushmore of boxing, a loss would humanize what they see as a brilliant showman and even better fighter.
From my perspective, a loss could potentially be spun to support either side.  I'm also of the opinion that, while I find Floyd's game to be tired, at best, the man is a phenomenal talent and great for the sport.  To me, a loss hurts the sport more than it helps it, as satisfying as it may be to some.  Boxing needs personalities and they don't get much bigger in the U.S. than Mayweather.
Win, lose or draw, the sun will rise the morning after Cotto-Mayweather and, good lord willing, we will stave off total earthly destruction for another day.  The sport may be rocked to its very foundation by a Mayweather loss, but I'd like to think that it's strong enough to survive with a defeated Floyd.  Will it be as fun?  That's debatable.
Comments
comments