Arthur Abraham's Dance Card: As Good As Can Be Expected?
When Arthur Abraham's camp announced he had agreed to a March 23rd rematch with Robert Stieglitz in Magdeburg, I'm sure many fight fans were left feeling either disappointed or underwhelmed. Stieglitz was always little better than a fringe contender, and was quite lucky to get his hands on the WBO Super Middleweight Title in the first place. Given that "King Arthur" won a clear points victory over Stiegltiz in their August 2012 encounter, and Stieglitz hasn't done much to merit another title shot, it begs the question of just why is Arthur Abraham treading water?
Abraham's Comeback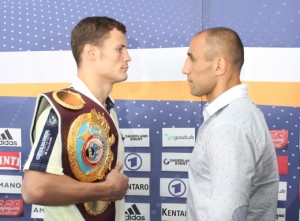 Abraham was all but written off after emerging as one of the big losers of the Super Six Tournament, so much so that some pundits actually (and ridiculously) predicted that Stieglitz would beat him in that first fight. Those holding such opinions had either forgotten or chosen to ignore that Abraham was still arguably the biggest banger in the 168 lbs weight class, and owned a distinguished 160 lbs title reign. What the Super Six revealed was that it took either a very slick boxer (Andre Dirrell, Andre Ward) or a very tough one (Carl Froch) to beat Abraham, and that describes only a few of Abraham's potential opponents.
If writing Abraham off was a foolish mistake, it was still clear the German-Armenian had some serious career rehabilitation to work on. That is where the Stieglitz rematch comes under fire, since it accomplishes bupkis in that direction. Yet could Abraham have done better?
Super Middleweight Options
A quick review of Abraham's super middleweight options reveals a serious short term logjam for his dance card. A fact often overlooked by the critics is that for any fight to count as a WBO title defense, it must be either against one of the WBO's Top 10 contenders or the organization must grant an exemption, something it normally does only for title unification fights (the other guy must have a belt) or it's own ranked contenders from other divisions.
The other divisional champs are Mikkel Kessler, Andre Ward, and Carl Froch, and if Stieglitz hasn't done anything to earn a rematch with Abraham, King Arthur hasn't done anything to merit a rematch with the #1 and #2 super middles, Ward and Froch. Kessler is working out his own rematch with Froch, placing the Great Dane out of reach and leaving only WBO ranked contenders for Abraham. So who are those guys?
As of January 2013, the WBO listed George Groves, James DeGale, Lucian Bute, Adonis Stevenson, and Sakio Bika in its Top 10. Bute has his own contracted rematch with Froch pending, Stevenson has a mandatory challenge of Froch's IBF title pending, and James DeGale is coming back from his loss to George Groves.
That leaves only Groves and Bika. Either would be a better choice than Stieglitz, but not for early 2013, as both guys already have their dance cards booked out for March and February respectively. Add to that the fact that Bika is scheduled for an easy shot at the interim (fake) WBC strap, and the Australian tough guy is completely off the list too. So George Groves is the only realistic option, and even then only for later this year at the earliest.
Middleweight Options
Since Abraham is a smallish super middleweight, the idea of his challenging a light heavyweight is off the table, leaving open middleweights coming up to fight him as the only other source of opponents. There are plenty of interesting options at Abraham's former 160 stomping grounds: Dmitry Pirog and Marco Antonio Rubio are both ranked by the WBO; Abraham would be the logical target of Julio Cesar Chavez, Jr. if he were to move up in weight; Abraham vs. Felix Sturm would do huge business in Germany. The thing is those fights can only happen if the 160-pounders in question are willing to move up in weight in the first place.
Pirog, Rubio and Chavez all have clear dance cards and unclear future intentions, although none has even so much as murmured about moving up to 168 lbs. Felix Sturm has an IBF title shot eliminator fight scheduled in February, so he is definitely out of the picture for Abraham.
Leave Abraham Alone
On the surface, it looks like Abraham is taking the route of least resistance, but any review of his options shows that Stieglitz was a reasonable choice for early 2013. With virtually all his other potential dance partners either busy, out of bounds, or uninterested in him, Stieglitz at least has some name recognition and the potential to earn a decent gate in what will be an all-German title fight.
It is simply too soon in Abraham's title reign to speculate on what his future might hold. George Groves is the #1 WBO contender right now, has been the WBO's mandatory challenger in the past (he withdrew from challenging Stieglitz due to injury), and will likely be so again in the near future. With Abraham vs. Groves looming as a strong possibility, the wise observer will withhold comment on both the prowess and career intentions of Abraham until that fight either comes to pass or fails to.